So one of my favorite PSN games which then got release on XBLA because it was so damn good (at least what is what I like to think) Joe Danger has a sequel that came out today. Joe Danger 2 - The Movies.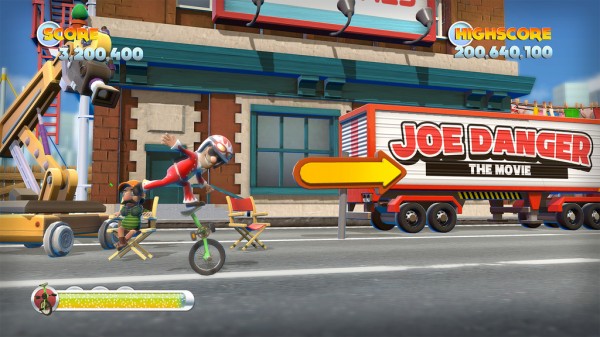 Here is an article on Major Nelsons Blog about it.
Content:
Joe Danger 2: The Movie
Price: 1200 Microsoft Points
Availability: Check availability in your Xbox LIVE region
Dash Text: Take Joe Danger on a death-defying thrill ride across the set of the greatest blockbuster movie ever made. Chase crooks on your police bike, destroy laser firing robots with a stolen jetpack, escape giant boulders in a minecart, time-travel to punch dinosaurs and divert the nuclear missiles on your unicycle! Beat your friends in fun 4 player multiplayer! Download endless new scenes from around the world, or create your own in the Movie Maker!
Here is a gameplay video from Youtube.
http://www.youtube.com/watch?v=H8eQxnyRUtY
Here is the Official Website
Reviews so far seem very positive, currently an 80 out of 100 on Metacritic.
The very weird thing is there is currently not a release date for the PSN, so hopefully it is announced soon. I could not wait myself, so I got it on XBLA. Hope to check it out tonight when my
wife falls asleep.
So anyone else like the first game? has anyone gotten a chance to check it out yet? Will post some impressions once I do get to play.