Here is a Google Calender snap . I have two queries here ..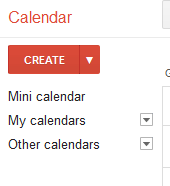 Q1: What is the difference between Mini Calender and My Calender . I'm confused which one to use.
Q2: I see there are two calenders created under My Calenders . I can see them when I click small triangle under My Calender. How do I remove these two calenders ? I don't see Calender removal choice in Calender settings ....I tried deleting calenders from Calender's settings ...but it did not work.