Along with the Xbox Series S, the Xbox Series X is Microsoft's next-generation gaming console. However, things have changed since the Xbox One was introduced in 2012. The line between generations is blurred now. When the Xbox Series X launches on November 10, it's going to have the largest library of games that any console has ever had at launch, because you'll be able to play everything that was playable on the Xbox One family.
Yes, that includes thousands of Xbox One games, hundreds of Xbox 360 games, and dozens of original Xbox games. Many Xbox One games are being optimized for the new generation, and of course, there are some new games as well.
I love Microsoft's strategy of not forcing anyone to go out and buy new games; indeed, we've all had to face the idea of losing our old games when upgrading to a new console. Still, there's something that leaves the Xbox Series X as not feeling like a new generation. Most of the games I've been testing are games that I've played before like Forza Horizon 4 and Gears 5.
But still, it's awesome. This new console has a 12TFLOP GPU that has 16GB GDDR6 memory, and an octa-core AMD Zen 2 CPU. It has new features like Quick Resume that lets you instantly pick up where you left off, and Smart Delivery that automatically gives you the version of a game that's built for your console.
In other words, it's exactly what you'd expect. The UI looks and feels like an Xbox One (it's the same software), and right now, it mostly plays the same games. They look better and it's faster, but that also summed up the Xbox One X. It's yet another improvement on that.
Specs
Xbox Series X
Xbox Series S
Xbox One X
Xbox One S
CPU
Custom Zen 2 CPU
8x Cores @ 3.8 GHz
(3.6 GHz w/SMT)
Custom Zen 2 CPU
8x cores @ 3.6 GHz
(3.4 GHz w/ SMT)
Custom Jaguar CPU
8x Cores @ 2.3 GHz
Custom Jaguar CPU
8x Cores @ 1.75GHz
GPU
Custom RDNA 2 GPU
52CU @ 1.825GHz 12 TFLOPS
Custom RDNA 2 GPU
20CUs @ 1.565 GHz
4 TFLOPS
Custom GCN GPU
40 CUs @ 1.172 GHz
6 TFLOPS
Custom GCN GPU
12 CUs @ 914 MHz
1.4 TFLOPS
Body
15.1x15.1x30.1cm, 9.8lbs
27.5x15.1x6.5cm, 4.25lbs
30.0x24.0x6.0cm, 8.14lbs
29.5x23x6.5cm, 6.4lbs
SOC Die Size
360.45 mm2
197.05 mm2
366.94 mm2
227.1 mm2
Memory
16GB GDDR6 w/320 bit bus
Title Accessible Memory
10GB @ 560GB/s
3.5GB @ 336GB/s
10GB GDDR6 w/ 128 bit bus
Title Accessible Memory
8GB @ 224GB/s
12GB GDDR5 @ 326GB/s
Title Accessible Memory
9GB @ 326GB/s
8GB DDR3 @ 68GB/s
32MB ESRAM @ 218GB/s
Title Accessible Memory
5GB @ 68GB/s
Internal Storage
Custom 1TB NVME SSD
PCIe Gen 4 x 2
Raw I/O Bandwidth: 2.4 GB/s
Custom 512 GB NVME SSD
PCIe Gen 4 x 2
Raw I/O Bandwidth: 2.4 GB/s
1TB HDD
500GB, 1TB, 2TB HDD
External storage
1TB Seagate Storage Expansion Card
USB 3.1 HDD or SSD
USB 3.1 HDD or SSD
HDMI resolution and framerate
2160p (4K) @120Hz
4320p (8K) @ 24Hz - 60Hz
HDMI Variable Refresh Rate (VRR)
AMD FreeSync
2160p (4k) @ 60Hz, 1440p @ 120Hz 2160p (4k) @ 120 Hz with Ultra High-Speed HDMI cable
HDMI Variable Refresh Rate (VRR)
AMD FreeSync
2160p @ 60Hz
HDMI Variable Refresh Rate (VRR)
AMD FreeSync
Price
$499.99
$299.99

Day one
Design
This thing is big. If you're used to standing up your consoles, it probably won't stand out so much to you. If you're not used to standing up your consoles, it is almost impossible to make this thing look natural in your home. If you look at the specs, this is very much a gaming PC, so think of it as a small form factor tower PC in your living room.
You can, of course, lay it on its side. There's only one problem, which is that you actually can't remove the base, and that makes it something of an eye sore. When laying on its side, you get this black circular disc on the bottom that gives it an unfortunate and permanent dose of asymmetry.
Microsoft gave me a choice on whether I wanted to review the Series S or the Series X, and I chose the latter because I think that people want to read about the most powerful one. But if I was buying it, I'd probably buy the Series S, opting for the more compact form factor. If you look at the specs, the Xbox Series S is actually quite impressive for how small the form factor is given the specs.
The Xbox Series X is rectangular and almost completely symmetrical, with the square base measuring 151x151, and the height being double one side of the base at 301mm. It's also the heaviest Xbox in history at 9.8 pounds. Microsoft did catch some heat for this, which doesn't really make sense to me since a gaming console isn't really something that you'd be taking with you on the go. Besides, you can take Xbox on the go with you now with xCloud and other forms of game streaming.
Air flow comes in through the base and out the top. This is also likely why the circular base can't be removed, as when the Series X is standing vertically, the base provides a bit of height, allowing air to pass through. If Microsoft allowed users to take that off when the console is horizontal, it risks the user forgetting to reattach it when standing the device back up, potentially causing overheating.
The top is covered with a series of circular holes, some of which are colored green on the inside. The holes are about the width of a pencil or a crayon, so just keep that in mind if you have kids.
On the back, you'll find your usual array of ports. The HDMI out port has been bumped up to the HDMI 2.1 spec, which means that it can power an 8K TV. HDMI in is gone, and so is the Xbox One feature of HDMI pass-through making the console your one and only media center.
There are also two USB Type-A ports, along with the one that's on the front. Wired Ethernet remains, of course, and what's new is a storage expansion slot. While you can connect an external HDD or SSD, Microsoft is letting you plug in an external version of the custom SSD that's inside of the console.
The new controller
The new controller that ships with the Xbox Series X|S (there's no actual branding for this generation, so that's what it's called) might be my favorite thing about it. It doesn't try to reinvent the wheel, but it does have a few key new features that were previously exclusive to the Xbox Elite Controller.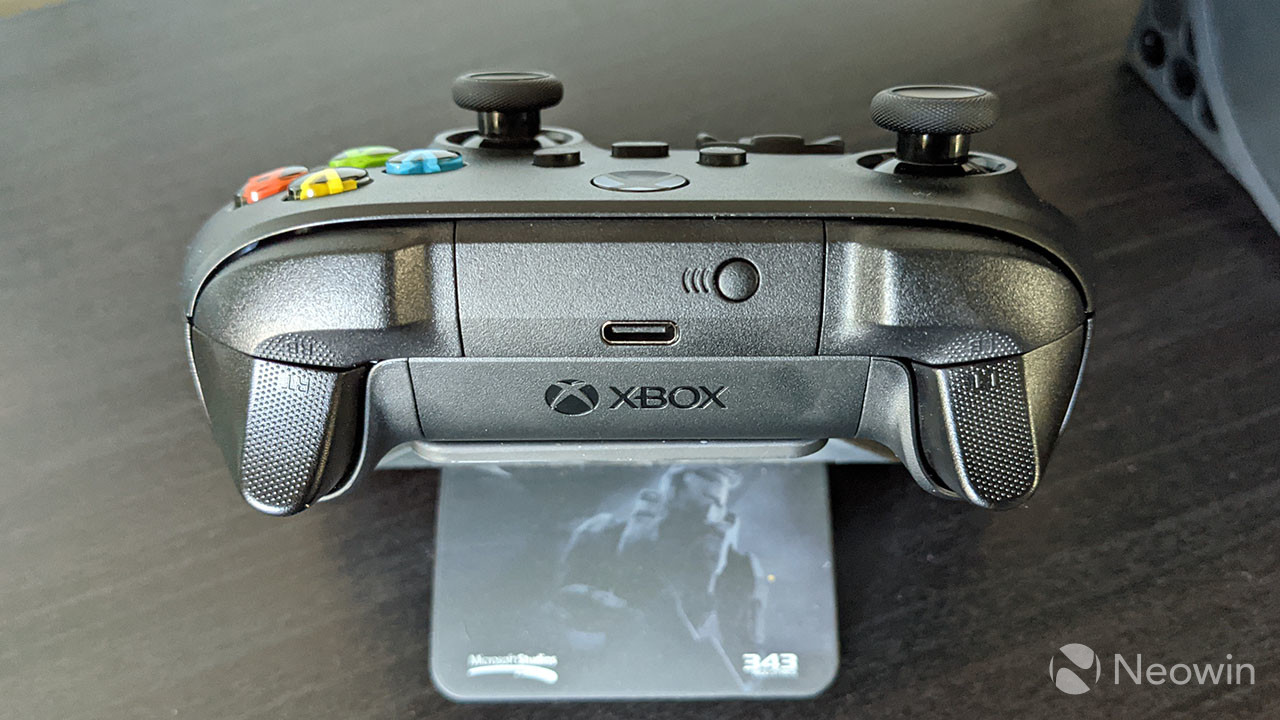 For one thing, it finally has a USB Type-C port instead of micro-USB. This was a much-needed change. Whether you're using a rechargeable battery on the controller or you're using a wired connection just for that little bit of an edge, USB Type-C is just easier. I don't know about you, but with fewer and fewer devices using micro-USB, I have fewer and fewer micro-USB cables lying around, making them a pain to find when I need them.
It also has a round D-pad, which is probably meaningless to most people, but it's actually one of the reasons I purchased an Elite Controller in the first place. I found it useful back when Cuphead came out, as the D-pad made it easier to shoot diagonally than the joystick did.
It also has textured triggers, and it has a share button. Both of these come in handy from time to time, but they're mostly minor changes.
Like I said, Microsoft didn't reinvent the wheel here, but it did do some cool stuff. Sadly, the Xbox Design Lab is shut down for now, so you can't go and make a custom one just yet.
Software and games
As I mentioned in the beginning, this feels very much like a new iteration of the Xbox One. In fact, if you bought into the Xbox One's progression from the original to the S to the X, you'd see why this feels like a logical next step. But also, it's because the software and games are the same.
Let's start with the software. It's identical to what you'll find on an Xbox One, as it uses the same Windows 10-based OS. Naturally, the startup animation is different, and there's actually an exclusive wallpaper that's available on both the Series S and Series X.
The software experience is fast too. Microsoft has been working on this newer, faster dashboard for a while. It gets rid of the old tabbed interface, and frankly, it's so much better. The old dashboard was slow and sluggish. This one feels fast, and it's blazing fast on the new Xbox Series X hardware.
As for games, you can play anything on the Xbox Series X that you were able to play on the Xbox One. You don't have to leave a single game behind, unless that game required a Kinect to play, as the Kinect isn't supported on the new console. Microsoft has already announced a list of 30 games that will be optimized for the Series X on day one, many of which are games that were already available for the Xbox One, such as Forza Horizon 4 and Gears 5. Games that aren't optimized should just run better as well.
Also, new games are obviously available on both platforms as well, and most of them use something that Microsoft is calling Smart Delivery. When you go to download a game, Smart Delivery automatically gives you the version of it that's made for your console. That means that if you don't go out and buy an Xbox Series X on day one, you can still go and buy games like Assassin's Creed Valhalla, and when you do go out and upgrade, you'll automatically get the new version of the game.
It's sort of like how Xbox One X Enhanced games worked, where you'd get the additional 4K and HDR assets if you had an Xbox One X. There are some key differences though, mainly that companies don't have to opt into offering Smart Delivery. If you go and buy the Xbox One version of NBA 2K21, expect to pay for the Xbox Series X Optimized version.
The Xbox Series X sort of reminds me of buying a new iPhone. Yes, you've got your fancy new iPhone, but at the same time, the software is exactly the same, you've got the exact same apps, and for some reason, it just doesn't feel like a new iPhone. It doesn't make it any lesser of a device, as it's faster, better, and has some key new features, but it's a very familiar experience.
It's also a changing strategy for Microsoft. Microsoft is laser-focused on letting you play your games wherever you are on whatever device you want. That's why game streaming is such a big deal, because you can play these games on your Android smartphone as well. And of course, Windows is pretty much the only viable PC gaming platform, so between Xbox, Windows, and Azure, Microsoft is in a unique position to make those things work together and offer a better gaming experience than anyone.
Gameplay and performance
It probably goes without saying, but this thing is fast. It's really fast. It has a 12TFLOP GPU with 16GB GDDR6 memory, along with an octa-core Zen 2 CPU. It also, for the first time, finally comes with an SSD. SSD storage is way faster than an HDD, and it shows.
Microsoft even has a feature called Quick Resume, which lets you pick up your game right where you left off, even if your console was powered down. Quick Resume is crazy, especially the first time you see it. As soon as you launch a game, you're just immediately right where you were. There aren't even any loading times in front of it. It's wild, but I also have to say that loading times in general on the Xbox Series X are incredibly short. This console is delightful.
But most importantly, you probably want to know about the gameplay. The games that I played and can show you right now are Gears 5 and Forza Horizon 4, so the actual gameplay footage is nothing new.
Here, have some Gears 5:
And next up, Forza Horizon 4:
These clips were recorded using the built-in capture tool on the Xbox Series X, in 4K HDR. I'm going to add another game to this review on November 9.
As you can see, the games look great. Between the high frame rate, HDR, and the high resolution, these games look awesome. I think the difference is more noticeable on Gears 5, but I could be imagining things. I actually play Forza Horizon 4 pretty frequently on my PC, and since I can play on the highest settings on PC, I'm probably just not noticing the difference on the Xbox Series X. I will say that the loading times in Forza were surprisingly faster than on my PC, which has a 1TB SSD, an Intel Core i9-10900K, and an Nvidia GeForce RTX 2080 Ti.
In short, you're in for as good as you can get. You can game at the highest resolutions and the highest frame rates with HDR colors, and it's still blazing fast. My RTX 2080 Ti has 11GB GDDR6 memory, while the GPU under the hood of the Xbox Series X has 16GB GDDR6.
Conclusion
The Xbox Series X is awesome. There is no doubt about that. If you're an Xbox user and you have a 4K TV, this is the logical next step for you, especially if you skipped the Xbox One X. It's also easy to get a ton of games. All of your old games just work on the Xbox Series X, and moreover, Xbox Game Pass gives you access to well over a hundred other games.
For me, these are easy value propositions. I love that if I buy a game like Forza Horizon 4 on my Xbox One, I automatically have the optimized game on the Xbox Series X, and I have it on the Microsoft Store for my Windows PCs. Thanks to Xbox Game Pass Ultimate, I can even play the game on my phone too.
But of course, you can choose between the Xbox Series X and the Xbox Series S when you upgrade to the new generation, and it's all about what you want. If you look at the specs in the opening of this article, you'll notice that the Xbox Series S is not only more powerful than the Xbox One S, but it's also much smaller and lighter, which is cool. The Xbox Series X is big, bulky, and heavy. Don't plan on putting it in a backpack to bring to a friend's house.
The big difference with Series X though, is that it's much more powerful. With its 12TFLOP GPU with 16GB GDDR6 memory, it can play 4K games at high frame rates with beautiful HDR colors. It's stunning. With the Series S, it won't be able to handle 4K resolutions, although I suspect that you wouldn't be disappointed.
Here's the tl;dr. The Xbox Series X has the same UI and plays the same games (at least for now) as an Xbox One. But those games look better and the entire experience is just much, much faster. This is a worthy upgrade for sure.
Pros
Thousands of games Awesome graphics Super fast Quick Resume Smart Delivery
Cons
Big, bulky, and heavy Non-removable base