Last year at Mobile World Congress, Huawei introduced its first Windows 10 PC, a tablet with an attachable keyboard called the MateBook. I reviewed it, and found it to be impressive as a tablet, but not so much in a laptop form factor.
This year, Huawei expanded its Windows lineup, introducing three new MateBooks: the X, D, and E. The flagship of the pack, the MateBook X is a 13-inch premium laptop with a fanless design, U-series processor, and Dolby Atmos processor. The MateBook D is more of a mid-range in a 15-inch form factor.
But the MateBook E is the true successor to last year's model. It's a tablet that looks nearly identical to it, although Huawei has made some key improvements to the exact same things that I took issue with last year.
Here's our review:
Specs
CPU

BL-W09: 7th-Generation Intel Core m3-7Y30 processor
BL-W19: 7th-Generation Intel Core i5-7Y54 processor

GPU
Intel HD Graphics 615
RAM
4GB/8GB
Storage
128GB/256GB/512GB
Display

Size: 12 inches
Type: IPS
Resolution: 2160 x 1440 pixels
Viewing angle: 160 degrees
Colors: NTSC 85% color gamut
Contrast: 1000:1
Brightness: 400 nits

Body
10.98x7.64x0.27 inches (278.8x194.1x6.9mm), 1.41 pounds (640g) without keyboard, 2.43 pounds (1,100g) with keyboard
Battery
33.7Wh (4,430mAh @ 7.6V)
Audio
Dolby Audio Premium
In the box
Folio Keyboard
Charger
MateDock 2
MatePen
USB Type-C to USB Type-A cable
Colors
Champagne Gold, Titanium Gray

Note: the specs listed in bold are the review unit that I was sent.
Day one
Design
As I mentioned, the design of the MateBook E is nearly identical to last year's MateBook. In fact, you can't tell the difference by looking at them. The only change is the pins on the bottom that the keyboard connects to.
The tablet comes in an aluminum alloy unibody that's 6.9mm thin and weighs in at 640g. It's actually an excellent form factor for a tablet, which is also why it starts to struggle if you try to use it as a laptop, but we'll talk about that more when we get to performance.
On the top of the device (in landscape mode), you'll find the power button and two speakers. On the top-left is the 3.5mm audio input/output jack, and on the right is a lone USB Type-C port (sorry, no Thunderbolt) and a volume rocker that doubles as a fingerprint reader.
As I said, this design is just fine in a tablet, or a 2-in-1 that's clearly more geared toward functioning as a tablet than as a laptop. It would be nice if the one USB Type-C port supported Thunderbolt 3 for better expandability, but I'm not sure you'll really miss it. If you're looking to hook up an external 5K display, you shouldn't be buying this machine anyway.
And while the fingerprint reader is placed in the same way that it was last year, I'd have preferred it to have been in the power button, or maybe I've just been spoiled by the MateBook X.
Windows Hello
While we're on the topic, we may as well go further into the fingerprint reader, which is the MateBook E's method for Windows Hello. I usually prefer facial recognition for this type of device, as it's more natural, but I'm OK with a fingerprint sensor, because Huawei makes really good fingerprint readers.
I'm not exaggerating; Huawei makes some of the very best sensors that I've ever used on a device, and the MateBook E is darn good. I judge a fingerprint reader based on speed and accuracy, and this tablet is great at both.
But as I mentioned, I've been a bit spoiled by the MateBook X, which includes its sensor in the power button. This gave it a unique and intriguing feature, which is that it reads your print when you power on the device. It's the only Windows machine that I've ever used where it doesn't have to identify you after it boots, and thus is the only laptop I've ever used where a fingerprint sensor feels more natural than facial recognition.
So yes, I'd have liked it for Huawei to include that in the MateBook E, but as The Rolling Stones once said, you can't always get what you want.
Display
Huawei's MateBook E comes with a 12-inch 1440p IPS LCD, with a 3:2 aspect ratio. I have to say, it is very pretty to look at. Again, this part of the machine hasn't changed much from last year. The bezels are narrow, the screen is bright, and the colors are vibrant. There's really nothing to complain about here.
I'm also a big fan of 3:2 aspect ratios in tablets. A trend started by Microsoft with the Surface Pro 3 - most Windows devices were previously 16:9 -, an aspect ratio that's great in landscape mode and absolutely terrible in portrait mode.
This is why Apple's iPads are 4:3; it's a great aspect ratio for portrait mode, making it perfect for reading, as it's the same as a piece of paper. One thing that 4:3 is terrible for, however, is watching movies, as they tend to be letterboxed.
Right in-between 16:9 and 4:3 is, you guessed it, 3:2. It's excellent in both landscape and portrait modes, meaning that you'll be comfortable doing work, watching movies, and reading books on the MateBook E (assuming that you can find a decent e-book reading solution for Windows).
Portfolio Keyboard
The Portfolio Keyboard is where the key changes have been made in the MateBook E. In fact, the two main design changes fix my two complaints from last year's MateBook.
The biggest thing for me is that the keys are now 'islanded'. This means that there's now space between each key, so you're not accidentally pressing surrounding buttons.
The other big change is that the Portfolio Keyboard now has a kickstand, similar to Microsoft's Surface lineup, but not attached to the device itself.
As with everything, there are pros and cons to this. Last year's Portfolio Keyboard had a flap that magnetically attached to the device, and you could only use it to view the device from two angles. One of the big benefits here is that you can view the device from any angle.
The main con is that while more features are added to the Portfolio Keyboard, the less feasible it becomes to use a third-party keyboard. I don't think you'll have to this time around though. It's also a real bummer that you can't use this keyboard with the original MateBook, due to the different connectors.
The keyboard is very comfortable to use, but in my experience, there's one really annoying software issue. Whenever I click a textbox and start typing, it doesn't register the first character that I type. I haven't been able to find a solution, and it does get annoying at times, but once I try and fail to type that first character, it works perfectly fine.
The good news is that this year's tablet is bundled with its accessories, whereas last year, the Portfolio Keyboard, MateDock, and MatePen were all sold separately. This makes it an all-in-one type of package, because those accessories are necessary.
MateDock 2.0
When dealing with a device that only has a single USB Type-C port, you're probably going to want a dock for some expandability, and as I just mentioned, the MateBook E comes with one. This is great news, but unlike the Portfolio Keyboard, the new MateDock just isn't as good as last year's.
As you can see, one side has USB Type-C, VGA, and HDMI. On the old model, this side only had VGA and HDMI.
And there's the lone USB Type-A port. On the original MateDock, this side included USB Type-C for charging, two USB Type-A ports, and a port for wired internet. Aside from the fact that there's no more wired networking option, I'd have liked to have seen a second Type-A port. For me, I use one for a mouse constantly, and then I prefer to have a second in case I need it.
Even though this feels like a downgrade from last year's model, the good news is that you can still buy and use the original MateDock, or any other third-party dock, for that matter, so this really shouldn't be a dealbreaker. In fact, just that it comes in the box with the device is pretty awesome.
MatePen
The MatePen is the one accessory that hasn't changed since last year's model. Again, it comes with the device rather than being sold separately, but it's the same old MatePen.
My favorite thing about the MatePen is that it doubles as a laser pointer. That's right; a laser pointer. It gets very distracting.
The pen itself charges via micro-USB, which I prefer over a AAAA battery, something that many other pens require. I use pens infrequently enough so that the battery is almost dead by the time that I do, so I'd rather be able to recharge it than have to replace a disposable battery every single time.
Battery life and charging
I had no trouble getting eight hours of life out of the MateBook E; in fact, you probably won't even struggle to get it up to 10 hours. In short, you'll definitely get a full workday out of it without needing a charge.
But in a thin device, such battery life comes with consequences. The reason it does so well is because it uses Intel's ultra low-power Y-series processors, which is the rebranded Core m-series. In other words, it's called an i5, but it's not really an i5.
Huawei appears to have fixed the charging issues that plagued last year's MateBook, which seemed to struggle to take a charge when it was powered down. What's cool about the charger this time around is that it should adjust its power output depending on what device you're charging.
Some people might not realize this, but typically you'd need two separate chargers for your phone and your PC, even if they're both USB Type-C. Huawei fixes that with the charger that comes with the MateBook E.
Software, and use as a tablet
In the United States, the MateBook E is a Signature PC, which means that it should be free of any bloatware. Interestingly, many newer Signature machines still get away with pre-installing things like McAfee LiveSafe; luckily, this is not one of those. The only Huawei software you'll find is for support, and the only third-party apps you'll find are installed by Microsoft to promote the Windows Store.
When we talk about using the MateDock or the Portfolio Keyboard, we're generally talking about using it as a laptop. When you're using it as a tablet, you're really not going to want to use those extra accessories.
Unfortunately, Windows 10 still sucks on a tablet. Let's start with the most obvious problem, which is the Windows Store. There are some great games, like Asphalt 8 or Halo: Spartan Strike, and there are some good consumption apps like Netflix and Hulu. There are no decent e-reading platforms - although Microsoft sells books through the Windows Store that can be read through Edge (they'll even sync with other Windows PCs after the Fall Creators Update).
And when you compare that with what's available in other ecosystems, it's hard to argue why anyone might want to actually use Windows on a tablet. The real value proposition is the 2-in-1 functionality, and Windows Ink. Naturally, with Windows Ink, you can write on PDFs and webpages, mark up photos, draw routes on maps, take handwritten notes, and more.
But we're not done. Aside from Store apps, there's another whole side of Windows in Win32 apps. You know, those are the ones that don't open the onscreen keyboard when you tap a textbox, and you have to open it manually. Forget about having a pleasant experience with these when using the device as a tablet.
Again, this is an issue that you won't find with other platforms. The one area where Windows really kills it though is in using one device as both a laptop and a tablet.
Audio quality
As far as audio quality goes, this is probably the best that you're going to find on a device of this size and form factor. It uses Dolby Audio, and it's one of few devices where an OEM seems to actually be focusing on the area. It's great when you consider how many people might want to use the MateBook E to kick back and watch a movie on Netflix, or listen to music while working.
With most tablets, especially those that come in at under 7mm thick, you'll see one or two small speakers. The sound is usually of poor quality, and it doesn't get very loud.
As you'd expect from anything with the Dolby name on it, the quality is great on the MateBook, and the volume should be enough to be comfortable listening to music while working without external speakers. It's not quite up to the Atmos that's found on the MateBook X, but it's pretty good.
Performance
Normally when I write about battery life, I add a bit about how your mileage may vary if you perform more power-intensive tasks, such as video editing. That wasn't an issue with this review, because you're not going to be doing any video editing on this. As I mentioned, it's a Y-series chip, so you'll probably want to stick to productivity-related tasks.
The Core M chip was originally created so that OEMs could build machines with processors so efficient that they didn't need to include fans, allowing those PCs to be much thinner and lighter. Core M was a fifth-generation 'Broadwell' processor, and now that two more generations have passed, we have manufacturers (such as Huawei with the MateBook X) building fanless machines with full U-series chips, so I'm not sure why we need the Y-series.
In other words, the processor is efficient but not powerful. You'll get great battery life, but don't plan on playing any heavy games or editing video on here.
I used PCMark 8 for benchmarks, running my usual three tests: Home, Creative, and Work. Home tests general usage tasks, like web browsing, video chat, photo editing, and more.
The score is a bit better than I expected it to be, so it's pretty good. Next up is the Creative test, which checks things like video editing, mainstream gaming, and more.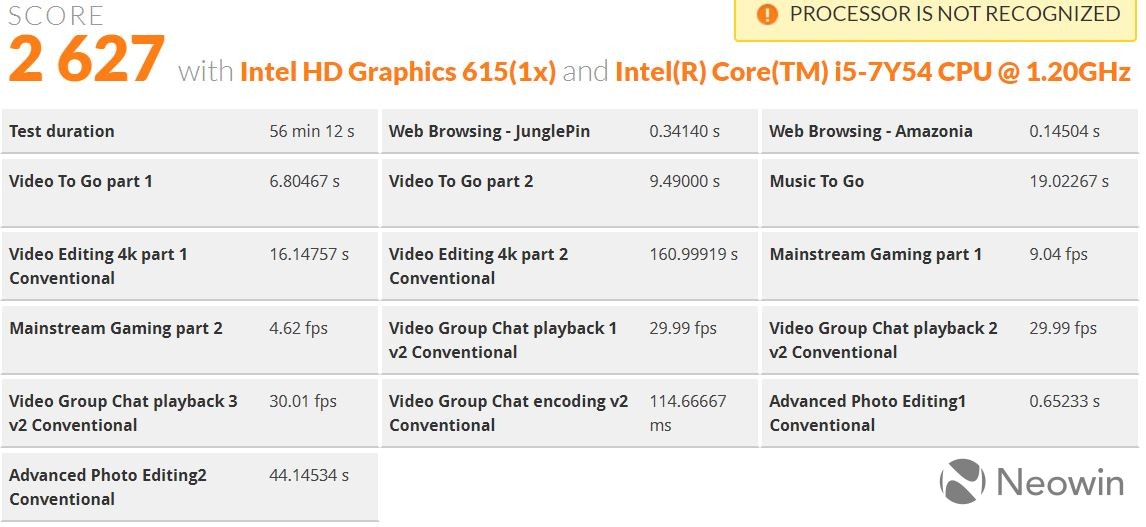 The score of 2,627 is much higher than expected, as these can be pretty GPU-intensive tasks, and the MateBook E used the integrated HD Graphics 615. Finally, we have the Work test, which checks things like writing, spreadsheets, and other productivity-related tasks.
This score was one that didn't surprise me. For productivity tasks, the MateBook E is excellent.
Conclusion
The biggest thing about the Huawei MateBook E for me was that it fixed almost everything that was wrong with last year's MateBook. The keys on the Portfolio Keyboard are now 'islanded', there's a kickstand for multiple viewing angles, and it comes with all of the accessories instead of forcing the user to buy them separately.
The biggest problem for me was just that the keyboard acted wonky from time to time. It's a really weird issue, and I tend to not worry about these things because they're either fixed via a software update or it's something wrong with my unit. I say it's weird though because it only happens when you first click on a textbox, and then works perfectly.
I'd also have liked to have seen a U-series chip, like you'll find in a Surface Pro. Still, it's not like the Y-series is uncommon, as it's in Lenovo's ThinkPad X1 Tablet and Dell's XPS 13 2-in-1. It just leaves you limited at times, depending on what you're trying to do.
And that should be the deciding factor for if you plan on buying the MateBook E. If you're looking to do the things you can do with a tablet and a pen, while being able to type on a good, physical keyboard, this is for you. If you're looking for something that holds up as a laptop, you may want to check out Huawei's MateBook X.
Pros
Display Tablet form factor Comes with accessories Audio Battery life
Cons
Y-series performance Keyboard gets wonky Keyboard doesn't fit old model