Introduction
Today I am pleased to write about a recently released pair of Bluetooth earphones, the JESBOD QY13. Last year some readers may remember I reviewed the Bienna QY8, and that I was very fond of their audio quality. So naturally I was very eager to get my hands on JESBOD's latest offering.
Even though on paper the QY8 and QY13 share a few similarities, I came across some distinct differences that may sway readers looking for wireless earphones towards either brand. The QY13 is available right now on Amazon for $25.99, or £20.99. The Bienna QY8 has slightly decreased in price since it was reviewed.
They are also aptX capable, which means in theory, they should be able to deliver lossless audio transmitted to them from a source device also supporting it. Currently, a wide range of smartphones support the codec, but that range is mostly limited to models from the likes of Sony, Samsung, LG, HTC and Nokia Lumia. Nexus and Apple devices are excluded, although they do support up to Bluetooth 4.2, and are compliant with the other elements of the A2DP profile specifications.
All this means is that while they may not support aptX, they are still very good regardless.
Specifications
Battery life

5 hours (according to the manual)
Up to 8 hours (according to online specs)

Battery type
3.7V 90mAh Li-po
Charging interface:
MICRO USB
Charging time
2 hours @ 5V
Bluetooth version
V4.1
Profile
APTX, A2DP, AVRCP, HSP, HFP
Bluetooth distance
About 10m
Size
17 x 19 x 21.6mm / 0.67 x 0.75 x 0.85in
Weight
16.3g / 0.57oz
Included extras
1x Micro USB Charging Cable
1x Cord Management Clip
6x Eartips (S/M/L)
6x Earhooks (S/M/L)
1x English User Manual
Construction and features
Out of the box, the cable is soft and does not appear to tangle easily. There is an in-line remote control with a microphone for handling phone calls, and a Micro USB port covered by a flap.
There is no power switch, instead you are forced to use the magnetic switch built into the earphone backs. Touch the backs together and an internal circuit is broken, resulting in the QY13 turning off. Detach them, and they power up with a voice confirmation through each earpiece.
I'm not sure the voice confirmation is needed at all, because it speaks out the status as soon as you detach the earphones, yet by the time you've brought them up to your ears, the voice will have finished. Thankfully a power LED does feature, so you can glance at the status instead.
The LED has two colours, red and blue. It oscillates between them when in pairing mode, and is either constantly red or blue when unpaired or paired with a device..
The remote buttons function the same as all other in-line buttons. A long press skips tracks or handles phone calls, a short press adjusts volume and play/pause during music listening.
The speakers are protected by a fine mesh grille to protect against dust and other contaminants. There is a pin sized hole at the base of the ear tip stem. This appears to be for bass response, allowing the speaker driver to breathe.
While the ear hooks all fit nicely, I had some major trouble finding a comfortable fit with the supplied tips. The largest size was too small for my medium ears. Luckily, the stem appears to take standard diameter tips anyway, so I was able to use a spare pair I had from the Bienna QY8.
It seems as though JESBOD do not comply with the same ear tip sizing guides as other manufacturers do.
The flap covering the Micro USB port is quite hard to open for those like myself, who have short nails. In the end i had to find a paperclip to open it. This issue is not isolated to only the QY13, though, as the Bienna QY8 has the same problem.
I appreciate the flap must be fully secured to stop moisture getting to the USB port, it just would have been nice if it had a section that protruded out, which allowed a finger to grip it and pull easily.
The microphone seems to be perfectly acceptable for phone calls. It does not appear to offer any active noise cancelling features though, so if you're out on the street, traffic noises will be heard by the other party.
In my week of testing, I found the charge time and battery life to meet the specifications. The Bienna QY8 gets around 7 hours of real world playback, so takes the lead in this area. The Amazon spec from JESBOD does state up to 8 hours battery life, yet the manual included says 5 hours. I'm not sure why this is the case, but up to 8 hours seems to be the more accurate of the two in practice.
Overall, the QY13 are lightweight and convenient. They offer the functions most people wll likely ever need in sports earphones. The IPX4 rating also claims water resistance. I had no trouble using them in the rain.
Sound quality
While bass and stereo imaging are excellent, the vocals and treble could have been improved further. There is some sibilance, especially audible on acoustic tracks, and vocals do not sound as musical as they do on the Bienna QY8. They are still good, just not as good as on the QY8.
I'd liken the difference to sounding more digitised than analogue on the QY13. Many people may not notice, or even mind this. My pwn preference lies in as faithful a sound as possible for the budget. For that reason, I find the Bienna QY8 to be more enjoyable earphones for listening to music from a multitude of genres.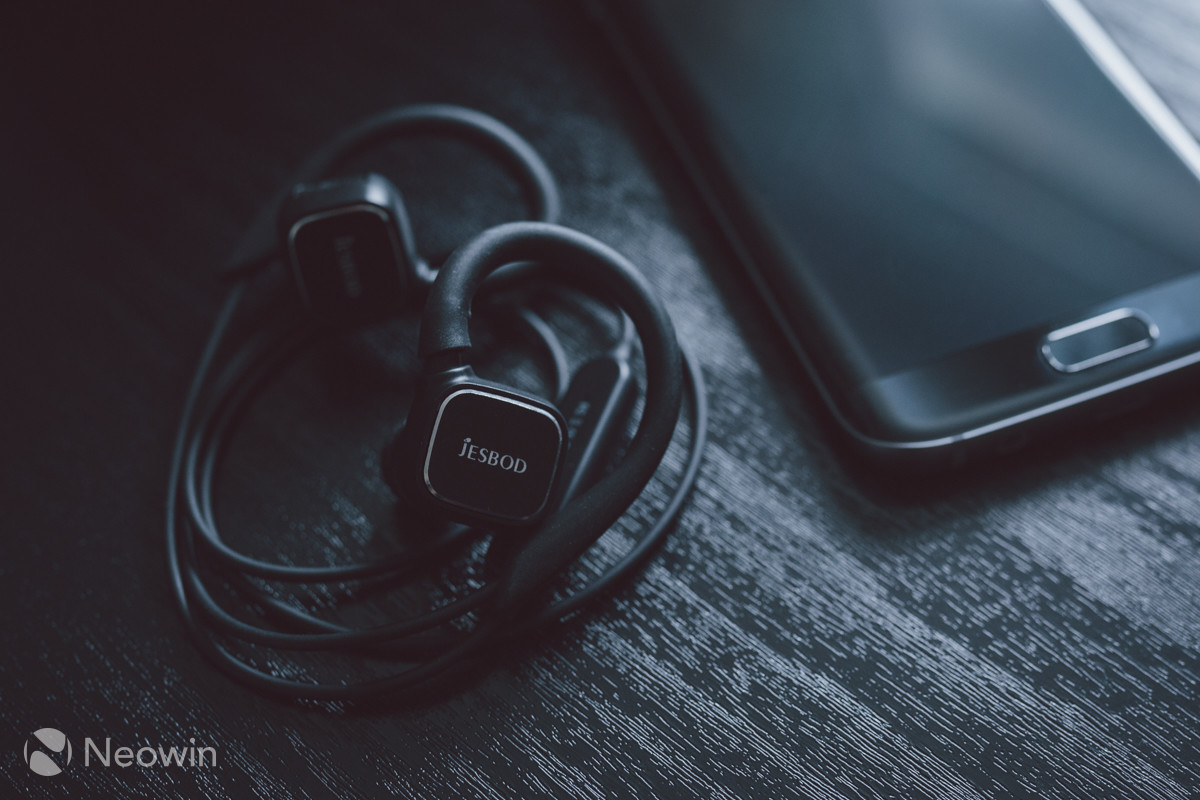 Final words
The JESBOD QY13 are competitively priced earphones with a few unique selling points. I think anyone casually listening to music would be happy with what they have to offer. Music lovers may well want to try out the Bienna QY8 instead, but bear in mind the bulkier design and thicker cable.
The bulky design of the QY8 makes the QY13 not only pocket friendly, but also provides a lighter footprint on the ear, and less likely to move about during sports activities.
I enjoyed using the QY13 and putting them through their paces. I'd like to thank JESBOD for sending me this review sample. I'm looking forward to seeing if a QY14 is in the works which remedies the criticisms mentioned for sure.
As it stands, the QY13 are good, but there is certainly room for improvement.
Pros
Power switch convenience Soft, flexible cable Convenient in-line controls
Cons
Some sibilance "Digital" sounding Accidental power activation