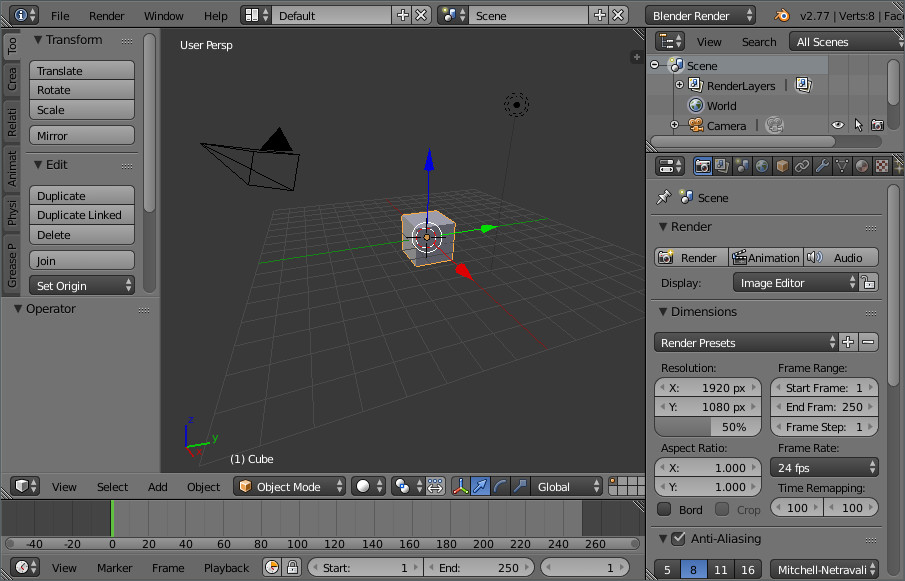 Blender is the free and open source 3D creation suite. It supports the entirety of the 3D pipeline—modeling, rigging, animation, simulation, rendering, compositing and motion tracking, even video editing and game creation. Through it's open architecture, Blender provides cross-platform interoperability, extensibility, an incredibly small footprint, and a tightly integrated workflow. Blender is one of the most popular Open Source 3D graphics application in the world.
Key Features:
Fully integrated creation suite, offering a broad range of essential tools for the creation of 3D content, including modeling, uv-mapping, texturing, rigging, skinning, animation, particle and other simulation, scripting, rendering, compositing, post-production, and game creation;
Cross platform, with OpenGL uniform GUI on all platforms, ready to use for all versions of Windows (98, NT, 2000, XP), Linux, OS X, FreeBSD, Irix, Sun and numerous other operating systems;
High quality 3D architecture enabling fast and efficient creation work-flow;
More than 200,000 downloads of each release (users) worldwide;
User community support by forums for questions, answers, and critique at https://BlenderArtists.org and news services at https://BlenderNation.com;
Small executable size, easy distribution.
Changes in Blender 2.79:
Cycles: Built-in Denoising, Shadow catcher, Principled shader, AMD OpenCL optimizations.
Grease Pencil: New frame interpolation tools, per-layer onion skinning.
Alembic: Improvements to compatibility, stability and support.
User Interface: Initial support for reusable custom configurations, automatic DPI scaling.
Twenty Three new and several updated add-ons.
And: 100s of bug fixes and other improvements!
Download: Blender 2.79 32-bit | 76.8 MB (Open Source)
Download: Blender 2.79 64-bit | 83.8 MB
View: Blender Home Page | Release Notes
Get alerted to all of our Software updates on Twitter at @NeowinSoftware