For years, Motorola has dominated the mid-range market with its Moto G series of handsets. That's not likely to change any time soon, but if you're looking for a device in that $300 price range, another one that you might have your eye on is the Nokia 7.2. And boy is this phone a winner at $299.
The Nokia 7.2 packs a triple-lens Zeiss camera, with the main lens coming in at 48 megapixels and adding on an ultrawide lens and a depth sensor. It also has stock Android, as it's an Android One device, so you don't get any OEM or carrier bloatware. On top of that, it includes a 19:9 FHD display, 6GB RAM, and 128GB of storage. Not too bad for under $300, and it's probably going to be the best you can find for that price.
Specs
| | |
| --- | --- |
| CPU | Snapdragon 660, (quad 2.2GHz Kryo 260 Gold, quad 1.8GHz Kryo 260 Silver) |
| GPU | Adreno 512 |
| Display | 6.3 inches, 1080x2280, 19:9, 400ppi, IPS LCD |
| Body | 159.9x75.2x8.3mm (6.30x2.96x0.33in), 180g (6.35oz) |
| Camera | 48MP + 8MP (ultrawide) + 5MP (depth), Front - 20MP |
| Video | 4K - 30fps, Front - 1080p - 30fps |
| Aperture | f/1.8 + f/2.2, Front - f/2.0 |
| Camera features | Zeiss optics, PDAF |
| Storage | 128GB |
| RAM | 6GB |
| Battery | 3,500mAh, 10W charging |
| Color | Charcoal |
| Price | $299 |

The price of the Nokia 7.2 requires activation to get it for $299, although it's still an unlocked device. Otherwise, it will run you $349.
Day one
Design
For a phone whose color can only be described as gray (it's called Charcoal), I kind of love the design. It has that clean look that I've previously seen in Nokia phones, and of course, that brings back the nostalgia. In fact, this is the first Nokia phone that I've reviewed under the HMD Global regime.
The Nokia 7.2 is a glass sandwich with a metal frame, like so many smartphones these days. The back of the device has a matte finish, so it doesn't collect a lot of fingerprints, and it still reflects the light in a pretty way, kind of similar to how OnePlus has done it.
Despite the glass back, the phone doesn't support wireless charging. I don't actually know of any smartphones at this price point that do support it, but it's still one of those features that I miss when it's not there.
The back of the phone has a fingerprint sensor, and above that, the round camera bump that we've seen on a number of Nokia phones. It's sort of reminiscent of the Nokia Lumia 830, or the Microsoft Lumia 950 XL, and I love it.
This device does have a 3.5mm headphone jack, but unlike the Nokia Lumia 830, it's not on the same side as the charging port. You'll find the headphone jack on the top of the phone.
And then of course, the USB Type-C port for charging is on the bottom, along with a speaker and a microphone.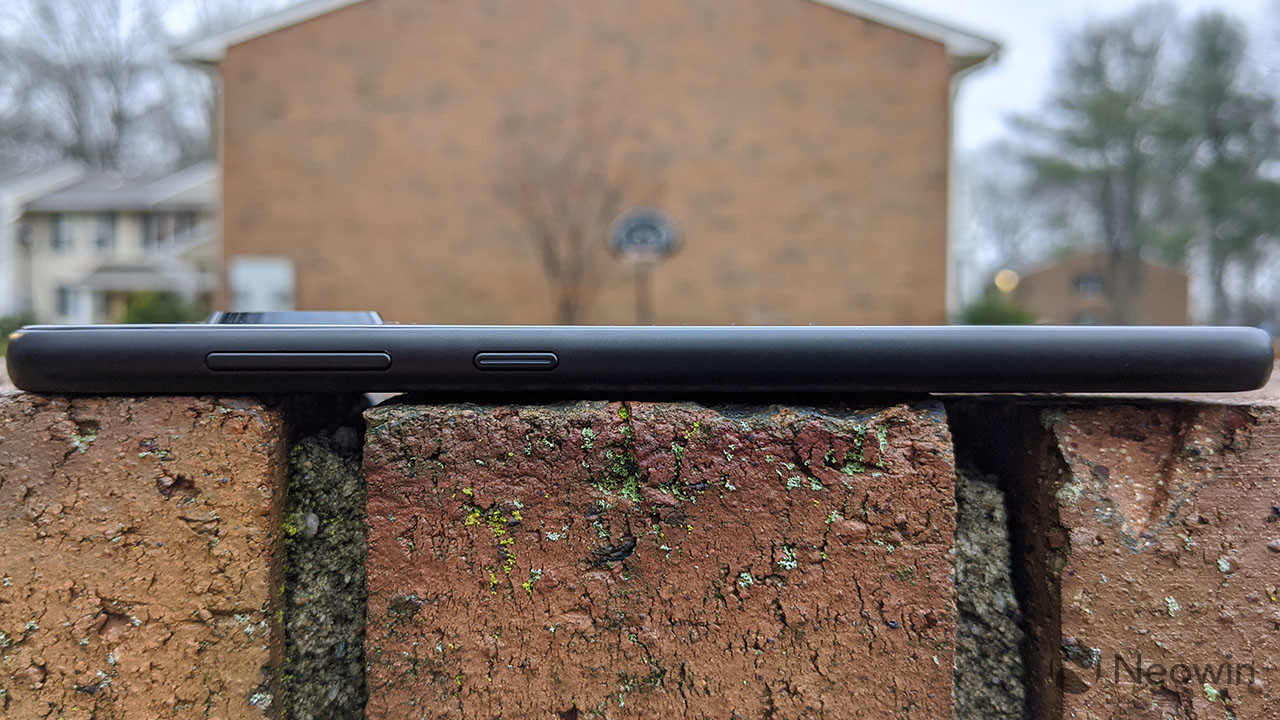 On the right side, there's a power button, and above that, a volume rocker.
Finally, on the left side, there's a dual nano-SIM/micro-SD card slot, along with a Google Assistant button. Unlike some phones, you don't have to choose between micro-SD expansion and a second SIM. You can put all three cards in the same slot.
The Google Assistant button is something that I could do without. For one thing, I absolutely never use it. I assume that all of the companies building these dedicated buttons into phones have some kind of telemetry showing that there are people that do use it, but for me, it just makes it more confusing to find the power button.
Display
The Nokia 7.2 has a 6.3-inch 19:9 display with 1080x2280 resolution. Of course, screen size doesn't quite mean what it used to, back when phones had 16:9 screens. The pixel density of this display is 400ppi, which is about the same as a 5.5-inch 16:9 FHD display, so it's just taller.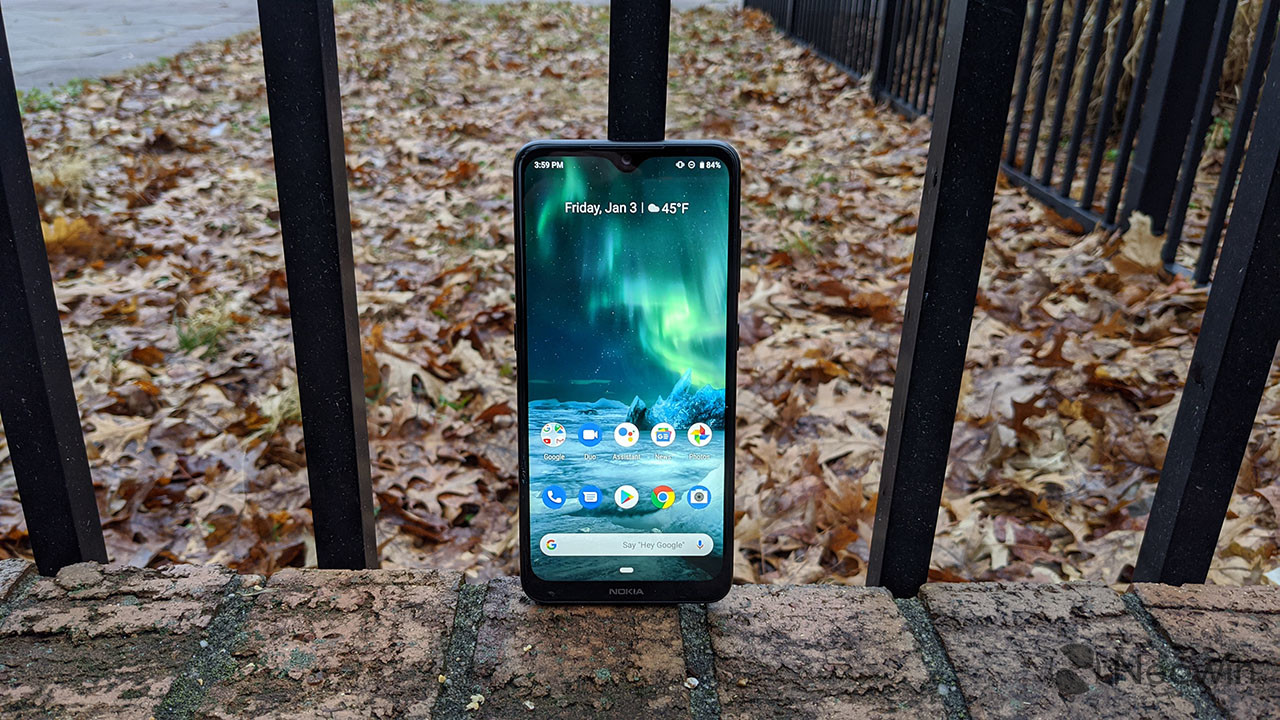 The screen is actually quite nice for an LCD. Obviously, you're not going to get OLED at this price point, and that's mostly fine. The big downside is that there's no always-on display. Motorola still does an ambient display with its LCD phones, but honestly, it doesn't come out very well, since you can't get true blacks on an IPS LCD.
The Nokia 7.2 has a teardrop notch, which stays out of our way most of the time. It also has a somewhat large chin, which is pretty normal for phones with an IPS LCD. The side bezels are pretty narrow though.
This handset runs Android 9.0 Pie, with an update planned soon for Android 10. Speaking personally, I can't stand it. Google changed from a button-based navigation system to gestures in Android Pie, and then it changed the gestures again in Android 10. I think the Android 10 gestures are just so much more intuitive and it feels weird going back to Pie.
What's really nice is that it's an Android One smartphone, meaning that you don't get any bloatware. For example, you might see phones from Samsung or OnePlus that have two of certain apps, with the OEM building their own browser, SMS client, email client, and so on. This device only has the stock Android apps, and that's the way it should be.
Camera
The camera on the Nokia 7.2 has three lenses, another thing that you don't often see at this price point. The main lens has a 48-megapixel resolution, using quad pixel technology to combine four pixels into one for better low-light performance. In fact, the 20MP front camera does the same for a 5MP image, although you can set either one for the full resolution.
The second lens on the rear camera is an ultrawide 8MP sensor. The third lens, however, is a depth sensor, rather than the more traditional zoom lens.
One minor annoyance that I had is that the camera doesn't support 1080p video recording at 60fps. It only supports 4K 30fps, 1080p 30fps, and 720p 30fps. Any handset that can do 4K at 30fps should easily be able to handle 1080p 60fps, so that's a software limitation.
Some of the low-light shots here are interesting. One of the things I found is that you need to take care when taking a low-light shot. You need to be still, make sure you're still until the picture has been taken, and you should probably make sure that you've tapped to focus first.
There is a night mode. Every night shot here has one taken in auto and one with night mode, and it does provide an improvement. Honestly, I'd always take one of each because they both provide different effects.
You can also see that there are some shots where I zoomed in to the max, and it did not come out well. One thing I'll say though is that even when I couldn't tell what I was looking at on the screen, the AI camera still knew it was a cat.
Performance and battery life
The phone that I like to compare this to is the Moto G7, since it's the device that I've historically recommended at this price point. And also, I really think that the Nokia 7.2 is better all-around. Aside from the triple-lens camera and stock Android, it also has a Snapdragon 660 instead of the G7's Snapdragon 632, including four 2.2GHz cores and four 1.8GHz cores.
This is using big.LITTLE architecture to use more powerful cores for tasks that require it, and more efficient cores for things like syncing notifications and other things that don't require a lot of juice. That way, it doesn't suck down power to do trivial tasks.
For everyday tasks, the performance on the Nokia 7.2 is fine, especially since it has 6GB RAM, the same as you'd find in a Google Pixel 4 XL. On top of that, you get 128GB RAM. The main area that you might run into performance issues is with gaming. When I say that, I mean resource-intensive games like PUBG Mobile and so on.
As far as battery life goes, getting through a full day on the 3,500mAh battery was never a problem. My biggest issue with it is that it charges somewhat slowly with the 10W charger, at least compared to flagship phones on the market that have super-fast charging, or even compared to the 15W charging of the Moto G7.
I could deal with slow charging if it supported wireless charging, but it doesn't. With wireless charging, it could just sit on a charging pad on my desk throughout the day. But frankly, any phone should have one or the other.
For benchmarks, I used Geekbench 4, Geekbench 5, AnTuTu, and GFXBench. First up is Geekbench 4, which tests the CPU.
It's worth noting that the Moto G7 got 1,259 on single-core and 4,777 on multi-core. Next up is Geekbench 5, which is just a newer version of the same test.
I can't compare this to the Moto G7, since Geekbench 5 wasn't out yet, hence why I still post results from Geekbench 4. Next up is AnTuTu, which has an all-in-one test.
The G7 got 108,932 on this test, although AnTuTu changed the way it scores devices at some point, so they get higher scores now. There are more categories than there were before. Finally, GFXBench tests the GPU.
Conclusion
When you're dealing with a smartphone in that $300 range, it's really about value for price. None of the features are actually going to be the best in the market; those titles will go to thousand-dollar phones. The Nokia 7.2 provides a heck of a lot of value, probably more than the Moto G7, something I never thought I'd say. The Moto G series has been my top pick for that price range for about five years now.
I have two main complaints about the Nokia 7.2. First, that there's no wireless charging. I don't like it, but I also don't know many phones at this price that have it. The second is the lack of 1080p 60fps video capture, and that's a bit more frustrating because the Moto G7 has it.
But there's so much that's good here. There's a 48MP rear camera with Zeiss optics, along with an eight-megapixel ultrawide sensor and a depth sensor. And the camera is pretty good. It also has a solid 19:9 FHD display.
The internals are impressive as well. 6GB RAM and 128GB of storage is the same that you'll get in the thousand-dollar Google Pixel 4 XL. And don't forget, the Nokia 7.2 has similar software since it's Android One. The 7.2 also gets points for having a Snapdragon 660, since that's even impressive at this price point.
If you're in the market for a $300 phone, check out the Nokia 7.2. Even if you're a fan of the Moto G series and you're looking for something different, the Nokia 7.2 might be worth picking up. You can find it on Amazon here.
Pros
Value for price Triple-lens camera 19:9 FHD display Sexy design Performance
Cons
No wireless charging No 1080p 60fps video capture