Wearable devices have branched off into a myriad of different form factors over the years. What started with something as simple as a Bluetooth headset has evolved into a huge market spanning various types of earphones and headphones, smart bands, watches, and even some weirder concepts like Google's Jacquard jacket.
Razer's Anzu Smart Glasses aren't the first of their kind, and while they're definitely packing more technology than your run-of-the-mill glasses, it's hard to say they're "smart". They're glasses with small Bluetooth speakers and microphones in the temples, which let you listen to music from your phone or PC as well as engage in calls. The concept is certainly simple, but I found it to be extremely appealing.
Like I said, Razer isn't the first to design a device like this. Bose, for example, has a whole lineup of audio sunglasses that are very similar in concept. The Razer Anzu are, however, the first ones I use myself, so testing them was as much about learning about the form factor as it was about testing their actual quality.
Specs
Audio

16mm drivers and omni-directional microphones on both temples
Battery life
Up to 5.5 hours of playback, 14 days standby
Interface
Touch controls on both temples
Connectivity
Bluetooth 5.2, 60ms latency
Lenses
Replaceable, two sets included: Blue light filter lenses (filter 35% of blue light); sunglass lenses (filter 99% of UVA and UVB). Prescription lenses sold separately.
Lens size

Small/Medium, Rectangle: 51.8x38mm
Small/Medium, Round: 49.2x46mm
Large, Rectangle: 54.5x40.5mm
Large, Round: 52x48.5mm

Temple length
140mm
Weight
43 to 48g, varies by model
Price
$199.99/€209.99
Design and build quality
Let's get the obvious part out of the way - Razer sent me the large round model of the Anzu without asking for my size, which I also didn't specify. So yes, this pair does look ridiculous on me, but that's just because I got the wrong size (and I also would have preferred the rectangle look). Looks-wise, the Anzu are pretty discreet you wouldn't immediately be able to tell that they aren't ordinary glasses.
Razer gives you two sets of lenses right out of the box: one set is meant for use in front of your computer, and it filters blue light from the screen; while the other offers protection from UVA and UVB sun rays. The inclusion of both is very welcome and gives the Anzu a definite advantage over the similarly-priced Bose Frames Alto and Rondo, which are only sunglasses out of the box. Work-from-home is a big angle for Razer with this product, so it makes sense that computer lenses are here as well.
If you happen to need prescription lenses, Razer partnered with Lensabl so you can get 15% off custom lenses for the Anzu frames. For replacement lenses, Lensabl recommends sending in the frames to have the lenses replaced, though you can choose to have them shipped to you and replace them yourself. We also contacted Lensabl and, at the time of writing, only the large sizes of each model have replacement lenses available, though that should hopefully change soon. Unfortunately, you can't buy the Anzu directly from Lensabl with the prescription lenses, which is an option Bose offers for its glasses.
The replaceable lens system does make the Anzu feel somewhat cheap, though. Because there's some room for the lenses inside the frame, it's almost impossible to open or close the glasses without some creaking. Otherwise, the glasses feel solid enough, though, and the hinges for the temples don't creak themselves.
Like I said above, the replaceable lenses make the Anzu suitable for using both in the home/office or outside, and the IPX4 water resistance also helps. That means you can't submerge the glasses, but sweat and rain shouldn't be a problem, which seems to hold up so far. I took the glasses with me on a few bike rides with me and the sweat hasn't caused any trouble.
One thing that's interesting about the Anzu is that each temple is a completely separate device, like a pair of true wireless earbuds. That means you also have to charge each temple with its own connector, but the included charger splits a USB connection into two pin connectors so you can charge both at the same time. Also, while the general Bluetooth indicator on your phone or PC will report a single battery level, each temple will have its own battery reporting in the Anzu smartphone app.
Finally, the Anzu also include a leatherette carrying case, which feels quite nice. It's not meant to protect the glasses from big impacts, though, so you can't just toss this around recklessly.
Audio and features
The audio experience on the Razer Anzu is probably best described as just fine. If you're looking for the richest sound, with deep bass and a very detailed sound space, this is probably not the kind of device that's on your radar. They are, however, perfectly serviceable for everyday use. Voices come through nice and clear, music sounds good, and they don't do anything that's particularly offensive. There are three audio EQ presets in the Anzu app, but sadly you can't create a custom profile. I hope Razer can fix that with a firmware update later on.
In my opinion, what truly makes the Anzu shine is the fact that they offer open-ear audio, which, to be fair, can be said about other devices like this. Because your ears are completely free, that means you can still hear your surroundings naturally and easily. A few premium headphones and earbuds now have a transparency mode so you can stay aware of what's around you, but in my experience, those can sound a bit unnatural, plus they don't alleviate the stuffiness feeling that can come from having your ears covered.
Listening to music on the Anzu reminds me of something my hometown does during the summer, when speakers are placed throughout the streets in the city center and play music from the radio. It's one of my favorite things about the summer, because the music isn't loud enough that it gets in the way of conversations or other interactions, but gives you something to listen to when it's quiet. This captures that feeling for me, but this time, only I can hear it.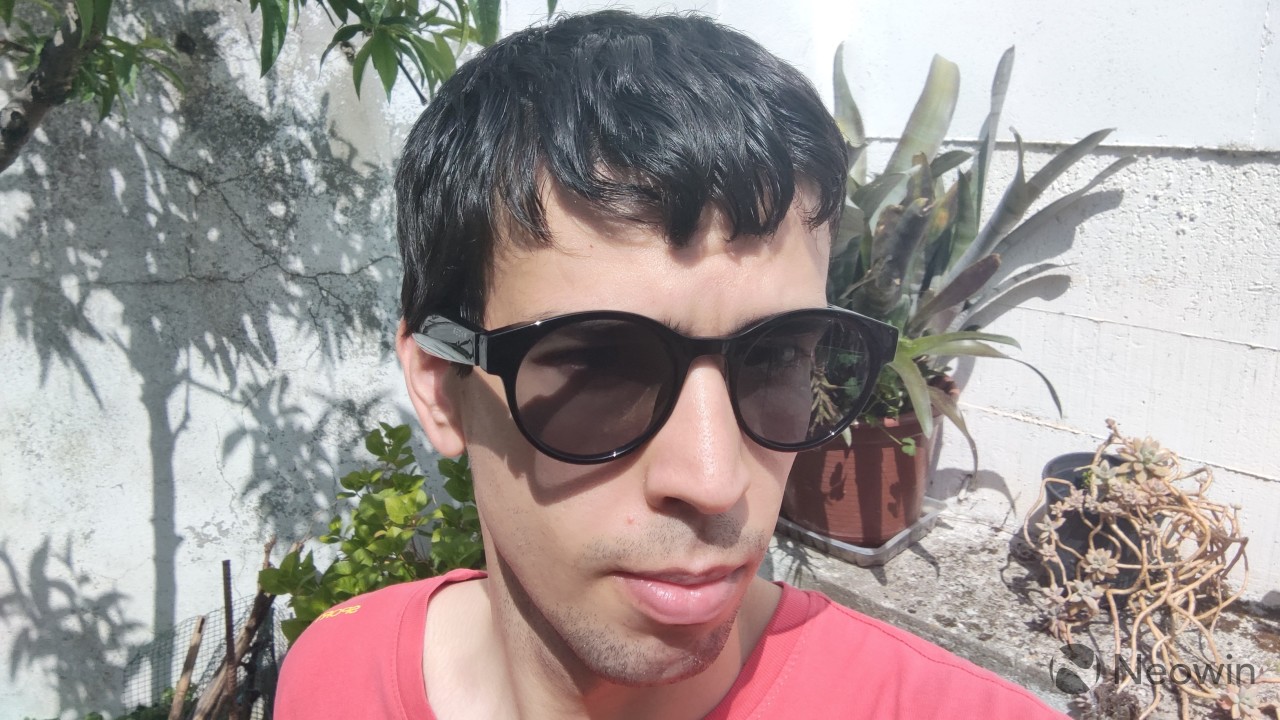 At least, that's the intention. The downside of not having a speaker shoved in your ears is that the sound coming from it is that it may also be heard by people around you. As with anything, it will depend on the wearer's preferences and how sensitive the people around you are. In a quiet room, a comfortable level for listening to music for me was around 25%, and it became inaudible at less than an arm's length away. At higher volumes, though, hints of sound can be heard almost anywhere in the same room. Overall, you do need to balance the volume of the speakers with the sound around you, but I think you can definitely make it so that it works for you and doesn't bother others.
Razer touts 60ms latency for the glasses via Bluetooth, but to get that, you need to enable gaming mode. In normal mode, there's a noticeable delay between what's on screen and the sound that's coming through the speakers, which gaming mode fixes. I thought gaming mode would come at the cost of battery life, but Razer says the sacrifice is in range - the lower latency requires a more stable connection. I've also noticed that when quickly changing the volume, you can hear it change on one side just before the other - likely a consequence of each temple being a separate device - but the audio itself seems perfectly in sync.
Enabling that gaming mode requires a triple tap on the area near the Razer logo, with the last tap being held for two seconds, which is just one of the many touch controls you can use here. The touch controls let you control music playback and calls, summon the digital assistant on your phone, or enter pairing mode to switch between devices relatively easily. The Anzu will automatically connect to the last device you used them with, but it can remember up to six devices that it can connect to quickly in pairing mode. You can customize the touch controls, including setting different controls on each temple, in the Anzu smartphone app.
Battery life
Razer claims 5.5 hours of battery life for the Anzu, but that's for continuous music playback. My initial concern was that battery would always deplete quickly when the glasses are connected to a device, and since they turn on automatically when opened, that would make it unviable to use them all day.
Thankfully, though, battery use is pretty low when nothing is playing, so you can easily wear these all day just to protect your eyes and hop on the occasional call. I've had no trouble getting through a full day with the Anzu, even with some YouTube videos during the day and listening to music during my bike ride in the afternoon. If you need to save more battery, one way to turn off the glasses is to enter pairing mode without connecting any devices, so they turn off automatically after a few minutes. If you do that, though, you'll need to close and open them again to turn them back on.
I really love that I can wear these all day with the computer lenses, then swap them out in the afternoon and go on my bike ride with them, all without having to charge them in the middle of the day. They're a great companion device, plus they can help protect my eyes from random specs of dust, which can be a problem during bike rides.
The 5.5 hours of battery life is also significantly better than the 3.5 hours that Bose promises with the Alto and Rondo glasses in its lineup. To get the same level of battery life, Bose charges $249.99 for its higher-end glasses such as the Tenor.
Charging, as I mentioned above, is done using the provided USB cable, which splits into two magnetic pin connectors, one for each temple. The glasses should take about an hour and a half to fully charge, and, if you're curious, you can't use them while they're charging.
Conclusion
I was pretty excited to try the Razer Anzu before this review, but most of that excitement was curiosity about this form factor, and I didn't really know if I'd be able to fit something like this in my life. I was also worried about the battery life, but all of those worries were washed away when I started actually using them. It's just great to have this device that can protect my eyes from my computer screen's light and sunlight, while also allowing me to easily listen to music without blocking out my surroundings.
A lot of that could also be said for similar offerings from Bose, but the Anzu have some clear advantages over the competition. Battery life is much better than Bose's competing products at this price point, plus you get the two types of lenses out of the box instead of only getting sunglasses. Those are factual points in favor of Razer here.
If I had to point any problems, I'd say it's unfortunate that you have to buy prescription lenses separately, and I also wish there wasn't so much creaking in the frames, though I'm not sure if that can be fixed easily when the lenses are user-replaceable.
You definitely have to be part of a specific audience for this device to interest you, but I fell in love with the form factor. If you're interested in something like this, the Anzu are definitely worth your attention. You can get them directly from Razer for $199.99/€209.99.
Pros
- Open-ear audio - Two sets of lenses included - All-day battery life - Discreet design
Cons
- Some creaking around the frames - Prescription lenses sold separately