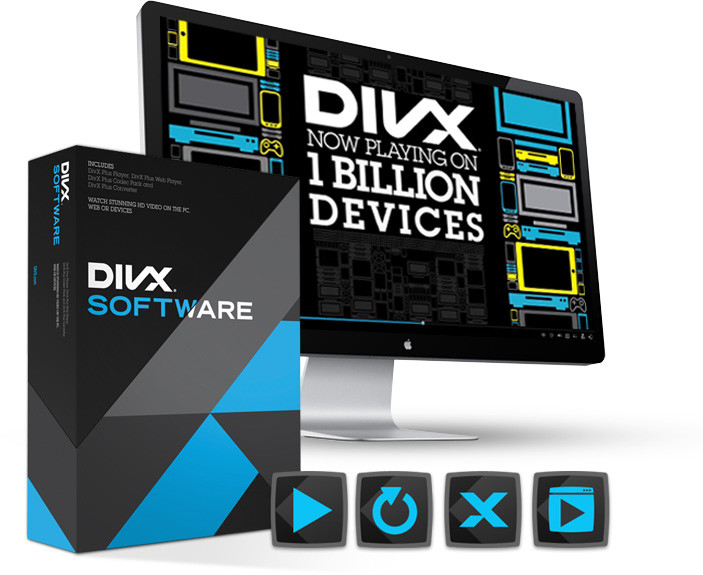 DivX lets you convert video between popular formats, including HD files, and enjoy an enhanced playback experience across all your devices, at home and on the go. It is all you need to create, play and stream high-quality video.
What's Included:
DivX Player delivers high-quality playback of videos in popular formats, including HEVC up to 4K. Transfer videos to disc or USB with DivX To Go or easily stream videos to nearby devices with "Stream To" and "Cast To" functions.
DivX Converter is an easy video converter that creates videos in the web's most popular video formats DivX, MKV, MP4 and HEVC to 4K. Converting videos into DivX ensures your files will play on more than 1 billion DivX devices.
DivX Web Player is a simple cross-browser web extension that streams all popular video formats, including HEVC video up to 4K, with progressive playback, adaptive bitrate and experimental live streaming technologies.
DivX Media Server can stream videos, music and photos to any DLNA-compatible device or Chromecast in your home. Accessible through DivX Player, choose "Stream To" for your DLNA devices or "Cast To" to stream to Chromecast.
DivX 10.8.6 changelog:
Components
Converter 10.8.6

Player 10.8.6

Web Player 3.8.6

DivX To Go 3.8.6

Media Server 10.8.6

DivX Installer System 3.8.6

DivX Control Panel 3.8.6
What's New
DivX Player supports HDR playback. Currently this feature is being beta tested

DivX Player delivers updated HEVC codec (faster and smoother playback)

DivX Player is capable of displaying subtitles with right-to-left scripting as well as double-byte, such as Arabic, Hebrew, Chinese, Korean, Japanese and others

DivX Converter supplies tailored profiles for your PlayStation 3, PlayStation 4, and PlayStation 4 Pro, including 4K AVC playback

DivX Converter provides brand new HEVC full 4K (4096x2160) 120fps encoding profile

DivX Converter now allows you to share files through DivX Media Server with one click

DivX Converter provides better control over framerate normalization. If you experience non-synchronous clips, check application settings

DivX Media Server supports streaming in native resolution for Chromecast without content transcoding

DivX Media Server provides streaming to PlayStation 3, PlayStation 4 and PlayStation 4 Pro in original formats

DivX Media Server support casting in HDR format
Fixed
Set of minor bugfixes and improvements
Known Issues
Dropbox import/export functionality might not function properly on Windows XP.
DivX Web Player doesn't work in Chrome/Chromium and Opera Web browsers due to NPAPI API removal.
For Mac OS X versions prior to 10.7 (Mac OS X Lion), contact DivX support team for assistance
Notes: Following version 10.8.6 the development for Windows Vista and Mac OSX 10.8 will be stopped. These will be considered 'legacy', along with Windows XP, Mac OSX 10.6, and Mac OSX 10.7. No new functionality will be available for legacy versions, but you can use purchased products as long as you want. Also you can migrate to a newer version using DivX 10 license keys after upgrading your Operating System. To enjoy all the new DivX Software features, please upgrade your Operating System to a supported version.
Download page: DivX 10.8.6 | 2.3 MB (Free, ad-supported version, ad-free available)
View: DivX Home Page | DivX Support
Get alerted to all of our Software updates on Twitter at @NeowinSoftware