The T-Mobile G-Slate is an Android 3.0 Honeycomb-powered tablet computer built by LG. In fact, the device is a near clone of LG's 3G-capable Optimus Pad, first showcased at the Mobile World Congress in Barcelona this year.

The G-Slate features a slightly smaller display than the Apple's iPad and Motorola's Xoom, which makes it lighter and thereby easier to hold to a certain extent. It also sports a great industrial design and can record 3D 720p HD videos with its dual-5 megapixel cameras. All of this is powered by a dual-core Nvidia Tegra 2 processor that hums along at 1GHz, making sure that even 3D games run smoothly on its high-res touchscreen display.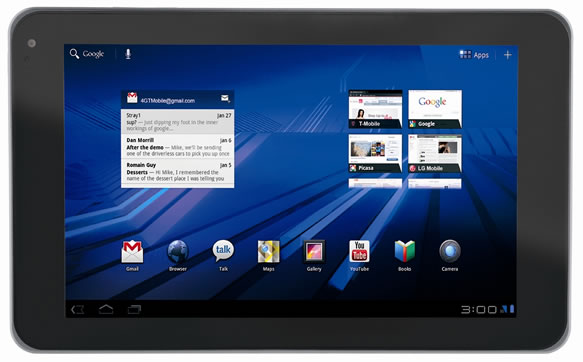 People have been debating which display size is best for tablets. For my money, the 8.9-inch display on the T-Mobile G-Slate is sitting in the sweet spot. Apart from the continuing lack of tablet-aware Android applications, and a pretty high total price of ownership (on contract, at least), there's very little to dislike about this device.
Read: LG Optimus Pad / T-Mobile G-Slate Tablet Review
These articles are brought to you in partnership with TechSpot.