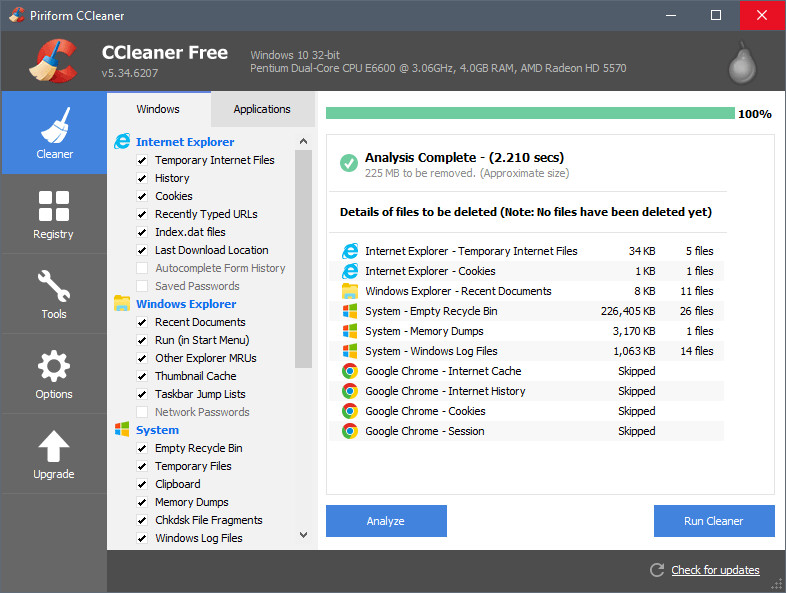 CCleaner is a freeware system optimization, privacy and cleaning tool. It removes unused files from your system - allowing Windows to run faster and freeing up valuable hard disk space. It also cleans traces of your online activities such as your Internet history. Additionally it contains a fully featured registry cleaner. But the best part is that it's fast (normally taking less than a second to run) and FREE!
Starting with the version 4.18, CCleaner enables you to set up automatic monitoring and cleaning for Internet browsers and your PC in general. For example, every time you close an Internet browser, CCleaner can perform an automatic clean of browser files and settings, or it can ask you if you want to run a clean. Similarly, CCleaner can monitor your PC and, every so often, detect whether it will benefit from a clean and either clean it automatically, or ask you if you want to run a clean. When you enable automatic monitoring, CCleaner will continue to run in the background and you'll see an icon in the system tray. Do not close this icon or you will disable automatic monitoring and cleaning.
Cleans the following:
Internet Explorer/Microsoft Edge
Firefox
Google Chrome
Opera
Safari
Windows - Recycle Bin, Recent Documents, Temporary files and Log files.
Registry cleaner
Third-party applications
CCleaner 5.43.6520 changelog:
Important fix for Chrome
Removed Font Cache cleaning temporarily while we resolve an incompatibility with the Windows 10 April Update
Added preference to select the level of detail on the Cleaning Results screen
Added new Privacy menu
Note: The setup offers to install 3rd party programs, make sure to cancel that before continuing if you like to install CCleaner only.
Download: CCleaner 5.43.6520 | 15.1 MB (Freemium)
Links: CCleaner Website | CCleaner - Download Builds
Get alerted to all of our Software updates on Twitter at @NeowinSoftware