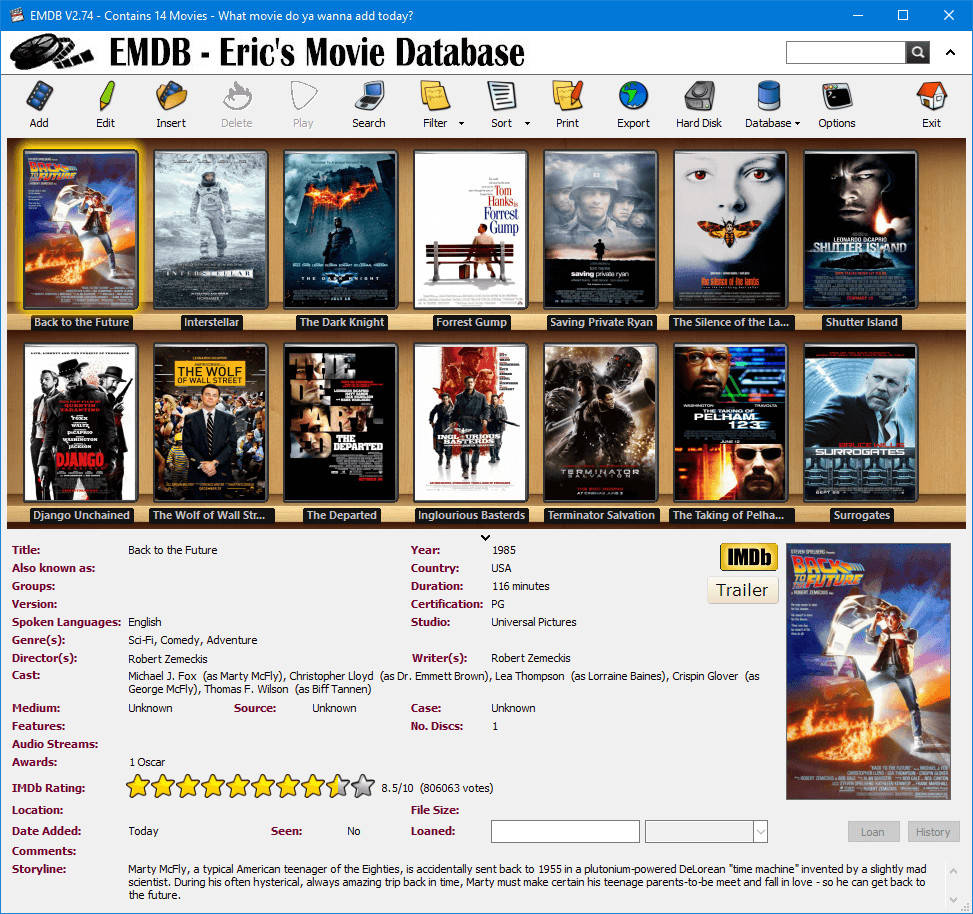 EMDB is an application to keep track of your movie and TV Series collection. Both physical discs and media files are fully supported. With an automatic import from the database of IMDB, export to csv, text or HTML, thumbnail cover preview, a loan tracker, advances search and filter functions and multi-language user interface. EMDB doesn't need a .NET framework or any other external libraries and is therefore fully portable. And best of all... it's free!.
EMDB 4.04 changelog:
Translations: Added Chile, Colombia and Switzerland as Countries.
Startup: Detect deleted media files didn't always delete all files.
TVSeries: Fixed manually adding seasons.
Playlists: Creating playlists with relative paths enabled sometimes resulted in unplayable playlists.
User Interface: IMDb / User Ratings were not hidden in the Edit screen if they were configured not to show.
User Interface: Tooltips somtimes prevented clicking on link buttons.
User Interface: fixed some IMDb / TMDb translation mixups.
TheMovieDb Import: fixed searching on tv/id.
TheMovieDb Import: Improved getting directors and Writers of TV Series.
IMDb import: fixed detection of (uncredited).
IMDb import: fixed displaying # in characters.
Rotten tomatoes: Improved searching TV Series.
Translations: Updated the French, Spanish, Swedish, German, Simplified Chinese and Dutch translations.
Download: EMDB 4.04 | 5.4 MB (Freeware)
Link: EMDB Home Page
Get alerted to all of our Software updates on Twitter at @NeowinSoftware