The story on the Lenovo ThinkPad X1 Nano is that it weighs in at 1.99 pounds. That's the headline. It's the fifth entry into the current ThinkPad X1 lineup, which is reserved for the best of the best, and it's all about being compact, thin, and light. It was announced back in September, but now it's finally hitting shelves.
Typically, a laptop that weighs under two pounds comes with some serious compromises, using a Y-series processor. This one has a Core i7-1160G7, which is Tiger Lake UP4, something that would have been called Y-series in the past. But now, it's got Iris Xe graphics and can actually have a TDP of up to 15W. Indeed, it's not as powerful as UP3 (Core i7-1165G7), but it's way better than those Y-series chips we got a couple of years ago.
There are other reasons that this isn't just a lighter version of the ThinkPad X1 Carbon. After all, the X1 Carbon is the one that's known for being the lightest, so my first thought when hearing about the Nano was about why it's not carrying the Carbon flag. This PC has is the first modern ThinkPad to have a 16:10 display, and the first clamshell to cut out USB Type-A ports. Indeed, it's a big step forward when the X1 Carbon is going to be expected to keep some legacy components for some time to come.
Specs
CPU
Intel Core i7-1160G7
Graphics
Iris Xe graphics
Body
292.8x207.7x13.87-16.7mm (11.53x8.18x0.55-0.66in), 907g (1.99lbs)
Display
13.0" 2K (2160x1350), IPS, 450 nits, Anti-glare, 16:10, 100% sRGB, Dolby Vision
RAM
16GB LPDDR4x-4266
Storage
512GB PCIe NVMe
Connectivity
Intel Wi-Fi 6 AX201 + Bluetooth 5.0
Ports
(2) Thunderbolt 4
(1) 3.5mm combo audio jack
Input
6-row, multimedia Fn keys, LED backlight
Glass surface multi-touch touchpad, TrackPoint
Audio
Dolby Atmos Speaker System certification (2W x 2 woofers and 1W x 2 tweeters)
Four array microphones, 360° far-field
Security
Match-on-Sensor Fingerprint Reader
720P & IR Camera
Battery
48Wh, Rapid Charge
Material
Top: Carbon Fiber
Bottom: Magnesium Alloy
Color
Black
OS
Windows 10 Pro
Price
$1,847.40 (Lenovo, Walmart)

Day one
Design
On the outside, it looks just like a regular ThinkPad. It's black, and it's got the glossy black ThinkPad logo that's reserved for the X1 devices. In fact, you might even mistake it for the ThinkPad X1 Carbon. After all, the vast, vast majority of ThinkPads come in black, so it's easy to mistake one for another.
But Lenovo really pulled out all the stops to get this thing as light as it could get it; well, at least to hit a target of under two pounds. Seriously, at 1.99 pounds, this is the type of weight where you have to double-check that it's in your bag.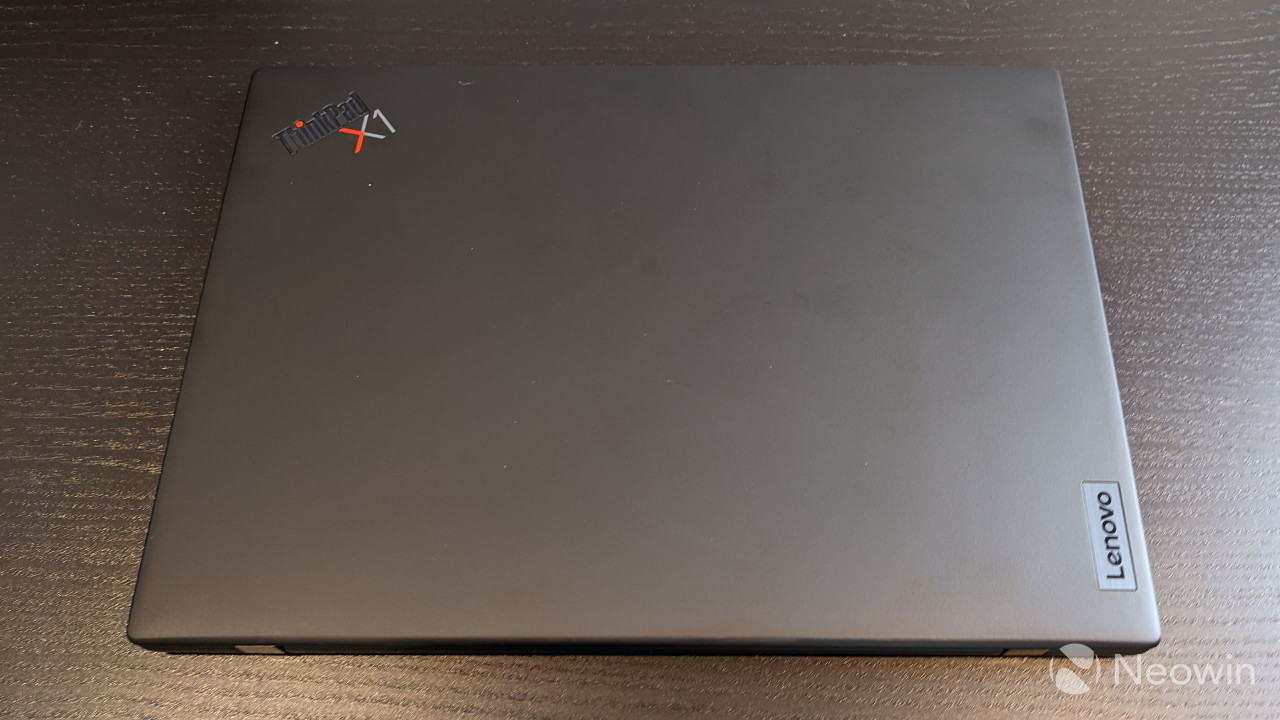 To get there, it's made out of a carbon fiber lid and a magnesium alloy base, an interesting choice. A lot of companies use all magnesium alloy to get as light as possible, but then the devices tend to feel cheap. The carbon fiber lid seems to have solved that for Lenovo, plus carbon fiber is on brand for ThinkPad X1 anyway.
It's also thinner and smaller. Not only is it more compact than the X1 Carbon, but it just has an overall smaller screen at 13 inches. And as I mentioned earlier, USB Type-A has been stripped out entirely.
Indeed, all of the ports are on the left side of the PC, and they include two Thunderbolt 4 ports and a 3.5mm audio jack. As I've been pointing out in all of my reviews of PCs with 11th-gen Intel processors, Thunderbolt 4 is no different from the full Thunderbolt 3 spec, which used four lanes. The base spec of Thunderbolt 3 only used two lanes instead of four though, cutting the bandwidth in half, and it was super-hard to know what you were getting.
To be clear, there's no change here. Lenovo has always used the full spec on ThinkPad X1. It's the non-X1 ThinkPads where the company used the base spec, so whenever those are updated to Intel Tiger Lake, that will be more of an improvement.
In short, there's no improvement because ThinkPad X1 was already doing the right thing, and there's no improvement to be had.
On the right side of the device, there's just a power button. There's also an exhaust vent on that side, which is kind of interesting because I'd have expected this to be fanless, but it's not.
Display and audio
The ThinkPad X1 Nano comes with a 13-inch 16:10 display with 2160x1350 resolution, and as you'd guess from something this thin, there's no touch. First of all, the screen is really good. It's got a matte coating, so you won't get any notable glare that will distract you from your work. It's bright too at 450 nits.
It's just small. It's not Surface Pro 7 small, but it's small. It feels particularly cramped if you like to run split-screen apps, which I frequently do. Remember that screens are measured diagonally, and that this is 13 inches, not 13.3 inches like most standard laptops called 13-inch. And also, it's 16:10, which means that it's taller, and also narrower than a 13-inch 16:9 laptop.
Also, Lenovo is adding 16:10 displays across its lineup, so you're going to see 14-inch 16:10 screens in the X1 Yoga and X1 Carbon as well. The ThinkPad X1 Nano isn't necessarily a niche device, but you really should want something that's super-light with a small footprint. If not, you should really be looking at the X1 Carbon or X1 Yoga.
The screen has narrow bezels on all sides, with both a webcam and IR camera in the top bezel. Lenovo also has a Human-Presence Detection (HPD) system built into this. What this can do is automatically wake your PC when you're in front of it, lock it when you walk away (after a determined amount of time), and even keep it awake while you're in front of it if you're inactive. Now, if it wakes up when you sit down, Windows Hello automatically activates, and you'll be able to log into your computer without touching it.
HPD is pretty cool, and it works as advertised. The only problem is that it also works when you don't want it to. If you set your PC to do a task and then walk away for an hour while it does it, you'll be disappointed when you realize it went to sleep after a minute because it didn't sense a person there. Obviously, you can customize this through the Commercial Vantage app, and you can shut it off if you need to.
As for audio quality, it's pretty impressive for a laptop that's so small. It has two 2W woofers and two 1W tweeters in the Dolby Atmos speaker system, so while there are two speakers placed above the keyboard, there are also two underneath the device. It's pretty impressive, but then again, Dolby Atmos tends to be impressive.
Keyboard and trackpad
ThinkPads are renowned for having excellent keyboards, and this one is no different. It's super accurate, it's comfortable, and it has just the right amount of resistance, using a scissor life mechanism. Lenovo says that it's "nearly" full-sized, although I didn't even realize that it's not full-sized until I read the reviewer's guide. Normally when keyboards are smaller than I'm used to, I notice it right away because I make mistakes.
Lenovo also said that it has "similar" key travel (1.35mm) to other ThinkPads (1.5mm), but this is clearly shallower, and it's good. One thing that I've noticed in recent years with ThinkPads is that while the keyboards are still excellent, they're starting to feel antiquated when other PCs are just using shallower keys. This feels more modern, and it's a pleasure. I really hope that they bring this over to the rest of the lineup.
But sadly, that's the only part of it that feels modern, as it still retains the TrackPoint in the middle of the G, H, and B keys. If you're somehow unfamiliar with the TrackPoint, it's a relic from the days when Windows touchpads were terrible. But like all things ThinkPad, it has its loyalists that won't want to let it go, and it remains on every single model ThinkPad except for the Bluetooth keyboard that comes with the ThinkPad X1 Fold.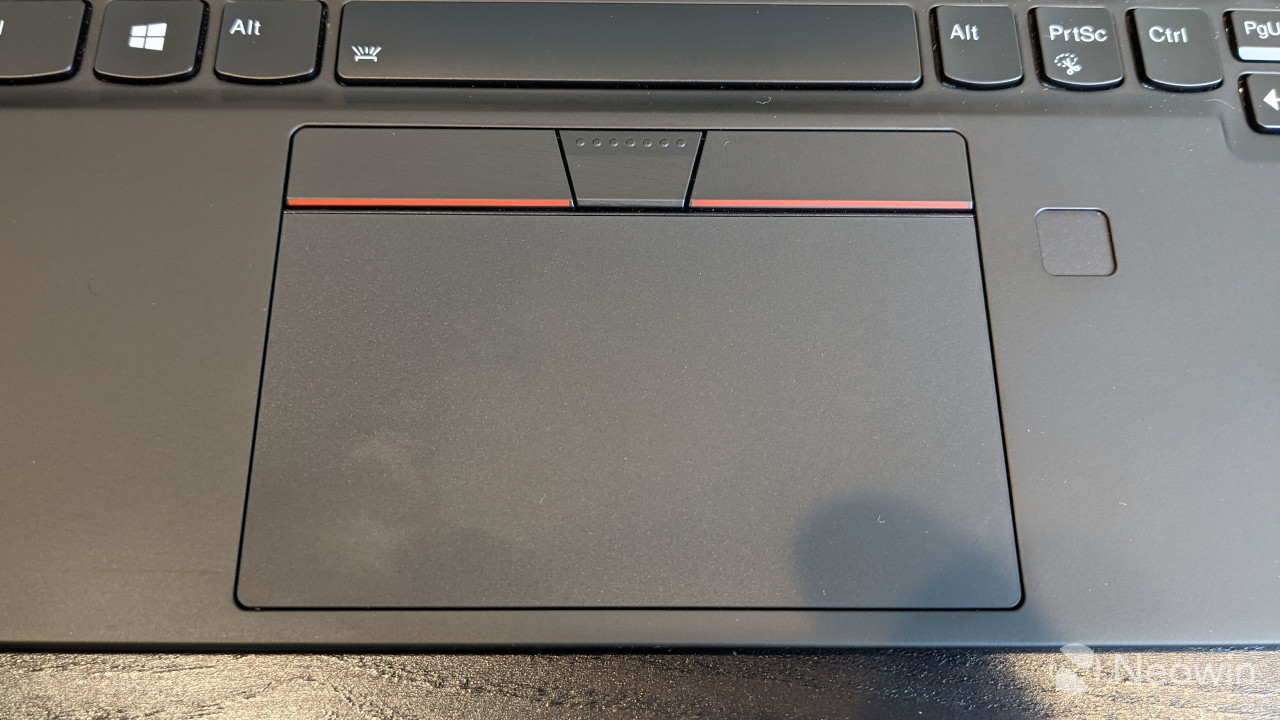 The Microsoft Precision touchpad is really no different. Lenovo didn't sacrifice the clickable touchpad, just like it didn't sacrifice the keyboard backlight, to get this laptop so thin. It still has physical buttons above it, which really exist for use with the TrackPoint, but I use it with the touchpad because I just love physical buttons.
To the right of the touchpad, there's also a fingerprint sensor. Lenovo is still putting the power button on the side, rather than on the deck and using it as a fingerprint sensor like it does on its ThinkBook series.
Performance and battery life
The ThinkPad X1 Nano comes with an Intel Core i7-1160G7, which is from the series that would have previously been known as Y-series. And it's come a long way since eighth-generation 'Amber Lake'.
With Ice Lake Y (10th-gen), we were finally getting 10nm, a TDP boost, and Iris Plus Graphics, but there was only one problem with Ice Lake Y. It never shipped, at least for Windows PCs. Every Windows PC that shipped with 10th-gen Y-series processors had Comet Lake Y (at least that I've seen), which still has the old UHD Graphics.
Now, 11th-gen is here with that TDP boost, Iris Xe graphics, Thunderbolt 4, and more. And it's actually really good. With Amber Lake, I'd have told you to stay away from Y-series no matter what. It made for thin and light fan-less PCs, but it wasn't worth the sacrifice. Now, Intel has finally made it to where it needs to be. But like I said earlier, this PC does have a fan, so I guess that's just what happens when you boost the TDP like that.
The Core i7-1160G7 is a quad-core processor with eight threads, and the Iris Xe graphics do mean that you can do some light gaming and photo editing on here. Note that the CPU speed is slow still when it comes to gaming. For example, I did connect an external Nvidia GeForce RTX 2080 Ti and play some games. The graphics are great, but load times are brutal.
But also, on Amber Lake PCs like the Acer Swift 7 and HP Spectre Folio, I'd barely be willing to touch Photoshop, let alone Premiere Pro. All of that stuff is actually pretty good on this machine. We're talking about the difference between unusable and usable here.
While overall performance is good, integrated graphics performance is great, and Thunderbolt expandability makes it even better, the battery life kind of blew me away. As usual, I've been using it at about 25% brightness with the power slider at a notch above battery saver. A 48WHr battery is no more than average in size, but we're talking over 10 hours of batter life here, and you can definitely stretch it to 12 hours or even more.
It feels like the battery percentage just doesn't go down. It's like it runs on magic, especially since the screen has a higher resolution than FHD. I assume that we can attribute this to the lower-powered processor.
For benchmarks, I used PCMark 8, PCMark 10, Geekbench 5, and Cinebench.
ThinkPad X1 Nano
Core i7-1160G7
Surface Pro X
SQ2
Acer Swift 7
Core i7-8500Y
HP EliteBook x360 1040 G7
Core i7-10810U
Razer Book 13
Core i7-1165G7
PCMark 8: Home
3,919
2,440
3,721
4,370
PCMark 8: Creative
4,419
2,427
3,944
4,796
PCMark 8: Work
3,864
2,732
3,654
4,047
PCMark 10
4,586
2,775
4,080
4,897
Geekbench 5
1,346 / 4,891
794 / 3,036
1,197 / 5,065
1,425 / 4,143
Cinebench
1,296 / 4,052
1,426 / 3,837

I chose those four PCs to compare it to for specific reasons. The Surface Pro X is the top-end ARM PC, and ARM chips are designed for these types of form factors. The Swift 7 was the last Y-series PC that I've been able to review, and then we have examples from 10th- and 11th-gen U-series.
The ThinkPad X1 Nano blew away everything except for the Razer Book and its Core i7-1165G7. And to be fair, it was never meant to beat the Core i7-1165G7; if it did, we should be worried. It's more interesting that the X1 Nano beat the hexa-core 15W chip in the EliteBook, but you'll notice that the margin was even wider in graphics-related tasks. That's because business PCs only got Comet Lake with the last generation, and that had UHD Graphics instead of Iris Plus Graphics. The leap to Tiger Lake with its Iris Xe graphics in the business space is significant.
Conclusion
The Lenovo ThinkPad X1 Nano is a lovely laptop, and frankly, the engineering that went into this is remarkable. My only complaints about it are that the screen is small, that there's no USB Type-A, and I kind of wish that there wasn't a fan, although not having a fan means a lower TDP and an impact on performance. I don't personally miss USB Type-A, but it could be an issue for businesses.
It's just wild that this thing exists and it's as good as it is. The keyboard is shallower than a regular ThinkPad, and the engineering team probably thought that it was making a compromise when it was actually an improvement. The performance is way better than I would have expected, and so is the battery life. It's like this thing runs on magic.
And of course, it's so thin and light, coming in at just 1.99 pounds. I've reviewed a lot of laptops over the years, and I've learned a lot of things. One thing that I've learned as an absolute fact is that laptops that are this thin just aren't supposed to be this good. They're supposed to be annoyingly slow and make insane compromises in the same of portability. That's just not the case here though. This thing is amazing.
You can check out this model on Lenovo.com here and Walmart.com here.
Pros
Super thin and light Long battery life Impressive performance Great keyboard Overall engineering
Cons
Small screen No USB Type-A Has a fan