Microsoft today published a blog post recapping the updates that they released throughout the month of February. If you're using Office on any particular platform, chances are that something on that list will apply to you.
Starting with mobile devices:
Annotate with ink on Windows tablets—Last month we discussed the evolution of the inking experience in Office. Now you can use your pen, finger and the new tools in the Draw tab to naturally write, draw and annotate in Word, Excel and PowerPoint Mobile on Windows tablets (available initially to Office Insiders).
Pin your docs to the Start menu on Windows phones and tablets—It's even easier to pick up where you left off by pinning your favorite documents, spreadsheets, presentations and notes to the Windows Start menu. Get goingin just a couple of taps!
Insert images using the camera on your phone or tablet— Office apps are now integrated with your device's built-in camera, so you can capture images, crop and insert them directly into your documents on Windows and Android phones and tablets. This is available now in PowerPoint for Office Insiders and will be coming soon for Word and Excel.
Enabling partner storage to integrate in Office for iPhone and iPad—Last month, we announced the opportunity for all Cloud Storage Partner Program (CSPP) providers to integrate with Office for iOS. This integration is now available with Box in Word, Excel and PowerPoint. Other partners are coming soon.
Microsoft also added some features to Excel:
We added more ways to manipulate, visualize, and share your data with Excel. New functions make it simpler and faster to build common calculations, and improved Formula AutoComplete helps you find the function you're looking for (click here for more information). The launch of Excel 2016 brought you new chart types, such as Treemap, Sunburst and Waterfall. Now we added the Funnel chart for Windows desktops, tablets and phones, as well as Android, enabling you to display data in progressively decreasing proportions. Learn more here.
We're also making it easier than ever to share what you work on in Excel with others. Excel is now more integrated into the Power BI service. This means you can now pin your workbook's rich formatted charts and graphs directly to your Power BI dashboards and interact with them from anywhere—giving you even more options for telling your story through data. (Read more here; Power BI subscription required.)
Microsoft also added a Groups option to the ribbon in Office 2016 for commercial customers. Suggested Groups will also provide access to relevant Groups based on information in the Office Graph.
They're also introducing archiving, a feature that's already available on Outlook.com. The feature aims to allow the user to easily move messages from his inbox to another folder. The feature is rolling out to Outlook 2016, coming soon to Outlook for Mac, and already available for Outlook on iOS and Android.
They did not mention Outlook Mail on Windows Mobile.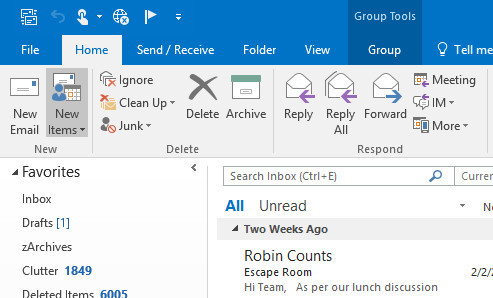 There's also some updates for Office for Mac:
Morph is now part of PowerPoint for Mac—Morph is one of the latest PowerPoint tools that helps you create stunning presentations quickly. The Morph transition effect helps you easily transform and move several objects at once across slides. Get started here.
Customize the Quick Access Toolbar – In response to a top user request, Word, Excel and PowerPoint for Mac now allow you to customize commands in the Quick Access Toolbar. Pick your favorite commands (such as New, Print or Save) to show at all times in the top-left corner. Get started here.
Faster updates—Office for Mac users who stay current can now download just the latest incremental changes since the last release. This means faster downloads of smaller update packages, with download sizes to drop even more in the coming months.
Microsoft also noted that they're releasing the first Office 2016 Deferred Channel build. This is the same as the version of Office 2016 that was originally released but with the security updates that have been released since then.
Source: Office Blog