According to the latest leaks, Intel will be launching 22 new processors for the LGA1700 socket with CPUs ranging from 16 cores (8 Performance cores and 8 Efficienct cores) to 4 cores (2 Performance cores and 0 Efficient cores).
As is evident from charts obtained by VideoCardz, the pricing range seems to extend from $167 USD for the 46W Core i5-12400F ($192 USD for the non-F model), all the way up to the 65W Core i9-12900F at $464 USD ($489 USD for the non-F model). The F models of these processors do not include integrated graphics unlike their non-F counterparts.
Intel will also be introducing T-series CPUs with a 35W default TDP. As can be seen by this list, there are fewer SKUs since all of these variants will ship with integrated GPUs.
Lastly, there appears to be two sets of charts comparing the performance of the latest CPUs.
The three processors used in creating the comparisons include AMD Ryzen 7 5700G, Intel Core i5 12600, and Intel Core i9 12900. From both of these two charts, the selected tests seem to be showing improvement metrics up to 44% in certain tests.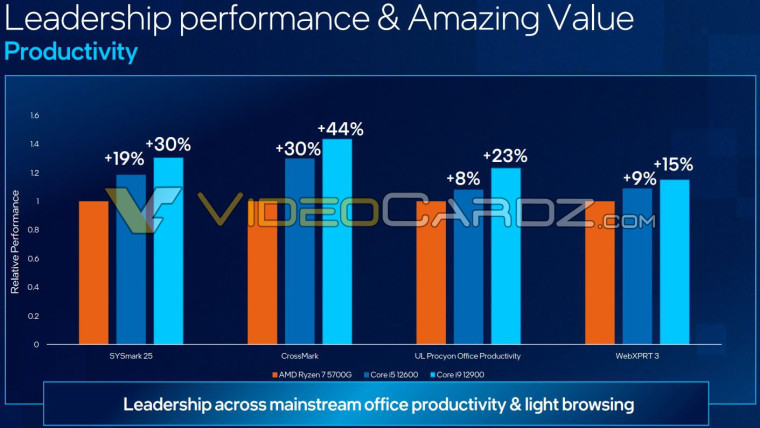 Along with the latest AMD Ryzen Rembrandt lineup leaks, we don't have long now to assess whether these leaks, including their respective pricing, are accurate.