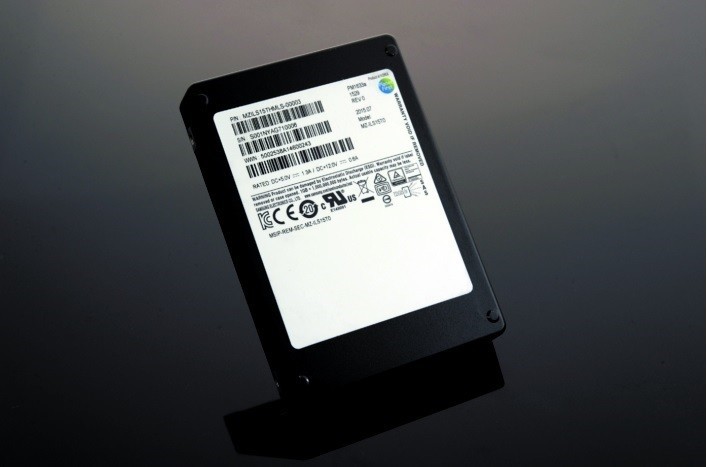 Meet the world's largest solid state drive, the Samsung 'PM1633a'. Packing in 15.36TB of storage space, the specs of the new enterprise drive makes our retail options look both tiny and slow.
The new drive is based on a 12Gb/s Serial Attached SCSI (SAS) interface, supported by "advanced controller units" and 16GB of DRAM. Remarkably, Samsung have been able to fit all that storage into a slim 2.5-inch form factor.
Samsung explains how it created was able to make the impressive drive by stacking its new 3rd generation of V-NAND memory chips:
"[The] SSD is enabled by combining 512 of Samsung's 256Gb V-NAND memory chips. The 256Gb dies are stacked in 16 layers to form a single 512GB package, with a total of 32 NAND flash packages in the 15.36TB drive. Utilizing Samsung's 3rd generation, 256-gigabit (Gb) V-NAND technology which stacks cell-arrays in 48 layers, the PM1633a line-up provides significant performance and reliability upgrades from its predecessor, the PM1633, which used Samsung's 2nd generation, 32-layer, 128Gb V-NAND memory.
The company also claims the drive can perform random read and write speeds of up to 200,000 and 32,000 IOPS. Furthermore, it clocked sequential read and write speeds of up to 1,200MB/s.
The new generation of V-NAND chip technology won't only be available in the likely cost-prohibitive 15.36TB size. Businesses will be able to purchase smaller drives as they become available throughout the year. They will range from a still impressive 7.68TB capacity, to 3.84TB, 1.92TB, 960-gigabyte (GB) and finally a 480GB drive.
Samsung did not detail any pricing for the new 15.36TB enterprise SSD, however it is expected to be multiple-thousands of dollars.