Day 2 at Microsoft TechEd 2012 kicked off with a second keynote address, hosted by Antoine Leblond, corporate vice-president for Windows Web Services. The theme of the presentation was that of Windows 8 in business, encapsulated in a mantra that has been mentioned several times on stage, in media events, on the show floor and elsewhere, that "Windows 8 is enterprise-ready by design".
Let's take a look through some highlights of today's event, along with a few other bits and pieces shared in a post-keynote conference, in pictures.  
Antoine Leblond started by highlighting the fact that "Windows 7 is rooted in the last big generational change that we made… Windows 95". Things have moved on a bit since then, to say the least – something he didn't shy away from, as he rhetorically asked: "How much has the world that Windows 7 is built on changed since then?"
Over 75% of US PC sales will be notebooks this year, with 2013 looking increasingly like the year of the tablet, an arena in which Windows 7 has little appeal. The world is changing, and devices and their software have to change too:
As computing becomes more mobile, hardware needs to be optimised around battery life and portability. Antoine went on to describe touch as a "monumental shift", noting that "touch is coming to more devices, and it radically changes how you use those devices".
Our interconnected world – in which we and our devices are more or less constantly connected to the web and other users – marks another seismic shift in device usage, compared with the days of Win95, while the inundation of content from just about every direction has also changed how we use computers.
"We've reimagined the way we use technology in our lives," he said, "so in Windows 8, we've reimagined Windows."
Windows 8 is "built for the billion people who use PCs today, and for the next billion who will use PCs in the future". It's "a generational change in Windows… but it's still Windows".
One of the most compelling attractions of the platform, he added, is that with Windows 8, there's no need to be stuck with the choice of 'a tablet' or 'a notebook' if those devices don't precisely fit your specific requirements. In the Windows 8 ecosystem, there are tablets, notebooks, convertibles, detachables, desktops, all-in-ones, and a huge range of other devices that ensure that – from both a consumer and business perspective – there is "no compromise".
With the focus today on Windows 8's suitability for the business environment, we got a quick glimpse of a new CRM app developed for the New Belgium Brewing Company, built in HTML and CSS, which enables the company sales reps to manage customer relationships in the field, accessing client account data via a back-end Dynamics CRM system, and allowing staff to do stuff like viewing historical account information and metrics, as well as managing and viewing their own appointments via a Live Tile on the Start Screen or visualised on a map within the app. (ZDNet's Mary Jo Foley put together a great write-up about the app a few months ago that's worth a read.)
Another demo featured a business management app from global enterprise software specialists SAP. "Each bubble represents a business opportunity… the larger the bubble, the bigger the opportunity." The X axis is time, the Y is confidence of closing a sale. By moving the bubbles around, the app can pull in data from other sources to help visualise information regarding each business opportunity, helping to inform business decisions.
Next, Microsoft's Linda Averett took to the stage, demonstrating "Windows 7 running in a client hypervisor, running on Windows 8". She showed the game 'Cut The Rope' running in Internet Explorer 10 on Windows 8, running alongside another instance of the game in IE9 on Windows 7 (you may have read a bit about this here a little earlier).
Antoine then returned to the stage to talk a bit about developing business apps for Windows 8. He started with a shout-out: "Any Silverlight developers in the room?"…at which point a deathly hush filled the room and a tumbleweed blew across the stage.
Okay, that might be a slight exaggeration, but only a tiny handful of isolated voices replied back to him.
He went on to explain that Microsoft has "designed the platform to make it easier to develop apps using the skills and experience you already have", highlighting the extensive language support offered in Visual Studio.
With Visual Studio 2012, you can write asynchronous code using the 'async' feature which Microsoft believes "makes asynchronous programming almost as straightforward as synchronous programming".
Here's one he made earlier:
Next, Linda returned to the stage to discuss deploying apps in a business environment to Windows 8 devices, or in this case, an ARM tablet being used internally by Microsoft for development.
Microsoft's fake 'demo brand', Contoso, made an appearance here, as Linda simply jumped into an app which allowed her to view software available from the company, and install it with just a couple of taps of the screen. The app is certified through the Windows App Certification Kit (Windows ACK, affectionately known as 'WACK').
She noted that default device encryption, Trusted Boot and many other features, make ARM tablets with Windows RT a resilient choice for business and enterprise deployments.
Perhaps the most interesting part of a fairly unremarkable keynote, light on new and explosive information, was during Linda's demo, when she opened Excel on the Windows RT desktop. Through this slightly blurry image, you may still be able to see, in the yellow strip near towards the top, the text: "PREVIEW EDITION: You are using a preview of Microsoft Office 2013 RT. For more information go online."
…but if clarity is more your thing, Rafael Rivera tweeted a much crisper screenshot of the new app:
…and with that, the keynote drew to a close:
But in a press conference after the keynote, Microsoft revealed a few more bits and pieces.
First off, there's that mantra again… Repeat after me: "Windows 8 is enterprise-ready by design."
…and of course, "Windows reimagined" is a phrase that's becoming a little overused too.
It was pointed out that Microsoft has had "very, very positive feedback" from hundreds of business and enterprise customers using Windows 8 around the world. One factor in this is that such customers appreciate that Windows 8 can be easily deployed alongside Windows 7 in the enterprise; it's not an 'either/or' situation.
Perhaps more intriguing is Microsoft's assertion that, among business and enterprise customers, "a Windows 8 tablet is the tablet they've been waiting for".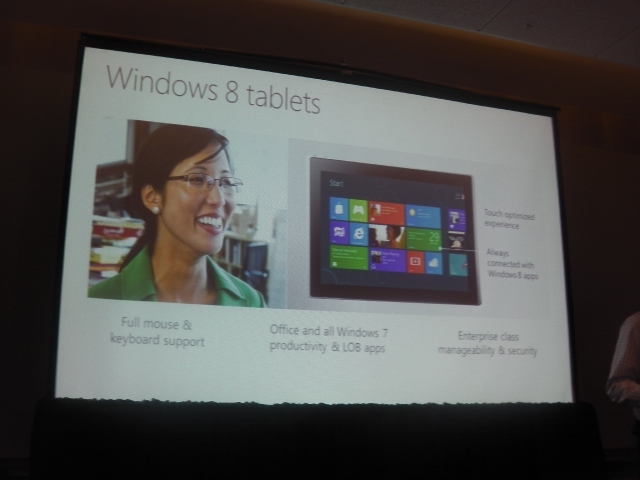 There was a quick demo of an app called 'Rounds', which one of Microsoft's partners has been working on for use in hospitals.
It's designed for doctors doing their rounds, and features Lync integration, along with features such as being able to pull medical scans directly to the device…
…while tablet pen support allows for patients to not just review a consent form, but also to sign it.
Again, we heard that Windows 8 is about "no compromises", with a rich and diverse hardware ecosystem offering great choice for all business scenarios.
Microsoft is working with its partners on 'ruggedized' Windows 8 tablets, while 'sanitised' tablets are in development for use in medical facilities.
Additionally, Microsoft is working with 'a large airline' to deploy Windows RT tablets to inflight crews, and working with a major telecommunications company to deploy RT tablets to its field agents. It's all about ensuring that there is always "additional choice" for business customers with Windows RT in the enterprise – from systems that most of us are intimately familiar with, like desktops and notebooks, to 'specialized use cases' like ruggedized tablets for use outside of the office.
"Windows 7 is the most secure OS on the market" – and Microsoft says it's built on that to make Windows 8 even better. Trusted boot features make it much harder for rootkit and bootkit infections to infiltrate a system, while BitLocker is supported on the client side, with device encryption enabled by default.
Windows 8 also brings improvements in virtualization, making it easier than ever to scale deployments across organisations.
An update to Windows Intune was announced yesterday (see more on yesterday's day 1 keynote here)…
…and Microsoft today confirmed updates to the Desktop Optimization Pack (MDOP). BitLocker Administration and Monitoring (MBAM) 2.0 beta was confirmed, along with a beta of Advanced Group Policy Management (AGPM) 4.0 SP1, both of which now support Windows 8. A release candidate of Diagnostics and Recovery Toolset (DaRT 8.0) was also announced today, again with Windows 8 support, while a second beta of User Experience Virtualization (UE-V) is coming soon.
…and, in a nutshell, here's what makes Windows 8 so appealing for business: