One of the biggest drawbacks of wireless charging nowadays is the charging speeds in comparison to what's offered by conventional charging cables which can go as high as 45W (with plans to go even further). Wireless charging is more likely to cause heating issues, and so, it's typically reached 10W for what's considered fast wireless charging. But Xiaomi is promising a big improvement to that with the new Mi Charge Turbo technology.
The latest iteration, announced today, promises a whopping 30W of charging power wirelessly, which is a notable improvement over Xiaomi's previous technology that offers 20W. To achieve this, Xiaomi says it uses a 4:1 direct-charge architecture with two levels of pump voltage reduction, which helps it charge quickly while reducing the resulting heat generation. When paired with a cooling fan, the company's 30W charger can charge a 4,000 mAh battery up to 50% in 25 minutes, and get it to maximum capacity in 69 minutes.
Support for 30W wireless charging will come with the upcoming Mi 9 Pro 5G flagship, but that's not all the company has done. The new phone will also feature significant improvements to reverse wireless charging with a new 1:2 charging pump that offers up to 10W of power to other wirelessly charging devices. Current reverse wireless charging technologies only offer 5W, so this is pretty significant. There's also a new dual-band transmission technology that lets wireless charging and Bluetooth communication be more easily separated, so that both can work at the same time.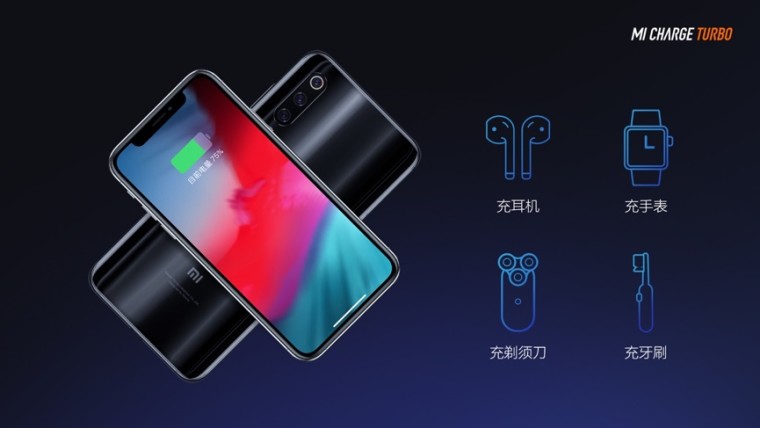 The Xiaomi Mi 9 Pro 5G will support fast charging via cable or wireless charging, and it'll also be able to charge other devices using those two methods. It'll be able to receive charge through one method while charging other devices with the other as well.
Xiaomi is also introducing a couple of new chargers to go along with its new technologies. There's, of course, the fan-cooled 30W wireless charger mentioned above, and a 20W Smart Tracking charger that can track where you've placed your phone and move the coil so that it's aligned with the device.
It's currently unclear when any of these products will launch, but it shouldn't be too far off. If 30W still isn't enough for you, Xiaomi says it's currently testing 40W wireless charging, too.