Huawei's premium handsets are some of the best on the market, and the Mate 20 Pro is no exception. It has the same 40-megapixel camera that I fell in love with on the P20 Pro, but it replaces the monochrome sensor with a wide-angle lens, adding some additional functionality.
But that's not all. While the firm has been using glass-backed phones since the Mate 10, it's finally included wireless charging. On top of that, you can do what Huawei calls reverse wireless charging, which is using the Mate 20 Pro to charge any other Qi device.
And the phone has everything else you want, including a 1440p AMOLED display, a stunning gradiant color, and an in-display fingerprint reader. Here's our review of what I believe is the best smartphone of 2018.
Specs
| | |
| --- | --- |
| CPU | Octa-core HiSilicon Kirin 980, dual-core 2.6GHz Cortex-A76, dual-core 1.92GHz Cortex-A76, quad-core 1.8GHz Cortex-A55 |
| GPU | Mali-G76 MP10 |
| Display | 6.39 inches, 1,440x3,120, 538ppi, AMOLED, 19.5:9 |
| Body | 157.8 x 72.3 x 8.6 mm (6.21 x 2.85 x 0.34 in), 189 g (6.67 oz) |
| Camera | 40MP + 20MP + 8MP, Front - 24MP |
| Video | 4K - 30fps, 1080p - 60fps, Front - 1080p - 30fps |
| Aperture | f/1.8 + f/2.2 + f/2.4, Front - f/2.0 |
| Camera features | Leica-certified lenses, 3x optical zoom, 5x hybrid zoom, OIS, PDAF, laser AF, dual-LED dual-tone flash |
| RAM | 6GB |
| Storage | 128GB |
| Battery | 4,200mAh |
| Price | £899.00 |

Day one
Design
The Huawei Mate 20 Pro is an absolutely beautiful device. Once again, the firm went with a glass sandwich design, and once again, there's an option for gradient colors. Huawei sent me the Twilight model, which is definitely the sexiest one.
Twilight means something different than it did with the P20 though. On the Mate 20, the gradient goes from black to purple to blue, whereas with the P20 it went from purple to cyan. In fact, Huawei ended up using this exact color on the P20 Pro, calling it Morpho Aurora.
The back is a smooth glass finish, although that's not the case if you get the blue or the green model. As I noted in my Mate 20 (non-Pro) review, those colors actually have a slightly textured back.
Right in the center toward the top of the device is a new camera module design, which is square with rounded corners. I really like it, since the P20's camera looked like an iPhone X camera module. It's really nice to see Huawei going with an original design in this area. I also like having the camera in the center of the device. In the four corners, the flash is the top-left, while the other corners are camera lenses.
On the right side of the device, you'll find the power button and above that, the volume rocker. On the bottom, there's a USB Type-C port for charging and a nano-SIM slot. There's no 3.5mm audio jack once again, and another thing you won't find anywhere is a fingerprint reader. That's because the fingerprint sensor is under the display, but we'll come back to that.
Huawei went for a nearly bezel-less design, with curved left and right edges on the display. The notch is larger than it is on the Mate 20, but that's because it includes depth sensors.
Display
The display on the Mate 20 Pro is 6.39 inches with a 1,440x3,120 resolution, giving it a 19.5:9 aspect ratio. Yes, the device feels tall and narrow, especially since Huawei curved the left and right edges of the device, similar to a Samsung Galaxy handset.
I really don't like it, and it's one of my biggest complaints about the device. The curved edges just make it really hard to use. I ended up ordering a case for it just to make the situation a little bit better. Naturally, it's a clear case, so as not to hide the beautiful body. It feels to me like the curved edges are an unnecessary change though, sacrificing functionality in favor of form.
I want to call out the resolution as well, as Huawei is not in the habit of making QHD smartphones. Both the P20 Pro and the Mate 10 Pro before it were 1080p. Both the P10 Plus and the non-Pro Mate 10 were 1440p; however, they were 16:9 (1,440x2,560), so the Mate 20 Pro definitely has the most pixels of a Huawei phone.
It's an AMOLED display, which is probably what you want in today's day and age. With AMOLED screens, pixels can be turned off and you get true blacks, so colors rendered on top of that tend to be more vibrant, whereas an LCD would be entirely backlit. Generally, and this is a very general statement, AMOLED displays are just prettier to look at than LCDs.
I don't love the 19.5:9 aspect ratio, although I get that it's the current trend. With the curved edges and the tall design, it feels very narrow. I actually miss the days of flat 16:9 screens, because you actually get a bigger surface area.
The screen itself is beautiful though. In fact, even Huawei's LCDs look great, so this is even better. It does have an oleophobic coating on it too; some previous devices didn't have it, forcing users to have a screen protector on the device.
There's an option for an always-on display, which Huawei does not include in its LCD phones like the Mate 20. It doesn't do much though. You'll be able to see the time, date, and battery, but not notification badges.
Wireless charging and reverse wireless charging
One of my complaints about Huawei devices over the past year or so, since the Mate 10 Pro, was that these devices had glass backs but they didn't support wireless charging. That makes them prettier, but more breakable with no real functional benefits. It's another example of form over function.
With the Mate 20 Pro (only the Pro), there's finally wireless charging. One of the reasons that Huawei never supported it before was because regular Qi charging is slow, but with this device, it actually supports 15W wireless charging.
It gets better though because the Mate 20 Pro actually supports reverse wireless charging. You can turn this on pretty easily through Settings, and once it's on, you can just place any Qi phone on the Mate 20 Pro's back and it will charge.
The device has a 4,200mAh battery, so you get more than a day out of it. That means that you can power up your friend's phone without having to worry about sacrificing your own battery life. And yes, the battery life on the Mate 20 Pro is that good.
One thing I wish it had was an option in the quick settings dropdown. It's kind of a pain to turn this on through the main Settings app, especially since reverse wireless charging automatically turns itself off if there's no device on top of it.
In-display fingerprint sensor and facial recognition
Huawei went all-in on biometric authentication with the Mate 20 Pro, including depth sensors in the notch for real facial recognition and an in-display fingerprint sensor. I was excited to try this out, since Huawei has always had best-in-class fingerprint sensors.
Unfortunately, I was somewhat disappointed in the in-display fingerprint sensor. It's definitely cool and I think it will get better over time, but it's not quite there yet. It often takes multiple tries to unlock the phone, although it's fast when it does work.
For the most part, I actually had facial recognition turned off while reviewing the phone. I did use the feature enough to be familiar with it, and this part actually works quite well. The depth sensors are there so that you won't be able to fool it with a selfie. You can actually try this one at home if you've got a standard Android phone that promises facial recognition. Borrow your friend's phone, take a selfie, and hold your phone in front of it to see if it unlocks. On most devices, that method will work just fine, but not with the Mate 20 Pro.
When using the device in the real world, you'll probably want to turn on both facial recognition and the fingerprint sensor. That way, one of them will always work. That's actually why I had to turn off facial recognition to test the fingerprint sensor, because the facial recognition will log me in and fool me into thinking that the fingerprint sensor is better than it actually is.
I do give Huawei a lot of credit for bringing one of the first in-display fingerprint sensors to market, but this technology will need a little bit of time to mature.
Camera
I love Huawei cameras, and I can provide several anecdotes as to why. I got married over the summer, and I brought the P20 Pro on my honeymoon with me. I'm so grateful I did, as the P20 Pro preserved those memories perfectly. That's what a smartphone camera is all about, capturing memories, especially in places where it might not be sensible to have a standalone camera with you.
Another reason is the 40-megapixel sensor, something that Huawei also has on the Mate 20 Pro. You might recall the Nokia Lumia 1020, which had a 41-megapixel sensor, and the key feature was lossless zoom. A smartphone camera can only see so much and that field of view is made up of pixels, so as you zoom in on an image, the quality degrades. But the more pixels you have, the less degradation you'll see. Remember, even a 4K display is about 8.3 megapixels and 1080p is about 2.1 megapixels.
Huawei has a triple-lens configuration that does even more than the lossless zoom you'd get from a 40MP image. There's an 8MP lens for 3x optical zoom, meaning that it has a smaller field of view than the main lens. Also, there's a 20MP wide-angle lens, which replaces what was the monochrome lens in the P20 Pro. All of the lenses are Leica-certified.
Of course, the firm is also continuing with its AI camera, which is even better now with the Kirin 980 processor. The chipset has a dual neural processing unit, and this is used to identify what the camera is seeing. The Camera app adjusts the settings accordingly, so it will say it's seeing something like a dog, a blue sky, a waterfall, snow, food, and so on. With Master AI 2.0, Huawei says it can recognize over 1,500 scenarios.
There's also a feature called 4D Predictive Focus, which is meant to focus on moving objects. For example, if you've ever taken a picture of a flower on a windy day, it might have been out of focus. The Mate 20 Pro is meant to predict where the subject will be next and focus on it.
There are improvements to Night Mode as well. This is a feature that will take in light over the span of a few seconds to brighten an image. You don't just have to use it at night either, as it can brighten up your subject if the light source is behind it. One key improvement with the Mate 20 Pro is that you can now use Night Mode with all three lenses, rather than with just the main lens. I did find that when using it with a zoom, it gets a little shaky and the images seem to come out a little blurry.
The front camera has portrait mode, due to the depth sensors. Huawei included some portrait lighting options too, some of which look good, and some of which look like a bad Photoshop job.

Obviously, there's a lot to test out on a smartphone camera like this. On top of three different lenses, there are the different AI scenes, different lighting conditions, Night Mode, wide aperture mode (sort of like portrait mode but for objects), and so on.
There are a couple things I want to call your attention to though. I used Night Mode quite a bit, so take a look at any image that's shown twice. You can really see how Night Mode brightened them up and you can see how shaky it is when zoomed in. Also, make sure to expand those two photos that look like they're just black pictures of nothing. Those are actually pictures of the night sky, and in one of them, you can actually see the stars, thanks to Night Mode.
The point is, this is the camera that I want to have with me when I want to capture memories.
Performance
I'm going to sound like a broken record because I say this in every premium smartphone review, but the performance is great. Flagship chipsets provide more performance than any reasonable person needs.
The Huawei Mate 20 Pro comes with its HiSilicon Kirin 980 chipset, which has four ARM Cortex-A76 cores and four Cortex-A55 cores. Two of the Cortex-A76 cores are clocked at 2.6GHz and two are clocked at 1.92GHz, while the Cortex-A55 cores are clocked at 1.8GHz.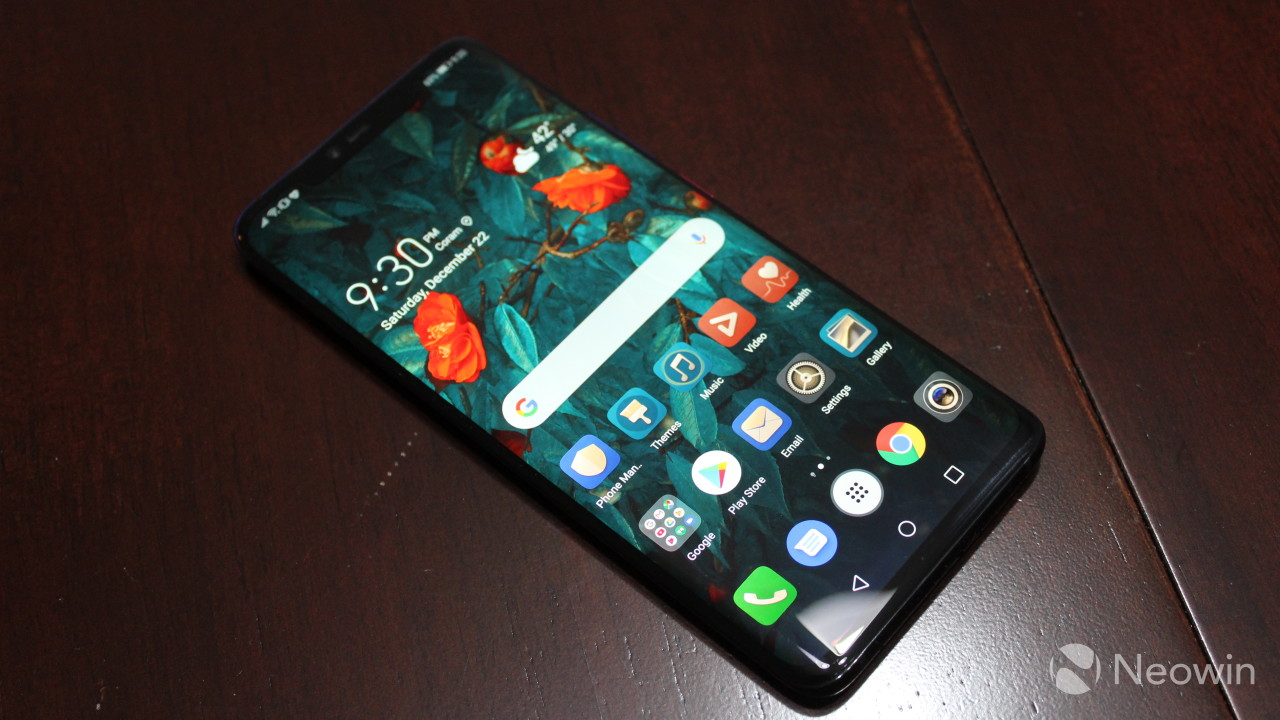 This is meant to take big.LITTLE to another level. The idea behind big.LITTLE is to use big cores for the tasks that require more power, while there are less powerful, more efficient cores for tasks that don't need so much power. These smaller tasks can be things like syncing background notifications, so while that's happening, the CPU isn't using as much battery life.
The Kirin 980 actually has three levels of this though, which allows power to be optimized even further. On top of the CPU, there's a dedicated Neural Processing Unit (NPU). On top of the camera features mentioned above, the NPU also helps with battery life on the massive 4,000mAh battery. It's meant to learn how you use the device, and optimize accordingly.
For benchmarks, I used Geekbench 4, AnTuTu, and GFXBench. First up is Geekbench 4, which tests the CPU.
The 7nm chipset beats out Qualcomm's Snapdragon 845 by a longshot. In my Pixel 3 XL review, it got a single-core score of 2,347 and a multi-core score of 8,371. Apple's 7nm A12 Bionic in the iPhone Xs Max still comes out on top though, scoring 4,798 in single-core and 10,731 on multi-core.
Next up is AnTuTu, which tests a bit of everything.
Once again, the Kirin 980 outperforms the Snapdragon 845, compared to the LG V40 ThinQ's 255,425. The iPhone Xs Max got 312,678. Finally, GFXBench tests the GPU.
Huawei also has a GPU Turbo feature, to boost the performance of games. It supports titles like PUBG Mobile and Mobile Legends: Bang Bang.
Conclusion
I've been singing the Mate 20 Pro's praises throughout this review, but it's time to mention the elephant in the room, which is that U.S. availability is once again limited. Sure, you can buy one off of Amazon, but carriers won't sell it. This is of no fault of Huawei's, unless the allegations from the U.S. government are true, which I don't personally believe them to be. I believe that the lack of Huawei devices on the U.S. market is a massive disservice to the American consumer, because these are magnificent devices.
And yes, the Mate 20 Pro is an awesome phone. Reverse wireless charging is an innovative feature that's actually useful more than you'd think it would be, and the in-display fingerprint reader is pretty cool, even if it needs work. But there's a lot about this phone that just looks cool. It's a fun moment when your friend asks if you have a phone charger and you just place their phone on yours. Then, of course, there's the cool design.
But nothing beats the camera. Huawei could ditch every other feature that comes with this phone and I'd still want to have it with me at all times. One could argue about which phone takes the best pictures, but nothing beats the Mate 20 Pro at lossless zoom, which is a tremendously important camera feature.
I really believe that the Huawei Mate 20 Pro is the best overall phone of 2018. Based on the fact that I've reviewed most major phones to be released this year, and knowing that it's the one that I want to have with me all the time.
Pros
Awesome camera AMOLED display Reverse wireless charging Biometric security Beautiful design
Cons
Curved display edges Lack of U.S. availability