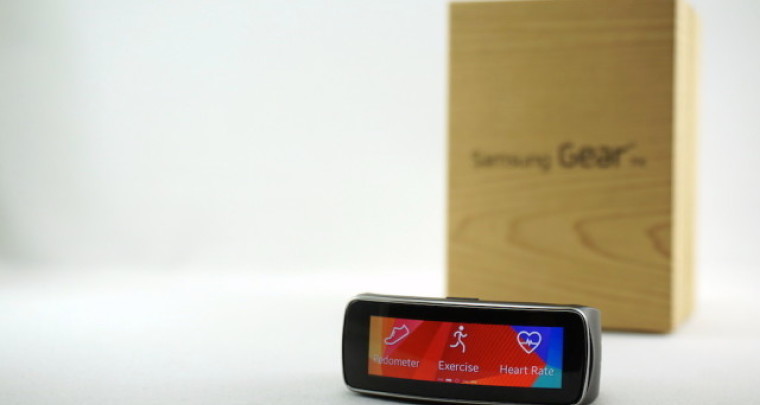 Several months ago, at the Mobile World Congress, Samsung announced a range of new wearables. While most of the releases were rehashes of what was unveiled the previous year, the Gear Fit was a little different. It immediately caught my eye, with its slender screen and unique curved display. Instantly, though, my hopes were dashed, knowing that the Gear Fit was a product specifically built for Samsung devices and since I owned a Nexus 5, I wasn't going to have a chance to own it.  
Luckily, I have been fortunate enough to have the opportunity to test the Gear Fit and have been doing so for the past week. The Gear Fit is touted as a fitness band with the added benefit of syncing notifications from your Samsung handset. Last week, I tested the Gear 2 Neo and from that I have a firm understanding of how a Samsung smartwatch should function. Read on to see if the Gear Fit was able to accommodate my needs as both a fitness tracker and smartwatch.
 
Samsung Gear Neo 2
Product Codes
SM-R350
Display
1.84 inches
128 x 432
Curved Super AMOLED
Processor
160 MHz
Connectivity
Bluetooth 4.0
Ports
charging cradle with microUSB
Sensors
Accelerometer
Heart Rate
Gyroscope
Battery
210 mAh
Price
$199.99 USD
 
The Gear Fit comes in one color, black, but can be customized via interchangeable bands that are sold separately. The Fit deviates from the standard smartwatch design and has a rectangular curved display that hugs the wrist. The device can be broken down into two pieces: the display and the band, with both parts being made out of plastic. 
Similar to the Gear 2 Neo, the Fit feels sturdy and lightweight, with minimal moving pieces. The device is lighter, thanks to Samsung's use of a simpler clasp that does away with the Neo's locking clip. The screen is surrounded by a thin chrome trim that is slightly raised and provides contrast to an otherwise simple looking device.
On the side of the screen, there is one button that can be used for various actions. Similar to the Neo, it acts as the on/off and home button with the big difference being that it can only be configured with one customizable action that can be engaged by pressing it twice. While this isn't a huge deal, it does limit the amount of shortcuts you can assign the button. The device also features a heart rate monitor located on the backside that illuminates green when activated.
The band of the Gear Fit feels supple, but is a bit flimsy and less rigid compared to the Neo. The outer portion of the band has a cross hatch design that gives the band some texture. The inside of the band has a less pronounced ribbed texture, but does manage to keep the band in place, even during rigorous activities.
Although I did have some concerns regarding the clasp's lack of a proper locking mechanism, it managed to stay in place without coming undone during my week of use. But I do think that under certain circumstances, there is a good chance that it may come undone with only a slight amount of force. 
The Gear Fit features a 1.84" 128 x 432 curved Super AMOLED display. The small rectangular display is surrounded by a glossy black bezel with a thin chrome accent. It is protected by Corning's Gorilla Glass 3, which prevents damage to the exposed area. ​
Since this piece is exposed for most part, I was worried that I might scratch or damage the screen. But, during my week of use, I did not see any damage or apparent scratch marks on the device. 
The Super AMOLED display looks fairly good in most lighting conditions. Since the display uses AMOLED technology, the colors are vibrant with deep blacks. The display has excellent viewing angles with limited, but still noticeable pixelation. The device does not have an ambient light sensor, but the default brightness settings seem to work well in most environments.
As is the case with most devices, the Gear Fit does suffer from fading under direct sunlight. Perhaps what is more apparent is how the curved display causes the watch face to attract more glare and reflections. While the effect was minimal indoors, outdoors the glare often became distracting. 
In order to combat the external light, the Gear Fit does include an outdoor mode that can boost the brightness to max for five minutes and then reset itself back to default settings. The display does support multi-touch but is limited in its use. By double tapping the screen with two fingers, users are able to access a shortcut to the brightness settings. This is fairly handy when trying to adjust the brightness of the display on the fly when outdoors.
Since the Gear Fit display is rectangular, it makes it fairly odd to read incoming notifications or text. In portrait orientation, the device works fairly well for most things. But, if you happen to get a message, email or some other type of notification that requires reading, it becomes a disaster. The text is smashed in the narrow confines of the screen, making every single notification a chore to decipher.
Sure, I might be exaggerating a little, but it is definitely awkward and uncomfortable to read. In landscape, the screen is utilized a bit better, but it still requires a lot of scrolling, with only three lines of text capable of being displayed at one time. This mode does have its drawbacks, as the screen becomes difficult to read, due to its unnatural position on the wrist. 
All in all, the screen's shape is definitely an issue when it comes to reading notifications or texts. During standard use as a fitness band the problem is unnoticeable, but once you introduce the capability to receive notifications on the device, the Gear Fit seems compromised by a forced experience.
Although developers can create applications that work with the Gear Fit, they won't be able to make apps that load onto the device. The Gear Fit is running software version R350XXU0BNE5, which is the latest available build of the software that is updated from the Gear Fit manager application on Android.
​
The Gear Fit works much like any modern touch screen device and can respond to touch, taps, and swipes. The home screen can be set with different wallpapers and clocks, but is still limited when it comes to customization. Since the Gear Fit does not support apps, it is limited to what is already provided by Samsung.
By default the Fit includes: a timer, stopwatch, sleep app, pedometer, exercise app, heart rate monitor, media controller, and notifications widget. Similar to the Gear 2 Neo, the Gear Fit relies on a compatible Samsung device to relay information from the device to the watch and vice versa.
To pair the Gear Fit you must download the Gear Fit manager from the Samsung Apps hub. Once you pair it with your device using Bluetooth, you will be able to start using the fitness band.
The Gear Fit manager application has only a few options like changing the home screen (which can be performed from the watch), a fitness section that gives you in-depth readings and statistics of your daily activities, a notifications section that can be customized to relay your notifications to the watch, and settings. The settings area allows you to change the behavior of the Gear Fit and set up the reject call message and the pre-defined text templates.
The meagre app offerings and customization abilities are where Samsung falls short. Although the Gear Fit manager is available, it really doesn't add much to the experience. In comparison to other fitness bands, the Gear Fit is on par for the most part, but where it falters is in its lack of support for third party applications. Although this device might support other apps, Samsung doesn't make it easy to locate them. It would've been nice if Samsung utilized their own apps hub to curate compatible apps. Instead I was left to search for them myself, coming up empty-handed and frustrated.
While the S Health and other Samsung apps try to encompass all of the users fitness needs, I think that the device could benefit from having better support from developers. Instead of solely relying on S Health, it would be nice if Samsung continued to evolve its platform to accommodate a wider variety of activities or to properly display compatible applications in its app hub. While this is designed primarily as a fitness band, it could also have benefited from the app expandability that the Gear 2 and Gear 2 Neo offer.

Overall, the Gear Fit performs well. The 160Mhz processor (yes, that isn't a typo), drives the device, while a 210mAh battery powers it. The interface is functional with swipes and taps being registered immediately. Since this device does not support any apps, it does not allow for dragging and dropping of icons, these must instead be done with the accompanying Gear Manager app.
Much like the Gear 2 Neo reviewed before it, the Gear Fit suffers from the same issue with the heart rate monitor. Time and time again I found myself fiddling and adjusting the band to get a proper reading. But, once it is locked in and reading properly, it seems to work satisfactorily. This can be an annoying experience for those who are relying on this device to track their heart rate during extended routines. The results can sometimes lead to inaccurate readings or worse yet, no readings at all.
Overall, the device is stable. The miniscule processor was capable of keeping pace with all of my daily routines. I never experienced a crash or a stutter, but then again there really isn't an opportunity to overwork this device. 

The 210mAh provides plenty of power to this device that is rated for three to four days. I was able to achieve about three days between charges, but if you regularly use the heart rate monitor you should expect less.
On a regular day I would take the device off the charger at 10am and end my day at around 11pm. During use, I had the device synced to a Galaxy S4 receiving texts, Twitter notifications, and email alerts. Naturally, I used the pedometer, which tracked my daily steps and reported the results to the S Health application.
The Gear Fit is able to achieve long battery life by making sure the screen only turns on when necessary. The unit has an accelerometer that will engage the screen when it feels the device is turned in a manner that might mimic a wrist flick. Generally, this worked pretty well and I rarely experienced a moment when I went to check the time and the device presented me with a blank screen.
In order to maximize the battery life I set the screen to power off after ten seconds. This seemed like an ample amount of time whenever I was checking the time or using the device. Similar to the Neo 2, some might question why this would be acceptable, but being a fitness band, I think this is absolutely justifiable in comparison to a smartwatch. While it might not be the ideal solution for everyone, it does allow the device to go several days without needing a charge.

While the Gear Fit is touted as a fitness band, its overall usability is mired by the lackluster experience and apparent lack of support for third-party apps. If the Gear Fit does support fitness applications from third parties, Samsung has made every effort to keep those apps secluded and hidden from use.
While I partially understand the reason, restricting the device to Samsung's app ecosystem is ridiculous, especially when those apps are sub-par. While I commend Samsung for creating a fitness-focused device, there aren't any compelling features to differentiate it from its other wearables to make this a worthwhile purchase. 
The Gear Fit and Gear 2 Neo are both priced at $199.99 MSRP, with only a $50 USD difference in real world pricing ($150 USD for the Gear Fit on Amazon, compared with just under $200 for the Gear 2 Neo). The $50 premium for the Gear 2 Neo is a worthy investment as it has better app support and higher functionality. 
Also I will have to mention that while I liked the look of the Gear Fit, I wasn't a fan of how it looked on the wrist. Since it has such a unique shape, I often felt a bit embarrassed wearing it in public. This was in contrast to the Gear 2 Neo that felt natural and often went unnoticed.
As previously mentioned, the narrow display also became a problem when trying to read texts or notifications. But, if you choose to use this device as a fitness band and not a smartwatch, you shouldn't have too much issue with this. The occasional notification is convenient and the awkwardness can be tolerated, but any more than this and it becomes a chore. 
When I first saw the Gear Fit announced at Mobile World Congress, I thought the Gear Fit would be a great device. It was slender, had a unique design with its curved display, and had just the right amount of functionality to make it stand out from other fitness bands. But, using it for a little over a week, the flaws are evident.
Although I won't say that it's a bad device, I think Samsung could have done more to make it stand out from its other offerings. Instead of offering a crippled Gear 2 in a slimmer body, it should have expanded its functionalitywith better software, unique sensors, and broad compatibility with other third party health applications. 
Perhaps, if this device was priced significantly lower (say, around $100 USD), it would be a valid option. Otherwise, I encourage buyers to look elsewhere.
Pros
battery life comfortable fit vibrant display
Cons
limited pairing finicky sensor limited expandability not much value