Apparently, Apple's newest MacBook Air has a smaller, cheaper Thunderbolt controller to power the single Thunderbolt port. The chip is dubbed Eagle Ridge, according to AnandTech and has a part number of L123TA46. The regular controller is dubbed Light Ridge and has a part number of L051NB32 . Light Ridge is found in the iMac, Mac Mini, MacBook, and MacBook Pro. The reason that the Eagle Ridge chip is smaller is because the MacBook Air has such a small form factor. In addition, the chip is also cheaper. If a component is cheaper, it comes at a price (usually in terms of capability). This means that Eagle Ridge chips only have two 10 Gbps bidirectional channels for a total bandwidth of 40 Gbps (2 channels x 2 directions x 10 Gbps) instead of the four 10 Gbps channels used in Light Ridge. In addition, there is only one DisplayPort output, compared to the two in Light Ridge.
As seen below, the Eagle Ridge chip is highlighted in light blue and comes in two form factors: normal and small form factor (SFF). Apple chose the SFF chip to cut costs and save motherboard space. Note that the Eagle Ridge chip is not integrated with the Intel controller next to the processor.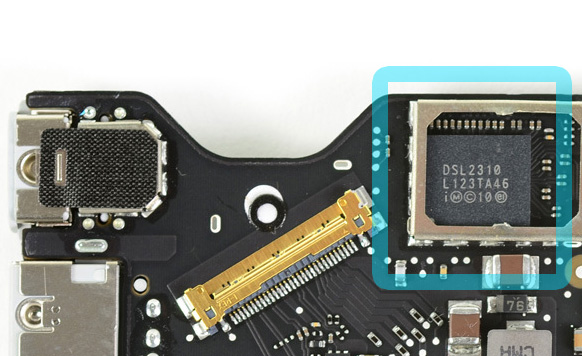 Image Source: AnandTech
Because this part is cheaper than the standard Thunderbolt chip, OEM's may be willing to latch on to Intel's technology and start using Thunderbolt, instead of Apple being the sole OEM using the technology.