Microsoft releases updates for Edge in the Canary channel every day with all sorts of changes: invisible under-the-hood optimizations, minor tweaks, noticeable UX enhancements, and significant new features. The latest release, 102.0.1212.0, improves the history page with new custom filtering controls.
By default, Edge lets you filter the browser history by "Today," "Yesterday," "Last Week," and "Older." These four filters may not be enough to find a specific page you visited on some particular day. Although you can find history entries by word, the ability to specify the exact period is a welcomed UX improvement. Here is how this feature works.
Update Microsoft Edge Canary to version 102.0.1212.0 or newer.
Go to edge://history/all.
Click Filter by date in the upper-right corner of the window.
Select Date Range.
Specify the dates and click Apply. You can select one day or several months.
To clear history filters, press Filter by date > Clear Filter.
Besides adding custom date ranges, Microsoft slightly changed the History page UI. Filtering options now sit in a menu in the upper-right corner. The upper-left corner of the browser now contains only the search box and three sections: All history, Recently closed, and Tabs from other devices. You can see in the images below how the new history page compares with the current one in the Stable channel.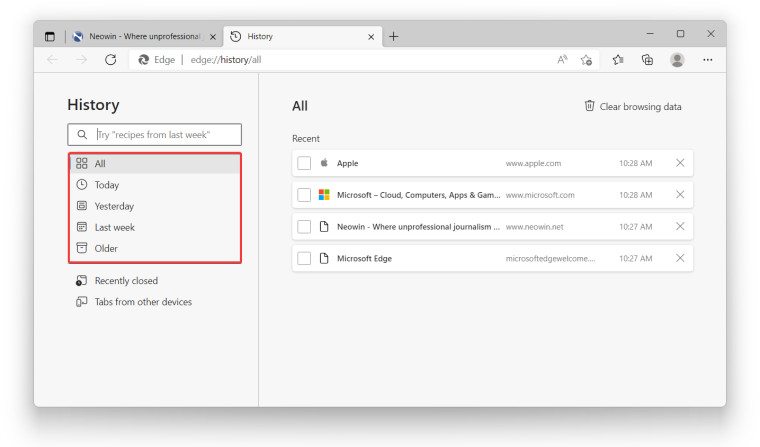 Of course, these are not the most groundbreaking changes in Edge, but such small improvements make the browser more convenient and robust in daily use. Fewer clicks to find the needed information and get things done is always a welcomed change.
Other notable changes in the latest Canary updates include a potential return of the Workspaces feature and improved tab groups, which you might soon be able to pin and save as bookmarks. If you are curious to try new features in Edge Canary, download the browser here. The Canary channel is available on Windows, macOS, Linux, and Android.
Source: Leopeva 64-2.