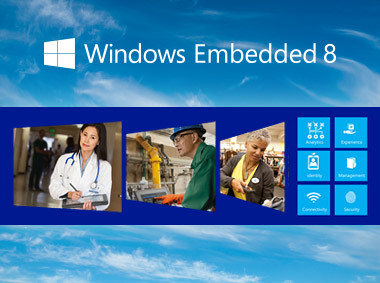 After offering a preview version of the OS to download in November, Microsoft has now launched the final version of Windows Embedded 8 made especially for embedded hardware and systems. Microsoft says that this newest version of its embedded OS also has a number of features that are using in the Windows 8 PC OS.
Microsoft's press release states:
With Windows Embedded 8, enterprises can harness Windows 8 technologies with additional features to support industry devices within intelligent systems — including rich, natural experiences that provide customers and employees with access to the information they are looking for while ensuring the consistency and predictability businesses require.
Microsoft has also launched a portal website, GetWindowsEmbedded8.com, with download links to the OS as well as information on how it can be used in retail stores, medical offices, and more.  While Windows Embedded 8 Standard and Windows Embedded 8 Pro are available right now, Microsoft will wait until April 1st to launch the Windows Embedded 8 Industry SKU.
In addition, Microsoft plans to offer Windows Embedded 8 customers a way to "add or buy enterprise-specific functionality for their Windows Embedded 8-based solutions through licensing options." Those additional features will be offered by Microsoft sometime in July.
Source: Microsoft | Image via Microsoft