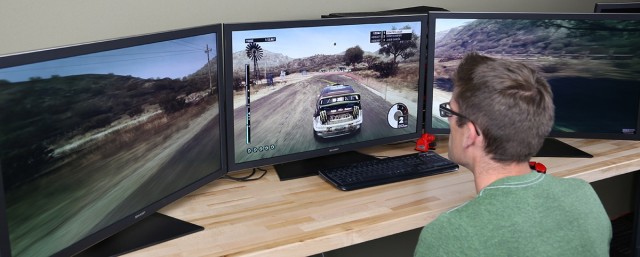 4K monitors are the new hot thing for PC owners to get, even if they are still highly expensive. Earlier this month we reported that the new PQ321Q 31.4 inch monitor from Asus could run 207 instances of Minesweeper inside its top resolution of 3840x2160. This week, Microsoft decided to have some fun in creating a PC rig designed to run three 4K monitors linked to form one large display via AMD's Eyefinity technology.
As described on the Extreme Windows blog, Microsoft got to play with three Sharp PN-K321 32-inch 4K monitors (on loan, unfortunately), each with a resolution of 3840x2160. They also cost close to $5,000 each. AMD brought in an ASUS HD 7970 DirectCU II graphics card to put in the PC rig that has six monitor ports (four DisplayPorts and two DVI ports).
After playing the recent Codemasters racing game Dirt 3 on Windows 8 on all three screens at 30 Hz and one screen at 60 Hz with some success, Microsoft decided to go all out and run the game at 60 Hz on all three monitors running as one display. AMD actually created a custom driver package for the rig and added two more graphics cards and a custom power system (needless to say, the blog insists that people reading the article not try this at home).
The final result was that they were able to run Dirt 3 on this $17,000 custom PC at around 62 to 67 FPS on all three Sharp 4K monitors at 60 Hz with all settings on "High" except for shadow detail and particles. That's a total display resolution of 11520x2160 with a whopping 1,492,992,000 pixels running. The catch? The PC rig was only able to run for a few minutes before it reset because the PSU was getting too much power.
Source: Microsoft | Image via Microsoft