Microsoft has quietly started rolling out a redesigned Weather app for Windows 10 and 11. It has been sitting quietly without much attention from the company for quite a while, but now users can enjoy (or not) a brand-new home screen with more information and MSN News.
The biggest change in the new MSN Weather app (version 4.53.5109 and newer) is a redesigned home page with tabs that let you quickly check the forecast for your favorite locations (via @FireCubeStudios and Deskmodder). In addition, there are new information blocks, such as "Suggestions for your day" with forecast-based recommendations. For example, the app can tell you if you need an umbrella, what clothing you may want to wear, wind safety, and more. Unfortunately, when upgrading the app, Microsoft lost the air quality indicator, so you can no longer check AQI for your area in MSN Weather (it is still available on the MSN Weather website).
Here is how the upcoming update compares with the current version: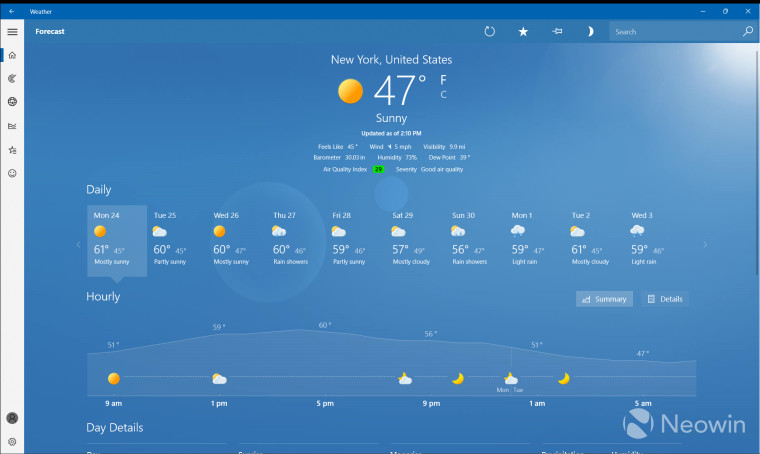 As for other not-so-pleasant changes, get ready for a swarm of recommended content on each page inside the app. Once you scroll down, the app will greet you with the MSN News feed, infamous for feeding customers with all sorts of questionable (sometimes outright harmful) content. Luckily, the feed focuses on weather news, so it does not try to shove celebrity gossip and other nonsense down your throat.
Overall, the MSN Weather app for Windows 10 and 11 is now an exact copy of its web-based interface available on the msn.com/en-us/weather page, recently declared the most accurate forecast provider by ForecastWatch. One may argue that the service's UI is not the most convenient or easy to use (not to mention the ever-spreading recommended content), but at least it provides accurate forecasts.