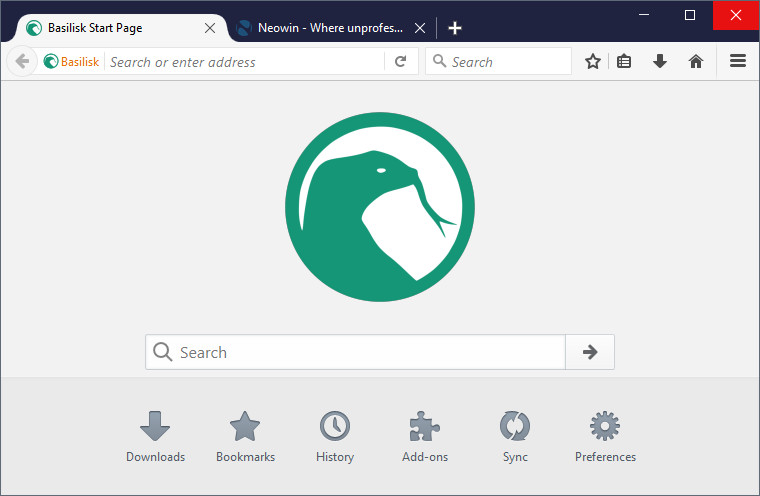 Basilisk is a free and Open Source XUL-based web browser created by the developers of the Pale Moon browser. It is based on the Goanna layout and rendering engine (a fork of Gecko) and builds on the Unified XUL Platform (UXP), which in turn is a fork of the Mozilla code base without Servo or Rust.
Basilisk as an application is primarily a vessel for development of the XUL platform it builds upon, and additionally a potential replacement for Firefox to retain the use of Firefox Extensions. It aims to retain useful technologies that its sibling Firefox has removed.
Requires Windows 7 or later. Windows XP or Windows Vista are not supported.
Main features:
Full support for JavaScript's ECMAscript 6 standard for modern web browsing.
Support for all NPAPI plugins (Unity, Silverlight, Flash, Java, authentication plugins, etc.).
Support for XUL/Overlay Mozilla-style extensions.
Experimental support for WebExtensions (in gecko-target mode). Please note that some Mozilla-specific WebExtension APIs are not yet available.
Support for ALSA on Linux.
Support for WebAssembly (WASM).
Support for advanced Graphite font shaping features.
Support for modern web cryptography: up to TLS 1.3, modern ciphers, HSTS, etc.
Important differences with Mozilla Firefox:
Uses Goanna as a layout and rendering engine. Goanna behaves slightly differently than Gecko in certain respects and may result in different display of web pages. e.g.: Goanna renders gradients in a more accurate color space (non-premultiplied).
Builds on UXP, our XUL platform in development. As such XUL is alive and well in this browser and will not be deprecated.
Has some long-standing known issues with the Mozilla code-base fixed (e.g. CVE-2009-1232).
Does not use Rust or the Photon user interface. You can expect a familiar interface as-carried by Firefox between v29 and v56.
Does not use Electrolysis (e10s, multi-process browsing).
Does not require walled-garden extension signing.
Basilisk 2018.09.05 changelog:
Added new DataTransfer constructor (spec compliance).
Aligned CSS layout flex grid with latest spec.
Made the MP4 reader less sensitive to corrupt data.
Improved media handling (ongoing).
Updated NSPR/NSS and enabled the use of latest draft TLS 1.3.
Changed the way network/cert errors are handled and displayed.
Fixed an ANGLE rendering issue (WebGL2 crash fix).
Added support for sbgp and sgpd boxes in EME.
Fixed "sticky" menus in High Contrast themes.
Updated zlib to 1.2.11.
Enabled Direct3D9 accelerated layers as a fallback if Direct3D11 can't be used.
Tuned the network stack for efficiency.
Fixed a number of performance issues with the browser.
Improved Mac OS X theming (unreleased).
Improved compatibility with GCC 8.
Reinstated RC4 and 3DES as weak cyphers as an option to enable use in non-standard environments (not enabled for the web by default).
Removed most telemetry calling code from C++ and the JS TelemetryStopwatch. This prevents most data gathering and improves performance.
Added an option (browser.newtabpage.add_to_session_history) to decide whether to store "about:newtab" in the session history for workflows of people wanting to use the back button to return to the QuickDial page.
Added an option (ui.menu.allow_content_scroll) to override the OS convention to prevent scrolling of content when contextual menus are open.
Added a horizontal scroll action option for mouse wheel.
Download: Basilisk 2018.09.05 (32-bit) | Portable | ~50.0 MB (Open Source)
Download: Basilisk 2018.09.05 (64-bit) | Portable
View: Basilisk Website
Get alerted to all of our Software updates on Twitter at @NeowinSoftware