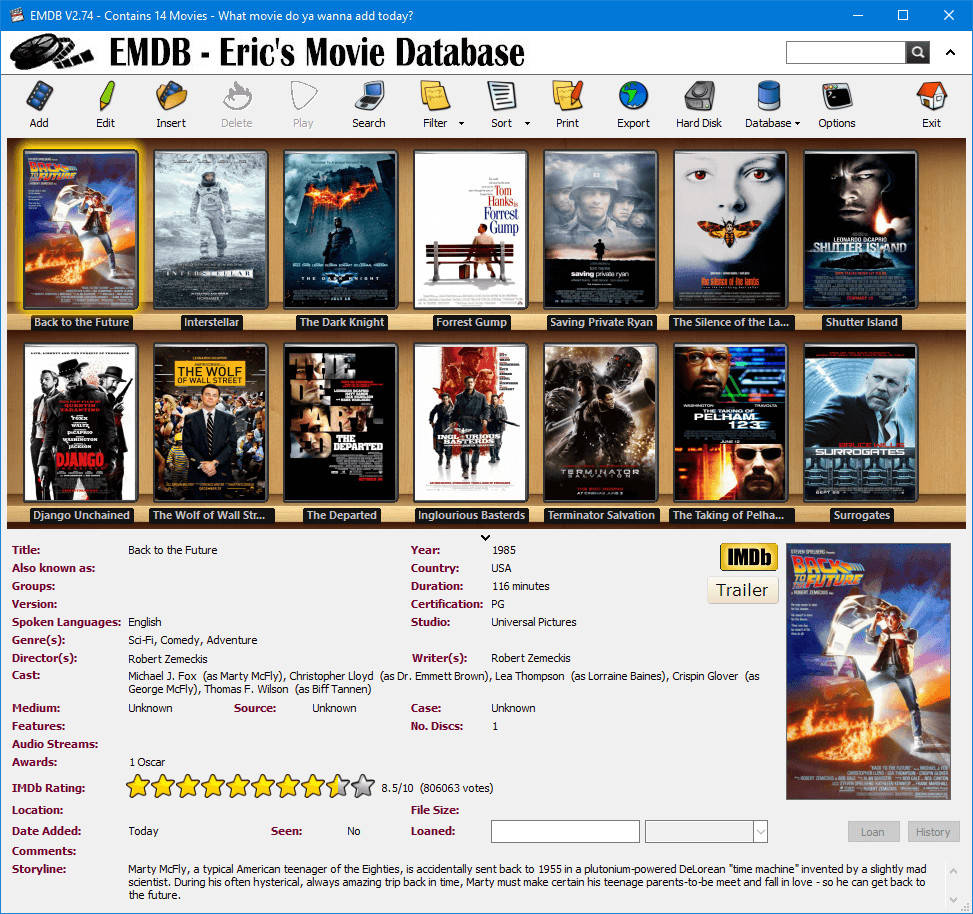 EMDB is an application to keep track of your movie and TV Series collection. Both physical discs and media files are fully supported. With an automatic import from the database of IMDB, export to csv, text or HTML, thumbnail cover preview, a loan tracker, advances search and filter functions and multi-language user interface. EMDB doesn't need a .NET framework or any other external libraries and is therefore fully portable. And best of all... it's free!.
EMDB 3.65 changelog:
Delete Movies: fixed issue with deleting multiple (all) movies.
User Interface: Removed duplicate PCM from audio stream lists.
Translations: Fixed ??? showing up in list of Audio Streams.
Translations: Added some missing translations.
User Interface: Fixed display of poster thumbnail and TODO image if display is set to DVD Insert.
User Interface: Fixed column width was not restored in some rare cases.
Add From Hard Disk: Improved progress messages for adding single and multiple TV Series.
Add From Hard Disk: Always use the folder name for querying TV Series.
Fixed too large UI for Ultra HD 125% or higher.
HTML Export: Added Tagline to movies pages.
User Interface: Several large Windows Font Size improvements.
Fixed Tagline was not reset in Add Movie screen.
MediaInfo: Improved parisng MediaInfo results and fixed some more undetected Audio streams.
Edit Cast: Fixed editing actors with voice only.
Translations: Updated the Arabic, German, Persian, Italian, French, Swedish and Dutch translations.
Download: EMDB 3.65 | 4.8 MB (Freeware)
Link: EMDB Home Page
Get alerted to all of our Software updates on Twitter at @NeowinSoftware