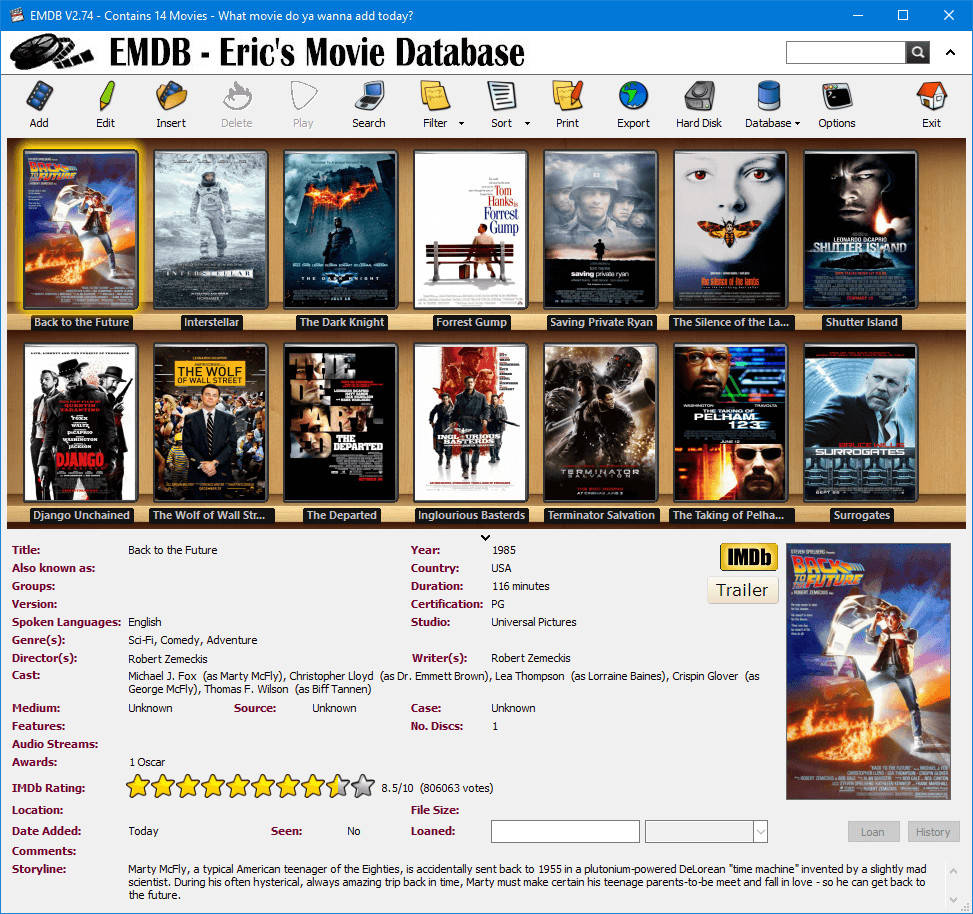 EMDB is an application to keep track of your movie and TV Series collection. Both physical discs and media files are fully supported. With an automatic import from the database of IMDB, export to csv, text or HTML, thumbnail cover preview, a loan tracker, advances search and filter functions and multi-language user interface. EMDB doesn't need a .NET framework or any other external libraries and is therefore fully portable. And best of all... it's free!.
EMDB 5.06 changelog:
IMDb import: Fixed broken import due to changes on the IMDb website.
User interface: Ctrl-V didn't insert but appended.
User interface: Adding multiple movies inside a collection didn't force the collection for all movies after the first one.
Backups: Removed option to backup configuration. Custom values are stored in the individual databases so there is no need to restore configurations too.
User interface: Allow custom sorting within a collection.
Translations: Edit multiple labels title is not translated.
User interface: search by letter in Edit Person dialog was broken.
User interface: swap firstname / lastname in Edit directors / writers / composers / cast and Search cast.
User interface: Crash when playing movies insidea collection.
Export: Exporting movies inside a collection exported all movies.
Click on cast in movie details panel should open cast tab (+ mouse pointer change)
Collections: The list of collections in the options is now sorted alphabetically.
Translations: Updated the Arabic, Spanish, French, German, Simplified Chinese, Czech, Slovenian and Dutch translations.
Download: EMDB 5.06 | 5.5 MB (Freeware)
Link: EMDB Home Page
Get alerted to all of our Software updates on Twitter at @NeowinSoftware