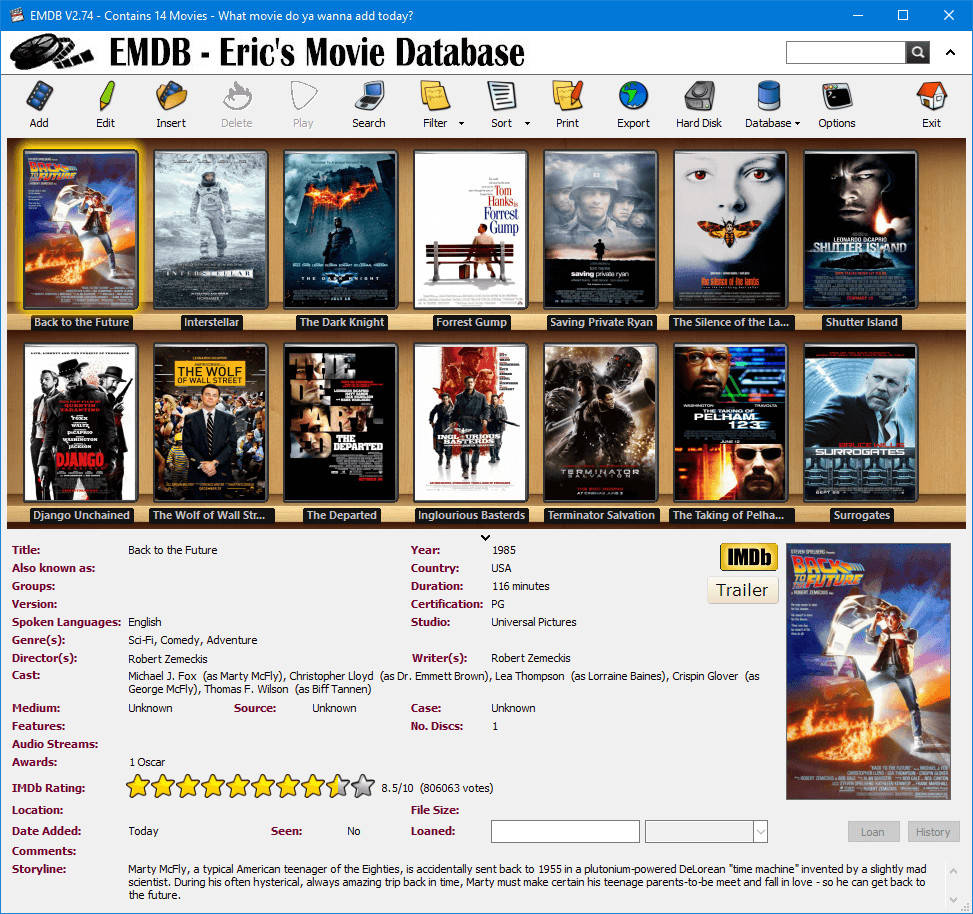 EMDB is an application to keep track of your movie and TV Series collection. Both physical discs and media files are fully supported. With an automatic import from the database of IMDB, export to csv, text or HTML, thumbnail cover preview, a loan tracker, advances search and filter functions and multi-language user interface. EMDB doesn't need a .NET framework or any other external libraries and is therefore fully portable. And best of all... it's free!.
EMDB 5.13 changelog:
Rename files: Added support for TheTVDb Id (%M) in Rename media files.
Defaults: Added default Service (when default Source is set to Streaming).
Edit Directors Dialog: fixed rare crash when scrolling through the list of directors.
Database: 'Seen' is replaced by 'Last seen' + 'Play count'.
HTML Export: Added Collections.
HTML Export: Fixed letter in the breadcrumbs of the individual movie pages.
IMDb import: Use IMDb's global search instead of the advanced title search to support including the year specifying foreign titles.
Translations: Added a Korean translation.
Translations: Updated the French, German, Russian, Traditional Chinese and Dutch translations.
EMDB 5.16
HTML Export: Custom Versions were not displayed.
NFO: fixed 'tt' prefix for IMDb ids in NFO files.
User interface: selection in listview / bookshelf was not kept when sorting.
Add from Hard disk: Fixed getting proper tomatometer scores.
Manual Actor search: When adding an actor without image EMDB could give an error.
Database: play count is set to 1 if seen date is set but play count is still 0 (fixing movies marked as seen).
Database: Fixed play count on play
Add Movies: fixed the initial tomatoscores.
Export / Print: fixed display tomatoscore in listview / export / print
Translations: Updated the Spanish, Arabic, Simplified Chinese, Czech, French, German and Dutch translations.
Download: EMDB 5.16 | 5.7 MB (Freeware)
Link: EMDB Home Page
Get alerted to all of our Software updates on Twitter at @NeowinSoftware