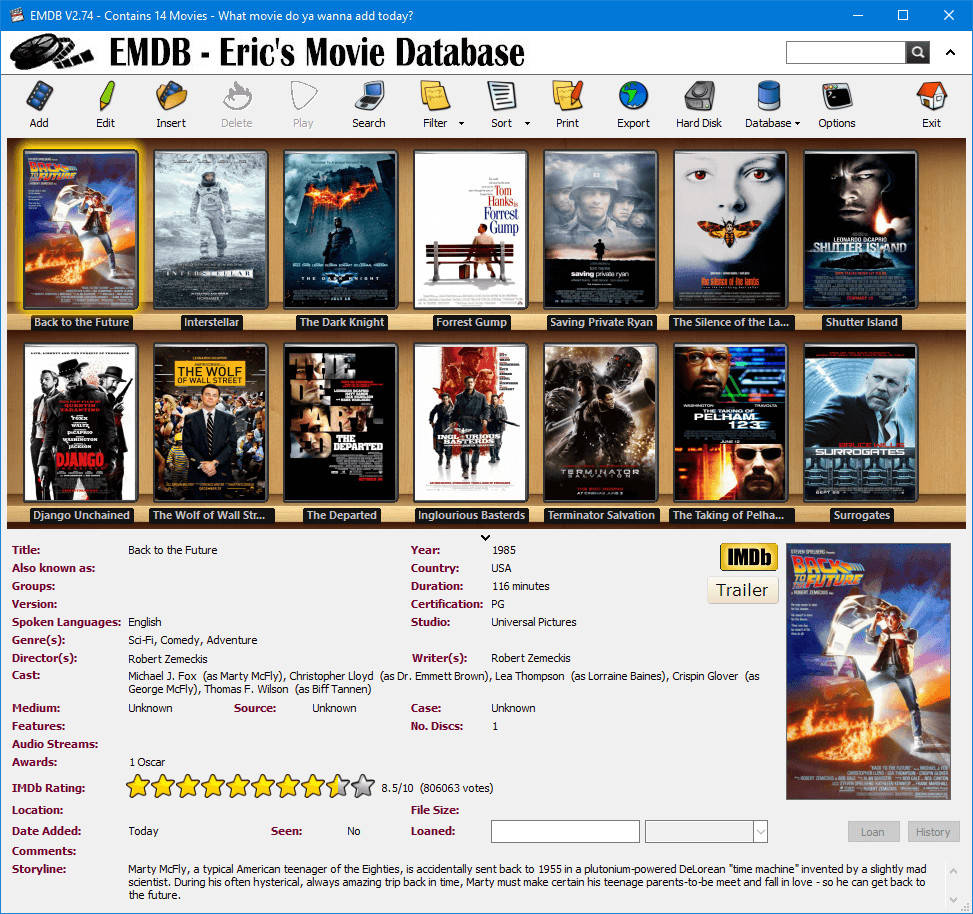 EMDB is an application to keep track of your movie and TV Series collection. Both physical discs and media files are fully supported. With an automatic import from the database of IMDB, export to csv, text or HTML, thumbnail cover preview, a loan tracker, advances search and filter functions and multi-language user interface. EMDB doesn't need a .NET framework or any other external libraries and is therefore fully portable. And best of all... it's free!.
EMDB 5.22 changelog:
Rotten Tomatoes import: Fixed import for localized queries.
Rotten Tomatoes import: Improved Search.
Search: changed searching year range description to indicate ending year is included (as the search already did).
TheMovieDb: Added an option to include adult search results.
HTML Export: output folder was not always remembered correctly.
TV Series Dialog: The list didn't properly follow the color settings of the main list.
Export / Print: New lines in text could break the layout.
TV Mode: fixed a crash when quickly going through the list (while missing backdrops were downloaded in the background).
TheMovieDb import: Add option to import IMDb rating, IMDb Top250, Awards and Metascores from IMDb when data source is set to TheMovieDb.
User interface: Added link to IMDb Metascore page.
User interface: Display number of votes in a more readable way.
Translations: Updated the Simplified Chinese, Italian, German, Czech, French and Dutch translations.
Download: EMDB 5.22 | 6.0 MB (Freeware)
Link: EMDB Home Page
Get alerted to all of our Software updates on Twitter at @NeowinSoftware