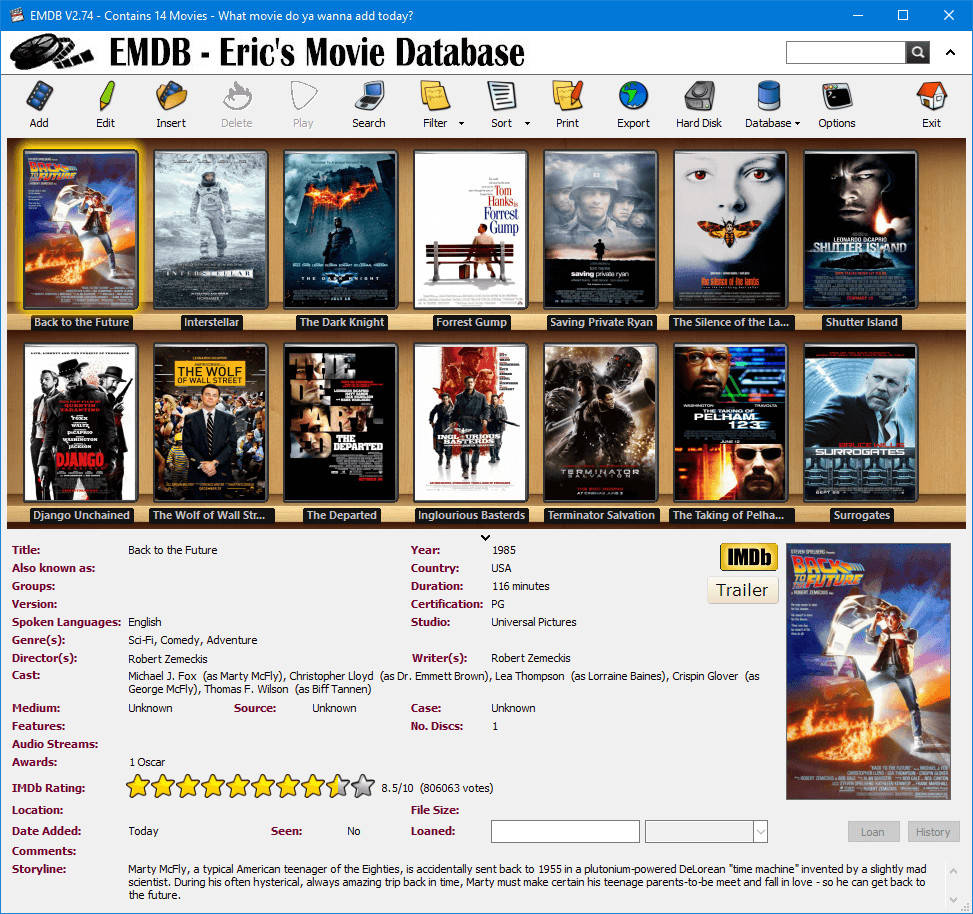 EMDB is an application to keep track of your movie and TV Series collection. Both physical discs and media files are fully supported. With an automatic import from the database of IMDB, export to csv, text or HTML, thumbnail cover preview, a loan tracker, advances search and filter functions and multi-language user interface. EMDB doesn't need a .NET framework or any other external libraries and is therefore fully portable. And best of all... it's free!.
EMDB 5.24 changelog:
MediaInfo: Fixed an issue where audio streams could get detected twice.
User Interface: Sorted the Versions in the dropdown list.
TheMovieDb import: When updating a cover from TheMovieDb on an "IMdb entry" the IMDb link and rating were overwritten by TMDb values.
User interface: In the edit screen IMDb stars could show 10 yellow stars while actual rating was lower.
Export to csv / text: Movies belonging to a Collection showed the Collection title instead of the Movie title.
Edit multiple movies: Added option to keep exiting tags when adding new ones.
Scan Hard disk: improved detection of moved files.
Batch update: Update location did not update base location of TV Series.
Database: Renumering the database entries made copies of collections.
Translations: Updated the Korean, Traditional Chinese, Simplified Chinese, Finnish, Portuguese, German, Czech, French and Dutch translations.
Download: EMDB 5.24 | 6.0 MB (Freeware)
Link: EMDB Home Page
Get alerted to all of our Software updates on Twitter at @NeowinSoftware