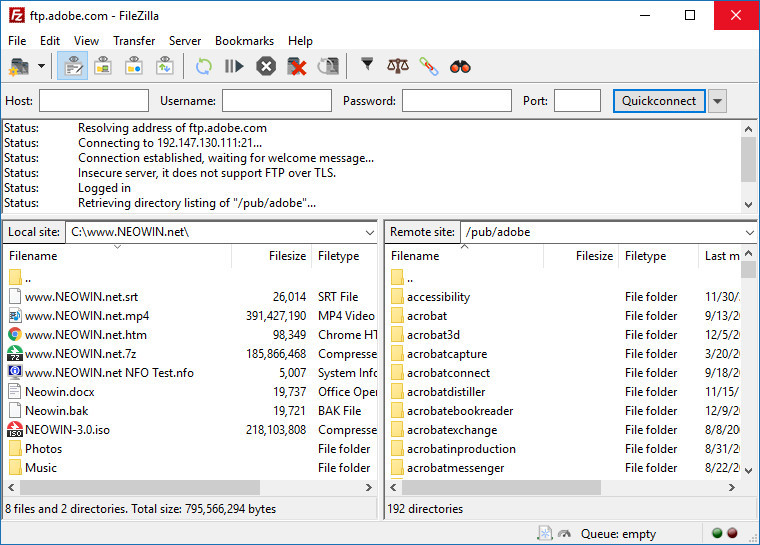 FileZilla is powerful Open Source FTP/SFTP client with many features. It includes a site manager to store all your connection details and logins as well as an Explorer style interface that shows the local and remote folders and can be customized independently. The program offers support for firewalls and proxy connections as well as SSL and Kerberos GSS security. Additional features include keep alive, auto ascii/binary transfer, download queue, manual transfers, raw FTP commands and more.
New features in FileZilla 3.48.0 RC1:
Overhaul of file associations for editing files. The setting to inherit system associations has been removed. When first editing a type of file with no default editor set, a dialog is shown asking which editor to use. The system association, if it exists, is a choice in this dialog.
Bugfixes and minor changes:
SFTP: Re-added support for AES-GCM which was accidentally removed in 3.46.1
Fixes for comparative search leaving the program in an inconsistent state when closing the dialog during an ongoing search
Building and running FileZilla now depends on libfilezilla >= 0.20.0 (https://lib.filezilla-project.org/)
Download page: FileZilla 3.48.0 RC1 | ~10.0 MB (Free, paid upgrade available)
Links: FileZilla Home page | Documentation
Get alerted to all of our Software updates on Twitter at @NeowinSoftware