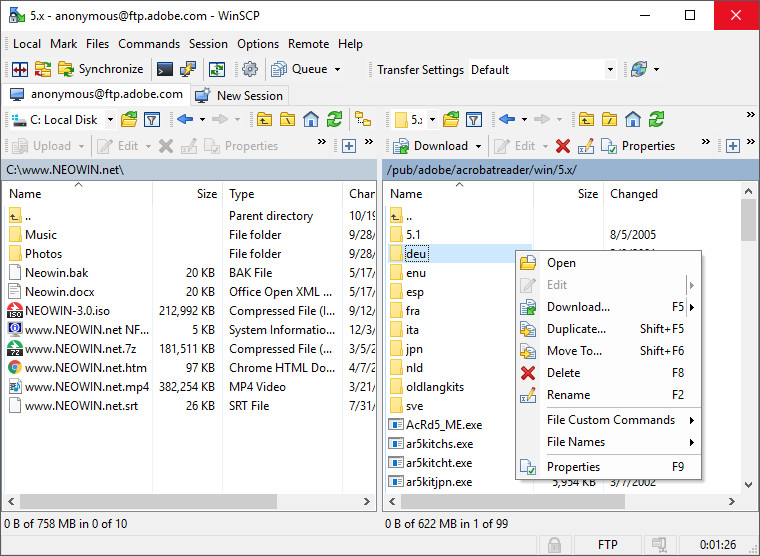 WinSCP is an open source free SFTP client, FTP client, WebDAV client and SCP client for Windows. Its main function is file transfer between a local and a remote computer. Beyond this, WinSCP offers scripting and basic file manager functionality.
WinSCP features:
Graphical user interface
Translated into several languages
Integration with Windows (drag&drop, URL, shortcut icons)
U3 support
All common operations with files
Support for SFTP and SCP protocols over SSH-1 and SSH-2 and plain old FTP protocol
Batch file scripting and command-line interface
Directory synchronization in several semi or fully automatic ways
Integrated text editor
Support for SSH password, keyboard-interactive, public key and Kerberos (GSS) authentication
Integrates with Pageant (PuTTY authentication agent) for full support of public key authentication with SSH
Explorer and Commander interfaces
Optionally stores session information
Optionally supports portable operation using a configuration file in place of registry entries, suitable for operation from removable media
WinSCP 5.16 Beta changelog:
Improvements to sessions and workspace management, so that WinSCP can now easily restore tabs that were open when it was last closed:
Login dialog can be configured not to automatically pop up, when starting WinSCP and when closing the last session.
When Login dialog is configured not to pop up automatically on start and workspace was saved in the previous run, the workspace is automatically restored when WinSCP starts.
A session can be disconnected, without closing its tab, and later reconnected.
Tabs of sessions opened with a workspace or a folder that fails to connect and tabs of all sessions that fail to reconnect are not closed.
Option "Keep main window open when the last session is closed" is enabled by default.
User is offered to save a workspace, even when only one session is opened.
SSH core upgraded to PuTTY 0.72. It brings the following changes:
Major rewrite of the crypto code to remove cache and timing side channels.
Hardware-accelerated AES. 1769 cpu-crypto-accel
Support for GSSAPI key exchange. gss-key-exchange
Server and protocol information dialog now shows a more detailed information about the cipher in use.
Extension Archive and Download to archive remote files and download the archive. 1773
Improvements to Synchronization checklist window:
Estimating time to finish directory comparison before synchronization based on previous comparisons of the same folders.
Allowed opening the local or remote file from synchronization checklist in Windows Explorer or WinSCP, respectively. 1784
Hints for synchronization action icons on synchronization checklist window. 1786
Command-line switch /browse to either force opening the main window when a file URL is specified or to explicitly select a specified file in both file panels.
Convenience methods Session.PutFileToDirectory, Session.PutFilesToDirectory, Session.GetFileToDirectory and Session.GetFilesToDirectory.
Selection of network interface for SSH and IPv4 using raw session setting SourceAddress. 416
TLS/SSL core upgraded to OpenSSL 1.1.1d. It brings TLS 1.3 support among other changes.
Installer upgraded to Inno Setup 6.0.2:
User can choose between installation for all users and the current user only.
Modern style of the installer wizard.
Raw site settings editor.
Copy (to clipboard) command in file context menu. 1758
Automatically reconnecting when FTP data connection cannot be opened, if it previously worked. 1767
Host key and certificate fingerprint verification improvements:
When verifying a host key using an expected fingerprint, it is possible to use an expected fingerprint with a checksum only (with both key type and bit count omitted).
When verifying a host key or a certificate using an expected fingerprint, the comparison is case-insensitive (with an exception of SHA-256 checksum).
When verifying a host key using an expected fingerprint, a padding (=) in SHA-256 checksum is not required.
Change: TLS/SSL certificate fingerprints in generated URL use dashes (-) instead of colons (:), while colons are still accepted.
Change: SHA-256 fingerprints in generated URL use dashes (-) and underscores (_) instead of pluses (+) and slashes (/), while pluses and slashes are still accepted.
Support S3 servers with Path URI style (like Minio). 1632
S3 Default region can be configured on Advanced Site Settings dialog.
Support for non standard ports with S3 protocol. 1780 [full release notes]
Download: WinSCP 5.16 Beta | 10.5 MB (Open Source)
Download: Standalone Executable | 8.6 MB
Link: WinSCP Home page
Get alerted to all of our Software updates on Twitter at @NeowinSoftware