At the beginning of September 2015, Acer unveiled the Liquid Jade Primo, its new Windows 10 Mobile flagship phone. It referred to the device as 'your pocket PC', since the high-end handset supports the PC-like Continuum experience, allowing owners to use a mouse and keyboard with the device when connected to a larger display.
Ten and a half months later, the Liquid Jade Primo is finally available to buy in the US, via the Microsoft Store.
The unlocked device is priced at $649 - that's $100 more than Microsoft's Lumia 950, with which it shares many similar specs - but that price includes more than just the handset itself. In addition to the device, you'll also get:
Desktop dock for Continuum
Keyboard
Mouse
AC power adapter
AC power cord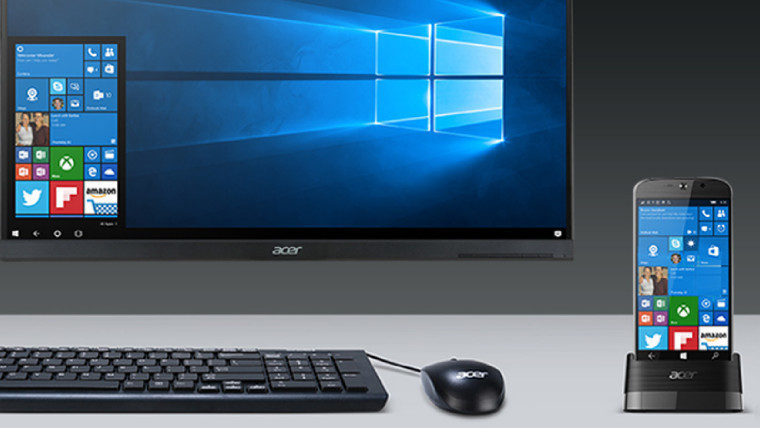 The Liquid Jade Primo's key specs include:
Hexa-core Qualcomm Snapdragon 808 processor
5.5-inch Full HD (1920x1080px) AMOLED screen
3GB RAM
32GB storage (plus microSD card support up to 128GB)
21MP rear camera with dual-LED flash and 4K (3840x2160px) video recording
8MP front-facing camera with Full HD (1920x1080px) video recording
Wi-Fi 802.11 b/g/n
USB Type-C connector
4G LTE connectivity
Dual-SIM support
2800mAh battery
156.5 x 75.9 x 8.4mm; 150g
In April, Acer also announced the Liquid Jade Primo Premium Pack, which includes the dock, mouse and keyboard, along with a monitor. It also unveiled the Liquid Extend, a notebook-style device to which the Jade Primo can be connected, offering a Continuum experience on the go. It's not yet clear if either of these options will be offered in the US.
For buyers with more modest budgets, Acer also launched a new entry-level Windows 10 Mobile handset in the US back in April. The Liquid M330 is priced at just $99 unlocked.
Be sure to check out our hands-on with the Liquid Jade Primo from earlier this year.
Source: Microsoft Store via @Nokiapoweruser