I want the readers of this article to close their eyes for a moment. Think back to the dark ages. No, not the period between the fall of the western Roman empire and the Renaissance. I'm talking about a time when you were alive and didn't have a high-speed Internet connection. How useful was the Internet?
I used to visit the computer lab at my high school's library and dial-up to their ISP at a blazing 28.8kbps so that I could do research for homework. Honestly, it was mostly useless, and I would have been better off scouring the endless bookshelves for the information I needed because in reality I would just waste time looking for cat gifs and gaming news on Ask Jeeves. However, there is now a thing called ChatGPT and I have a sneaking suspicion my son uses it to do all his homework. But you know what they say; the more things change, the more they stay the same.
Now, you can bring back the uselessness of mid-nineties era Internet with CatGPT, a ChatGPT clone that answers all your questions as a cat. Yep. A cat.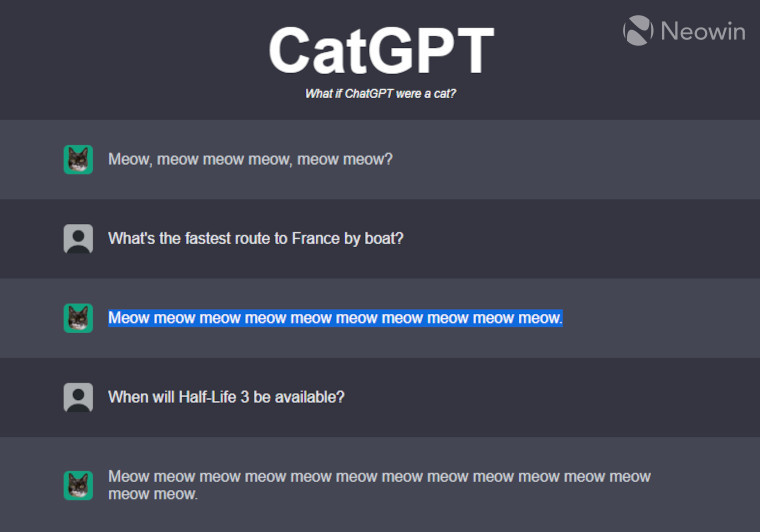 How does it work? Well, it looks just like ChatGPT, but you can ask it things like "What's the fastest route to France by boat", and the response will be "Meow meow meow meow meow meow meow meow meow meow". I also asked it the most pressing and important question of 2023, "when will Half-Life 3 be available?" This one concerned me, because I can't be sure if CatGPT knows the answer or not, because I don't speak cat.
So, if you're bored with tools like ChatGPT that have seen every movie and every book and know the answers to most of the universe's questions, have a look at CatGPT and return to a simpler time when cats ruled the Internet.
Source: CatGPT