So you managed to switch from Firefox or Chrome or some other browser to Microsoft's new Edge browser and maybe you like it, maybe you find some things are just a bit annoying, and well, we can help with one or two things. The thing that bugs me most about the browser are the massive context menus that cause me to move my mouse halfway up my screen just to paste some text, lets see what we can do about that!
Today we will be removing a duplicate search setting from the context menu. "Search in sidebar" was introduced to Edge stable back in January with version 88, before then it had been in testing in the Canary and Beta versions for about half a year.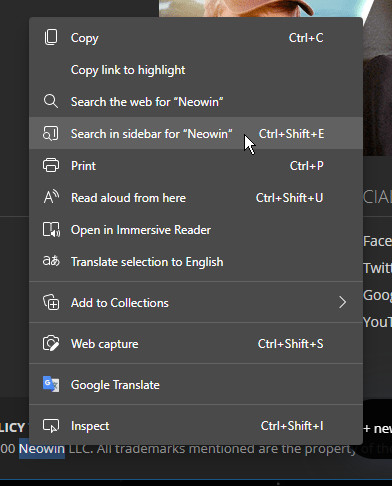 Search in sidebar does exactly what it says it is, however it overrides your default search engine and uses Bing for the results in the sidebar "Search the web" will always use your default search engine. Anyway, if you want to get rid of it, here's what you can do.
Go to three-dotted menu top right of the browser -> Settings -> Privacy, search and services -> Address bar and search -> Manage search engines.
Find the Bing entry
Ensure it is not already the default search engine
(you can't remove the default search engine)
Click on three-dotted menu and select Remove
If you still want to use Bing as a search engine choice, but not have the Sidebar search context menu, that's possible too.
Click Add and use the following entries
Search engine: Bing
Keyword: Bing.com
URL: https://bing.com/search?q=%s
According to a poster on Reddit, where I found this info, all of the above could be reset with a major version update, like going from Edge 90 to Edge 91 so you will have to repeat the steps above to remove the context menu option again. Annoying, I know!
But I want it back, how can I get it back?
However, say you did all of the above and then massively regretted doing it and you want your Search in sidebar option back, and if you are like me and didn't bother saving the weird web address for the default Bing search engine, then you can get it added back here on this official Microsoft page.
Click the big "Make Bing my search engine" button, an executable called DefaultPack.EXE is downloaded and when you run it, the (default) Bing search is added back, sets to default, but as an added bonus it also restores the Search in sidebar function.
Now I am going to go off and see if I can find a trick to enable mouse cursor focus scroll. Let us know in the comments if you have unofficial undocumented tricks or handy workarounds to make Edge that little bit better.