Respawn Entertainment's 2019 hit Star Wars Jedi: Fallen Order is known for its stellar but unforgiving gameplay. The sequel, Star Wars Jedi: Survivor, is looking even flashier with its multiple styles of Light Saber combat. Those who might be intimidated by the Souls-inspired gameplay systems can rest easy though, as the developer has implemented a whole host of options to tweak the experience to their liking.
With the sequel only days away, Respawn today detailed the difficulty and accessibility options the title will have at launch, and what's coming in future updates. Here are all the standard difficulty options and handy descriptions that will be available for the campaign:
Story Mode

For those who wish to enjoy Cal and crew's adventure with little resistance from foes. Parry times are generous and damage dealt by enemies minimal.

Jedi Padawan

More of a challenge than Story Mode but gentler than Jedi Knight. Parry times are still somewhat generous though enemies deal a fair amount more damage than they do in Story Mode

Jedi Knight

A challenging adventure. Players will need to hone their reflexes to overcome enemies.

Jedi Master

Offers even more of a challenge than Jedi Knight, with enemy aggressiveness dialed up to keep you on your toes.

Jedi Grand Master

The most difficult option. Parry windows are small and enemies are merciless. This difficulty setting will test your mettle.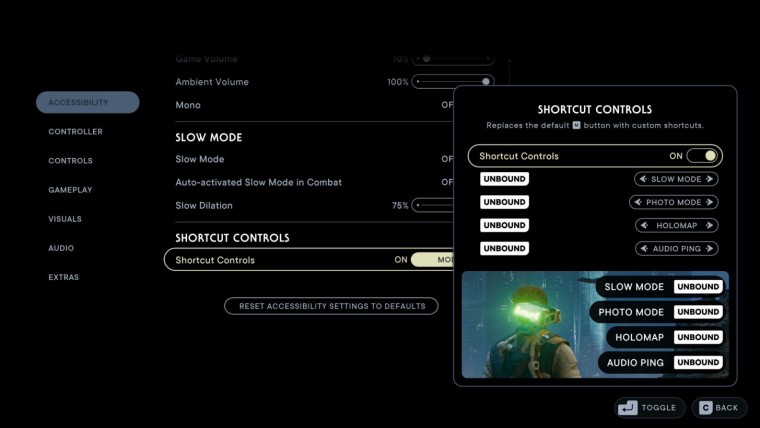 Difficulty can be altered during the campaign, and no in-game rewards will be tied to it, meaning everyone will experience the story and unlocks in the same manner. There also doesn't appear to be any difficulty-related achievements.
Meanwhile, it's gameplay modifiers that let aspiring Jedis tweak their game to be even friendlier. This includes camera auto-switching to targets, disabling button mashing sections, hold/pull toggles, and map navigation assistance with added audio pings. Moreover, a Slow Mode has been included to reduce the speed of the game for an even easier challenge. This can even be enabled outside of combat, for example to help in a tricky platforming section that may seem too difficult to do in real-time. These options can also be quickly toggled during gameplay via fully remappable shortcuts.
"The Slow Mode has been a particularly exciting feature to work on because of its versatility," senior director of development Jonas Lundqvist explains. "It primarily started out as a feature that we thought would be helpful in combat, but quickly realized that it could be beneficial for anything that had a timing component."
Lastly, closed captions and subtitles, HUD scaling, color profiles, color blind options, field of view options, camera shake levels, and other options are also included for players to customize their experience. In post-launch updates, Respawn plans to add a high contrast mode and menu narration.
Star Wars Jedi: Survivor launches on April 28 on PC, Xbox Series X|S, and PlayStation 5. Head here to see its PC system requirements, which recommends having a large chunk of free space to install it.