It looks like SiSoft has a habit of posting some early reviews before a product is even officially released. First, the benchmark firm published an early Intel 12th Gen Alder Lake-S Core i9-12900K review and now it has posted a review of Intel's upcoming Arc discrete desktop graphics that are launching in Q2 of this year, as recently confirmed by the company itself.
SiSoft has also listed the specifications of the Arc graphics models, though the accuracy of the specs is a bit questionable here as the manufacturing process mentioned is TSMC 7nm even though Intel officially stated that it will be using TSMC's 6nm (N6) process.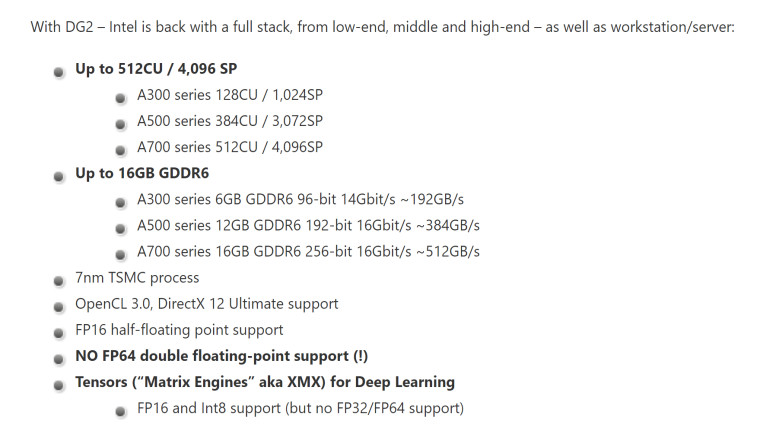 The rest of the listed specifications match most of what we know so far about Arc. In this review, the Arc A380 graphics card was tested. This is the alleged 128 Execution Unit (EU) Intel Alchemist part also called "SKU4".
We first learned about this "A-series" naming scheme for first-gen Arc (Alchemist) GPUs back in September last year, and in December, the A380 SKU alongside others was also uncovered from Intel's driver.
Now, getting into the review itself, which is by the way, not a look at gaming performance. First up, we have a memory bandwidth test, and the Radeon RX 6500 XT really struggles here in download and upload bandwidth. That is expected given the narrow x4 PCIe bus of the 6500 XT. The A380 does okay here relative to Nvidia's RTX 3050 and the GTX 1660 Ti.
Up next, we have several general-purpose GPU (GPGPU) compute benchmarks (OpenCL / CUDA) using these four cards and as shown in the images below. The test comprises:
Vector performance
Image processing
Scientific analysis
Financial analysis
Cryptography performance
Hashing performance
SiSoft concludes in the end that the Intel Alchemist Arc A380 is an "OK" performer overall though "nothing special" as it expects this card to land at around $199:
Perhaps it was too much to expect a nVidia/AMD killer – but all in all it is a decent effort. YMMV.

Summary: OK for the price, nothing special: 7/10
Relatively speaking, the Arc A380's showing here is definitely more impressive compared to the recent Geekbench OpenCL leak of the flagship A700 series 512EU part. So it's possible that the final scores may be better for Arc as it looks like Intel is still tuning and tweaking the drivers.
Source and images: SiSoft via APISAK (Twitter)
---
Update: Added an image showing the SiSoft Arc A380 review's conclusion section