Intel announced its new brand dubbed "Arc" for the upcoming Xe HPG-based discrete graphics cards a few days ago with the first family of Arc GPUs - codenamed Alchemist - launching in Q1 next year.
To promote the new brand, the company launched a giveaway contest where lucky winners would win the Arc Graphics Prize Package worth US$1,000 Approximate Retail Value (ARV), which would also have an Arc GPU as part of the prize.
Intel graphics head Raja Koduri also hinted on Twitter earlier today that more information on the company's upcoming products, including maybe graphics too, will be shared at its Architecture Day 2021 event.
As such, more information has indeed been released regarding the Arc discrete GPUs. First, a roadmap for the Arc GPUs has been laid out which reiterates some of the information Intel had revealed earlier.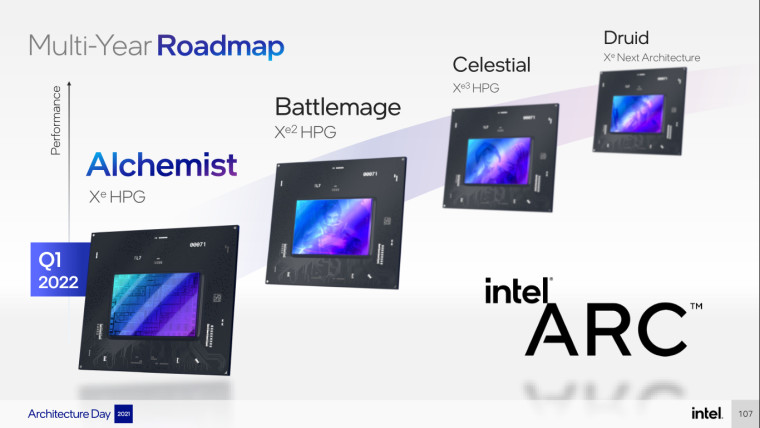 For the first time today, Intel has also unveiled that Xe HPG brings "1.5x frequency uplift and 1.5x performance/watt improvement compared with Xe LP microarchitecture".
Intel's Arc GPUs will be powered by what the company is apparently calling its "Xe-cores". Each such Xe-core will comprise 16 Vector and Matrix Engines, also called Execution Units (EUs). And four of these Xe-cores are grouped together to form a "Render slice".
To sum it up:
1 Xe-core => 16 EUs
1 Render slice => 4 Xe-cores => 64 EUs
The Render slice would essentially help Intel scale the Arc GPU design from top-end parts all the way down to entry-level products. For example, Intel's flagship 512 EU SKU1 GPU will feature eight such Render slices or 32 Xe-cores (image below) for a total of 512 EUs (image below on the right).
The number of ray tracing units is equivalent to the number of Xe-cores which means the flagship 512 EU SKU1 part could feature a total of 32 ray tracing units. Intel, unlike AMD and Nvidia, doesn't have a fancy name for its ray tracing units, yet.
The first-gen Alchemist GPUs for laptops and desktops will be built on TSMC's N6 (6nm node) process.
Intel's new discrete GPUs will feature the new Xe Matrix Extensions (XMX) and DP4a instructions for AI/ML/DL acceleration. The latter was already present inside Xe LP. These will help power Intel's AI-driven XeSS image upscaling technique with which the company is promising an enormous boost in performance compared to native rendering.
Intel says the XeSS SDK will be available to developers this month. You may find more information on the official blog here.
Update: Added lithography information for Alchemist GPUs.