Back at its Architecture Day 2021 event, Intel shared a lot more information regarding its highly anticipated Arc lineup of discrete graphics cards. The company revealed its ambitious roadmap and detailed the architectural make-up of its first-gen Arc GPUs dubbed "Alchemist". You can read all about it here.
Famed leakster momomo_us today has spotted the potential naming scheme of the Arc family of GPUs. The image he posted appears to be a nomenclature chart intended for use by Intel and its vendor partners which explains how the upcoming family of Arc GPUs will be denoted.
While the chart shows in great detail how exactly Intel apparently wants its Arc graphics products to be defined by its partners, the most interesting piece of information comes from the last line as it seemingly confirms that Team Blue the first-gen Alchemist GPUs will be designated as "Arc a-series".
This also gives us an idea of what the company could be calling its next-gen families of Arc GPUs as well.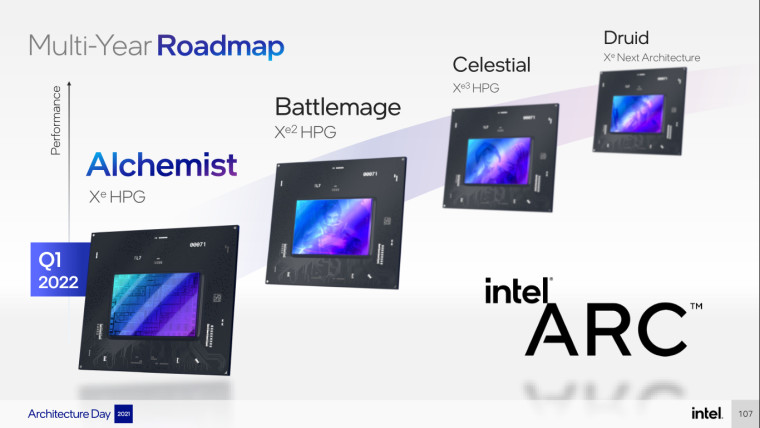 Since the a-series is purportedly meant to indicate the Alchemist GPUs, the next-gen GPUs may be named the following:
| Family | Denotation |
| --- | --- |
| Alchemist | a-series |
| Battlemage | b-series (?) |
| Celestial | c-series (?) |
| Druid | d-series (?) |
Intel says it plans to launch its Arc Alchemist-based graphics cards next year so we may know more about it then. Some more information may also be shared at CES 2022.
Source and image: momomo_us (Twitter)