Intel disclosed details on its Arc discrete GPU architecture last year at the company's Architecture Day 2021 event. During this, Intel also stated that Arc would be launching in Q1 this year, and despite a lot of rumors suggesting that Arc was likely to miss this mark, Intel has confirmed today that Arc is indeed landing this Q1 as per the company's Technology roadmap that was shared today.
As can be seen in the image above, Arc, the first-gen Alchemist GPUs to be precise, will indeed be coming to notebooks first in Q1 followed by desktop GPUs in Q2 and Workstation cards scheduled for Q3. A recent report suggests that Arc is launching in March which seems very plausible seeing that February is already halfway over.
The Acer Swift X 2022 model is apparently the first PC to be featuring Intel's Arc discrete GPU. Images of the Arc Alchemist engineering cards have also leaked alongside memory spec details of the mobile Arc SKUs.
Intel says that its graphics division, the Accelerated Computing Systems and Graphics Group (AXG) is expecting to ship more than 4 million discrete GPUs in 2022, basically doubling down on what Intel graphics chief Raja Koduri had stated earlier.
And Intel isn't stopping there as the company claims it is already working on its third-gen Arc Celestial GPUs which will "address the ultra-enthusiast segment". This means first-gen Alchemist and second-gen Battlemage are probably not going to offer performances paralleling Nvidia's and AMD's top-end cards.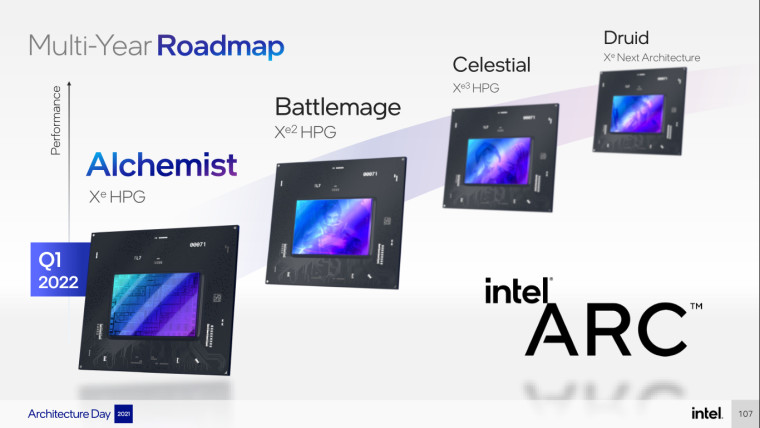 Intel also unveiled its new Project Endgame game streaming service that will let users play on Intel Arc GPUs, similar to Nvidia's GeForce NOW.
Project Endgame will enable users to access Intel Arc GPUs through a service for an always-accessible, low-latency computing experience. Project Endgame will be available later this year.
Raja Koduri had also earlier mentioned a new remote play technology that would allow gamers to play on friends' PCs. But that isn't coming anytime soon.
Source: Intel