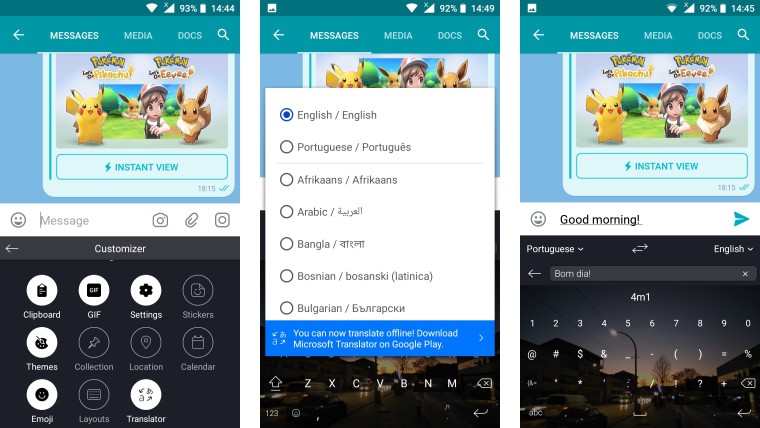 Fans of Microsoft's SwiftKey keyboard on Android have an interesting new feature to look forward to, as the company has started rolling out an update to the beta version of the app, adding support for Microsoft Translator. Users can thus use SwiftKey to type a message in one language and have it rendered in real-time in the target language of choice.
The latest release comes with version number 7.1.3.25, and it includes a handful of minor improvements as well. Here's the full changelog according to the Play Store listing:
Access Microsoft Translator from the toolbar
Type in one new language: Dungan
Added Tamil99 native top row symbol layouts
Added Indic native top row symbols layouts
Using the Microsoft Translator integration is fairly straightforward: select it from the toolbar atop the keyboard, and choose the source and target language. As you type in the source language, the message will be rendered in the target language inside the text box. The keyboard can even draw text from the clipboard for instant translation as well.
The SwiftKey keyboard has received significant improvements over the past few months, having recently introduced support for Android P emoji and fixed a glaring issue with typing "I'm". The app's performance has also gotten significantly better over the past year, making it a more viable alternative to the built-in keyboard. If you'd like to try it out, you can download SwiftKey from the Play Store, or test the beta version here. An iOS version is also available from the App Store.