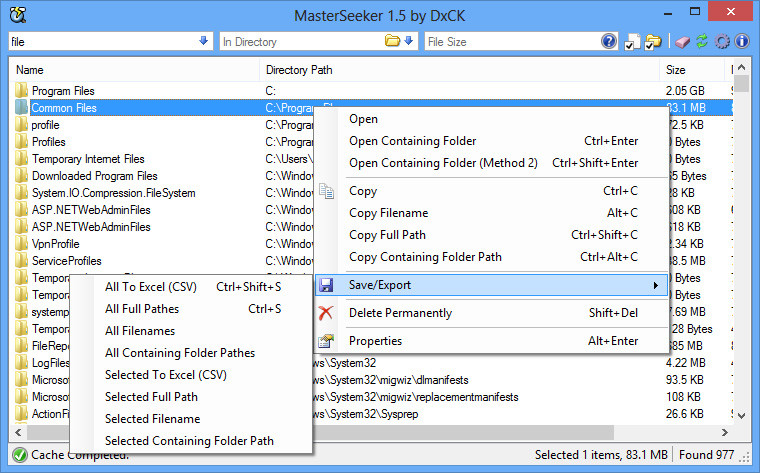 MasterSeeker states a revolutionary standard in the world of searching files in a PC, and reaches speeds you never thought you PC can reach, by using unique technique that uses your PC optimally. The combination of unbelievable speed and simplicity turns MasterSeeker into practical-than-ever software that provides an unmatched user experience and saves much valuable time. With MasterSeeker it's easy to search files and directories by name, by size, inside specific directory, using wildcards. Sort files and directories by any column rapidly. View and sort by size of any directory without waiting.
What's new in MasterSeeker 1.5:
New feature: Support for exFAT file system.
New feature: Real time updates on NTFS drives.
New feature: Save/Export of search results.
New feature: Choose whether to clear results on blank fields.
Improved: Memory management.
Improved: Searching and sorting speed, noticable mostly on slow computers or computers with more than 1,000,000 files and folders.
Improved: Icons now shows in full color depth.
Improved: GUI refresh rate.
Fixed: Icons stopped loading after large amount of icons.
Fixed: Bugs in auto-update.
Fixed: Errors while reading an NTFS drive with sector size that is not 512, typically 4TB drives and above.
Fixed: Didn't worked with some types of RAMDisk.
Download: MasterSeeker 1.5 | 558 KB (Freeware)
Link: MasterSeeker Home Page