Recently, Windows Apps have certainly caught up to those offered by Google's Play store and iOS's App Store.  The apps users are used to having at their disposal, including Music, Weather, Netflix, Facebook, Skype and Flipboard are all available.  Some functionality is still in the works, such as Chromecast support for Netflix, which a representative has confirmed as coming soon (meanwhile, the Chrome browser can support Chromecast). As the Windows store matures, several apps are essential for those who are in the process of switching their operating system to know about.  Further, there are programs that have yet to be seen on Android or iOS, and the added functionality results in higher productivity.
On the news front, offline support is a must for me, and the following two free apps provide all the news one can handle during the average commute, and then some.
News Bento - Although the standard Bing News App provides offline reading, some articles are not available offline, depending on the source you are viewing.  Bento News allows you to quickly update your sources before you leave for work.  To ensure pictures are included with your stories, simply open each section and scroll until all the articles have their photos, and these will stay with your device through your commute, without the need for an internet connection.
Raven News Reader – I use this app primarily for one source, namely Imgur.  By loading the Imgur front page RSS feed into Raven, and enabling background processes, the user can get top posts automatically downloaded to their device without syncing manually or even opening the app before work.  The best feature is .GIF support, allowing moving images to be displayed, albeit with a few seconds of loading time required.  I don't use this app for any other sources, because Bento News can easily handle all other sources.
Games are an area that has seen recent developments in scope and graphics ability in the Windows App Store.
Grand Theft Auto: San Andreas – Recently released, this game has all the functionality of the original, in a touch-friendly format.  Impressive graphics, updated for the mobile release and smooth gameplay make this app worth the $6.99 price tag.
Asphalt 8 – A great racing game with quite amazing physics.  A word on racing games: I've been avidly paying attention to the Real Racing franchise on iOS and Android, and have been hoping for its release on Windows.  If, however, that release is not going to happen, I speculate that Microsoft might bring the Forza franchise to the Windows store, but not before many more X-Box One consoles are sold.  There is currently a promotional bundle selling the X-Box One with Forza included for free.  Microsoft is not confirming any such plans, but a release like that would certainly boost sales of Windows tablets and PCs.  With the recent executive shifts at Microsoft, new ideas like this may be embraced.
Other must have games include flagship game, Halo: Spartan Assault, Cold Alley (flight combat), Hydro Thunder Hurricane (Adrenaline filled with great graphics), and Reckless Racing Ultimate.
The following tools can be used to enhance the Windows experience, and include never before seen applications:
EZ TV Listings – Eventually, the standard TV Guide app that iOS and Android users are utilizing will become available, but meanwhile, EZ TV Listings allows the user to check what's on TV easily in a clean format.  Also, one may go to the TV Guide website as well.
Here! Maps – Nokia's Map App is one of several mapping options available, and features offline maps as well.  Also, coming soon is Microsoft's three-dimensional Bing mapping software, which is currently in Preview mode, featuring a few select cities.
Now that users have everything they need to make their switch to Windows count, there are the apps that set Windows apart from Android and iOS.  Aside from the obvious Office capabilities of Windows devices, the following apps allow unprecedented tools to the average user that neither the green robot nor the bitten apple provide at this time.
Project Siena – An easy way to create apps for the average user.  With tutorials and a touch based system, Microsoft has figured out a way to create code for Windows apps using a 'What you see is what you get' approach.  After several minutes, I was on my way to creating a versatile app, with smooth transitions and a wealth of features.
Spark – This app allows the user to create their own 3-D games, scenarios, characters, and worlds, resulting in full featured games and challenges.  The app is in Beta mode, which I have been using with ease, although it may take a little while to be accepted into the Beta program.  It uses touch controls, as well as a physical controller, if the user so chooses.  Building your own game without programming experience is an invaluable tool, and Microsoft has made it possible.  It will also be released for the X-Box One, and the Spark community already has many interesting games to choose from (and add to.)
3D Builder - This app allows those with (or without) a 3D printer to easily create and manipulate templates in order to 'print' them in real life.  Without a printer, there are companies that will take your template and ship your designs to you.  This is an invaluable tool for those who want to create a prototype, or simply participate in the 3D printing revolution.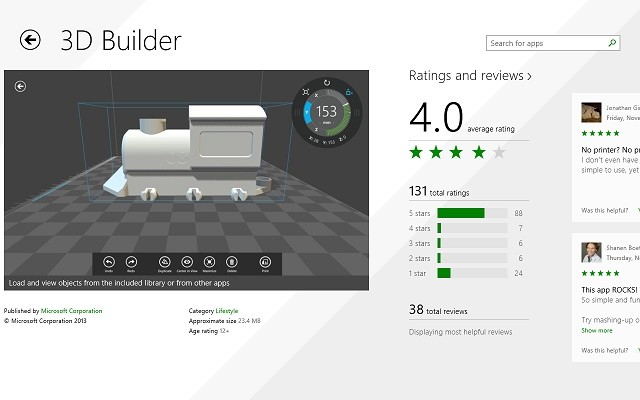 Clearly, Microsoft is re-inventing the capabilities of the personal computer, tablet and phone.  Developers are taking notice and porting their successful apps onto the Windows store.  As the functionality of Windows 8 evolves, an experience that sets itself far apart from iOS and Android takes shape.