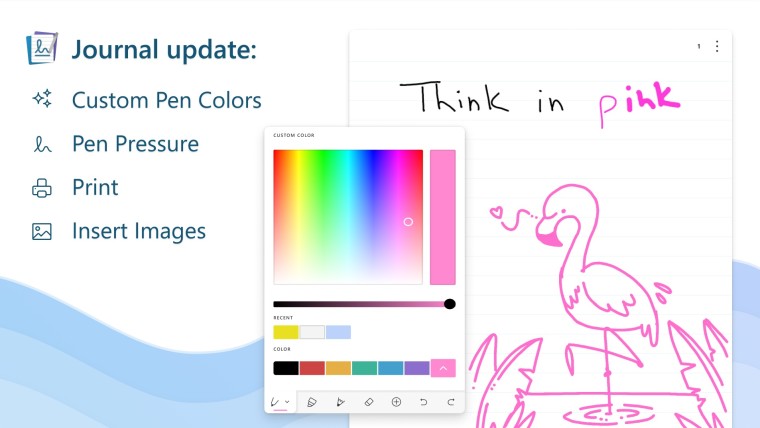 Microsoft has announced a handful of new features for the Journal app that it launched last month under the Microsoft Garage initiative. The app is meant to "rethink inking" and it lets users create pages of notes in a more similar fashion to a physical notebook, rather than the infinite canvas of OneNote.
With the latest update, Microsoft is adding a color picker with custom colors for the ink, so notes can have more of a personal touch. The app also detects different levels of pressure for pens that support pressure sensitivity so the experience should feel more realistic. Additionally, you can now insert images into a page using the + icon on the toolbar, in addition to dragging and dropping them.
If you want to turn your digital journal into a physical one, the app is also adding support for printing pages, and you can also export pages to OneNote.
While it's not available right now, the team behind the project also announced that it's working on new page styles. This will make it so that you can create pages with different layouts based on your needs, and it's coming soon.
The team also shared some insights about the app, highlighting features like Scratch Out, which has helped users correct mistakes quickly 98% of the time. Other fun stats include the fact that 26% of users highlight content with the highlighter tool, 20% add lists to their pages, and 18% add headings to a page.
If you have a pen-enabled Windows 10 PC, you can download Journal from the Microsoft Store. The app isn't available for any other platforms.