Claim your complimentary eBook for free today, before the offer expires!
What's it about?
Meet new experience mandates across channels and devices with flexible decoupled development modes provided by Acquia and Drupal.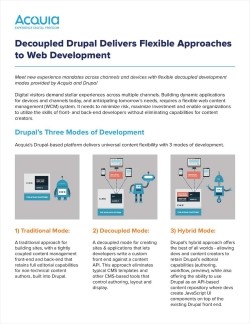 Digital visitors demand stellar experiences across multiple channels. Building dynamic applications for devices and channels today, and anticipating tomorrow's needs, requires a flexible web content management (WCM) system. It needs to do the following in order to utilize the skills of front- and back-end developers without eliminating capabilities for content creators:
Minimize risk
Maximize investment
Enable organizations
Acquia's Drupal-based platform delivers flexibility, read our white paper to find out more about:
Drupal's three modes of development
Technical independence
Content Flexibility
Download the free eBook today!
How to get it
Please ensure you read the terms and conditions to claim this offer. Complete and verifiable information is required in order to receive this free offer. If you have previously made use of these free offers, you will not need to re-register. While supplies last!
>> Decoupled Drupal Delivers Flexible Approaches to Web Development - Free eBook
Offered by Acquia, Inc view other free resources | Limited time offer
---
Not for you?
That's OK, there are other free eBooks on offer you can check out here, but be aware that these are all time-limited offers. If you are uncomfortable sharing your details with a third-party sponsor, we understand. Or via our preferred partner:
How can I disable these posts? Click here.
---
Disclosure: A valid email address is required to fulfill your request. Complete and verifiable information is required in order to receive this offer. By submitting a request, your information is subject to TradePub.com's Privacy Policy.