When disaster strikes, the most natural and human response is to make sure that everyone is okay. When disaster strikes far away, however, that's not always easy, especially as communications infrastructure in the affected area may be reduced, compounded by a flurry of people desperately trying to contact loved ones by phone for immediate updates.
It goes without saying that anything that can make the process easier and less traumatic during such troubling times is a good thing. For the last couple of years, Google has been using a tool called Person Finder to help people contact loved ones in disaster zones; it has proved to be an exceptionally useful resource during catastrophic events such as 2010's devastating earthquake in Haiti, and earthquakes in New Zealand and Japan last year.
Now, Yokoso News reports that Facebook is testing a tool that will help people to signal to their friends and family that they're safe in times of disaster. Facebook is testing the Disaster Message Board (currently only accessible in Japan) as a means of letting your loved ones know that you're alive and well. In the event of a major disaster in your region, a Facebook notification will appear above your News Feed, inviting you to use the Disaster Message Board to let others know that you're safe.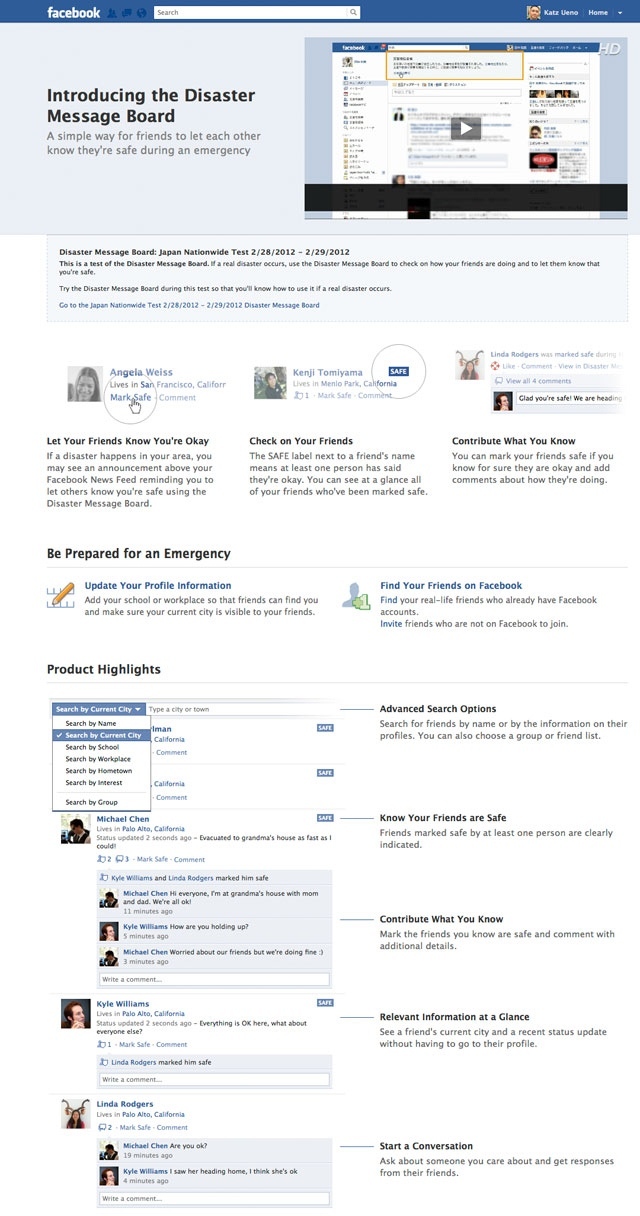 The Message Board looks similar to a Facebook Wall, but with 'Like' replaced by an 'I'm Safe' link. You can also mark someone else as being safe (although it's not immediately clear if this will be limited in any way; for example, only being able to mark your friends and friends of friends as safe, rather than complete strangers).
It's not yet known if Facebook plans to extend the Disaster Message Board beyond the confines of Japan, but it's clear that this could be a very useful tool during both natural and man-made disasters across the world. While environmental disasters are often the most catastrophic in terms of the scale of destruction, people often find it difficult to get in touch with friends and family during non-natural disasters too, such as large-scale accidents or terrorist attacks.
Story via New Scientist | Images via Yosoko News