Microsoft has added another highly requested feature that should help users when creating a new account on any website. With the latest Edge updates, users can now take the browser's help to generate strong and unique passwords for different websites, as spotted by Techdows.
The feature is currently limited to Edge Canary and Dev builds, but if you are using one of those then you can just visit a website and click on create a new account to try the feature out for yourself. Once you have entered all the information and selected the Edge's suggested password, the browser will add your credentials to the saved password list so you don't have to remember it.
If you're already using a password manager or don't want password recommendations from Microsoft Edge then you can follow the steps below to disable the feature:
Open Microsoft Edge and click on the ellipsis icon (...) on the top right corner of the browser.
Navigate to Settings > Profiles > Passwords.
Find the "Suggest strong passwords" setting and turn off the toggle to disable the feature.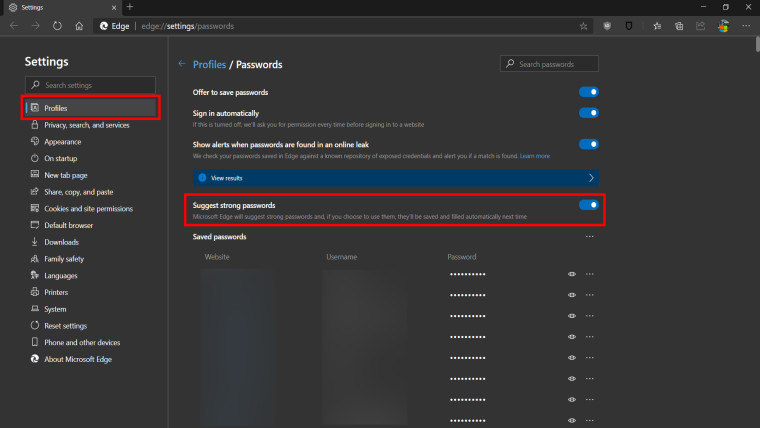 You can always go back to the passwords menu if you want to enable the feature again in the future.
Microsoft Edge Canary and Dev are currently on version 87 which is expected to roll out to Beta users in the near future. Edge Stable users, on the other hand, recently received version 85 and will have to wait for the next update to try out the new features.