Since Microsoft launched its Edge browser on Windows 10 at the end of July last year, it's come a long way - but the company is under no delusions that the job is done. In the last eight months, the company said today that it's released 12 updates for the browser, bringing 6,527 bug fixes and 128 "new features and substantial changes".
Microsoft said in its Build 2016 keynote earlier that Windows 10 is now in use on over 270 million devices - but in a breakout session at the conference, its Edge team revealed that the browser is in use on 150.8 million monthly active devices. To clarify, Microsoft defines this metric as any device on which Edge is used for at least one five-minute session per month. Clearly, there is scope for Microsoft to improve on its user adoption here, since a significant chunk of users are evidently shunning Edge in favor of other browser options.
Today, Microsoft outlined some of the improvements on the way to its browser in the coming months, many of which will arrive as part of the Windows 10 'Anniversary Update' - better known to Windows Insiders as 'Redstone 1', which will be available this summer.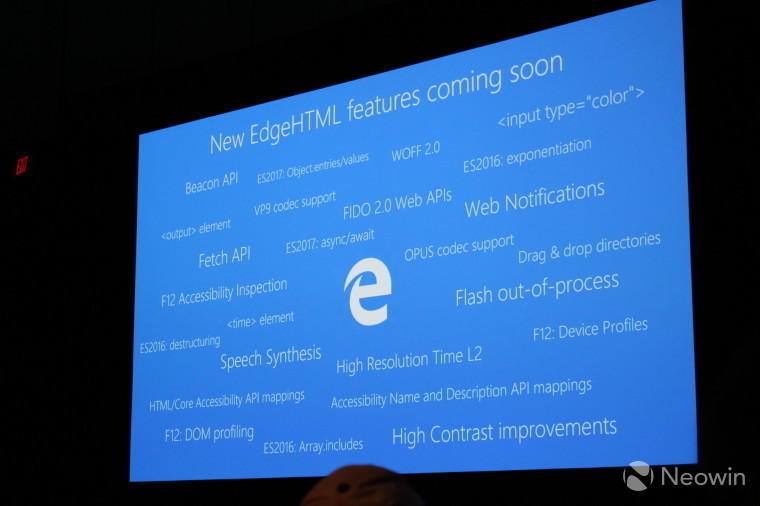 One feature that's on the way will be familiar to those who used the 'Modern' version of Internet Explorer in Windows 8.x: the ability to swipe left and right in the browser window to navigate back and forward. Apparently, this feature was very popular, and a much-requested addition into Edge, according to the company.
There will also be improvements to the New Tab page, with fresh customization options for sites listed there, including the ability to pin and remove suggested sites, and move the tiles around, along with more flexibility for News Feed customization.
On the Xbox One, hosted web apps will be supported, along with support for the W3C Gamepad API, directional navigation, and mouse mode.
A wide range of new features is also on the way on the EdgeHTML front, improving the performance of the browser, along with exposing new functionality for developers. One feature that will no doubt please many users is that Flash will soon run as a separate process in Edge, offering improved security, as well as greater system stability.
Microsoft says that it's keenly focused on 'keeping the momentum going' with Edge and that it's "listening to feedback from all of our customers around the world... to help improve the product".