First released as a Chinese exclusive, the Nokia X6 was made available in international markets following a Twitter campaign begging HMD Global to bring it to the rest of the world. Obviously, the phone did something right. Read on to find out if the Nokia 6.1 Plus is deserving of the adoration.
Specifications
CPU

Qualcomm Snapdragon 636

GPU

Adreno 509

Operating System

Android 8.1 Oreo

Display

5.8" FHD+ 2280 x 1080p (19:9), 432ppi, IPS

Connectivity

Audio: 3.5mm socket
Bluetooth: 5.0
Cellular: Dual SIM | 2G/3G/4G
Location: GPS, A-GPS
USB: USB-C
Wi-Fi: Wi-Fi 802.11 a/b/g/n/ac, dual-band

Body

147.2 x 71 x 8mm
151g

Main Camera (dual)

16MP, f/2.0
5MP, f/2.4

Front camera

16MP, f/2.0

Video

1080p @ 30fps, EIS

Camera Features

HDR, Panorama, Portrait Mode, Slow-Motion, Time Lapse

Storage

64GB + 400GB microSD expansion

RAM

4GB

Battery

3,060mAh
Quick Charge 3.0

Colours

Black, Blue, White
Design and Display
The first thing you'll notice about the Nokia 6.1 Plus is just how small and light it is. I really do have to emphasise just how well it fits in the palm of your hand, and how utterly satisfying that is after using a larger phone that I struggled to navigate with using just one hand. It fits like a glove, and while I started to miss the larger screen of my daily driver when looking at videos, it truly was a pleasure to know thee, O one-handed comfort. The phone is also much lighter than most others you'd find, making it all the more pleasing to handle.
The Nokia 6.1 Plus adopts the industry-wide trend of a glass sandwich design, and that makes it, yet again, a fingerprint magnet. Still, it's hard to deny just how good, and how premium, the glass back feels in your hand. Underneath the glass is a matte black finish punctuated by the Nokia and Android One logos in silver, and the usual suite of certifications and manufacturing information that I wish they would move elsewhere.
Between the two glass panes is an aluminium frame that feels sturdy and durable.
Above the Nokia logo is the included fingerprint sensor, and above that is the dual-camera setup with a flash. One of the only unfortunate consequences of the Nokia 6.1's smaller profile was that the fingerprint sensor is slightly below where your index finger would normally rest: where the cameras are. It takes a little getting used to before you learn to hold the phone just a little out of the centre of your palm to compensate. The fingerprint sensor is not the fastest I've ever seen, but it's plenty fast.
Round front is the 6.1 Plus' 5.8-inch Full HD+ display. It has an aspect ratio of 19:9, and, yes, there's a notch, but it's actually one of the smaller ones I've come across. It looks almost cute. I've stated earlier that I'm quite indifferent to notches, so I don't much mind it, but your mileage may vary. The notch-wary among us may be especially put off by the chin at the bottom, as it does make the notch an aesthetic choice instead of a technical necessity.
Barring that, the screen on the 6.1 Plus is sure to delight you. It's bright and crisp, and the fiery red of the default wallpaper is a sight to behold.
I'm ashamed to admit it, but in the week and a half that I had the Nokia 6.1 Plus, I've dropped it three whole times. Despite that beating, I could find nary a scratch on the phone, even with its glass construction. But that glass back does also make it supremely slippery. Don't leave it near the edge of a desk, especially if you've got vibration on. If you are as clumsy as me, though, you'll be glad to know that both the front and the back of the phone feature Gorilla Glass 3 for some added protection.
The rest of the phone's design is pretty standard. You've got the volume rocker on the right side of the phone, with the power button underneath. They're both clicky, and pleasing to use. To the left is the cutout for the hybrid SIM tray, with room for two nano SIMs, or a nano SIM and a micro SD card.
Up top, you'll find the increasingly endangered headphone jack, alongside a cutout for a noise-cancelling mic. Rounding out the design is a pair of cutouts for the speaker and - thankfully - a USB Type-C port for charging at the bottom.
Overall, I'm quite pleased with the external design of the Nokia 6.1 Plus. It's one of the more comfortable phones around with its perfectly sized proportions, and the smooth texture of the glass back doesn't hurt, either. Aside from my concerns about the ergonomics of the fingerprint sensor placement, I had no issues with it.
Battery Life
Powering the entire venture is a 3,060mAh battery. That's not quite the 4,000mAh battery I loved on the Nokia 2.1, but it is par for the course compared to other products in the 6.1 Plus' price bracket. That doesn't mean the phone won't last you a full day - as it most likely will - but I would have loved to see HMD do more than just what is adequate.
A far more baffling decision is the fact that the phone supports Quick Charge 3.0, but the included charger in the box only supports a power output of 5V/2A. That equals a wattage of 10W, much less than the 18W a Quick Charge 3.0-certified device should be capable of. It feels like a missed opportunity on HMD's part, and is a surprisingly Apple-esque move from an Android phone maker, that too in the midrange segment.
Camera
My experience with the main shooter on the Nokia 6.1 Plus is a love/hate affair. On the one hand, the camera is surprisingly capable in daylight conditions. The colours are vivid and punchy, and the snapper is also rather quick. The additional processing required for HDR never really seemed to take so long that it would stick out, unlike many other phones. As such, I kept the auto HDR mode on for almost all the photos, since that's how most people will probably use it, and because it never felt sluggish enough for me to want to turn it off. The pictures I took with the phone's camera were certainly quite impressive and, for the price, it's an absolute beast.
The only problem was...the software. Pictures would often be overexposed and while a few manual adjustments to the settings or changing the focus point of the picture would fix these problems, it's just a sad state of affairs that a camera that is quite capable in daylight was marred by poor software. I hope HMD can fix some of these issues and ensure that the automatic focus and settings in the camera app are improved.
As the last four images in the table above will show you, the software sometimes feels like it's working against you. I had to take multiple shots of the tree in question - either because the image was overexposed or the tree was out of focus or the sky seemed weird - until I finally got an image I liked, the last one in the table. The auto HDR really makes colours pop and the image looks beautiful, especially when you consider it was taken on a nearly $200 phone; it's just a shame that it took so many attempts before I was able to finally get an image I liked.
On the other hand, low-light photography is just terrible. Yes, even flagships suffer in low-light conditions, let alone a $215 phone, but the 6.1 Plus seems to be particularly bad. For comparison's sake, I took a few night-time shots with both the 6.1 Plus' camera as well as the Pocophone F1. That phone has a slightly larger f/1.9 aperture compared to the 6.1 Plus' f/2.0, but the results were worlds apart.
Low-light images with the Pocophone were just as much of a noisy mess as you'd expect from a smartphone camera that is decidedly not flagship-class. However, it was at least able to capture some light. The 6.1 Plus, on the other hand, took in almost no light, resulting in mostly just a sea of black. I've included a sample of such a shot in the table above. I'm not sure if this is a software issue, or if it has anything to do with the aforementioned overexposure issues, but what I can say is that the phone's low-light performance was quite disappointing, even with my tempered expectations given the phone's pricing in mind.
The phone's secondary camera also affords it the ability to add bokeh effects to shots, and while it does work as advertised and allowed me to snap the particularly awesome picture above, focus on the portrait mode is not perfect. As can be seen in the picture, alongside the plant, a large part of the background to the right was also kept in focus, and this was a problem I ran into quite frequently.
Overall, this is a phone that should leave most people satisfied in the photography department - as long as you make sure you're in a relatively well-lit environment, and can put up with having to get your hands a little dirty by fiddling around with the exposure manually.
Performance and storage
The guts of the phone include a middling Qualcomm Snapdragon 636 paired with 4GB of RAM. That's pretty average for this price range, and perhaps even a little behind other competitors who offer a Snapdragon 660 for around the same price.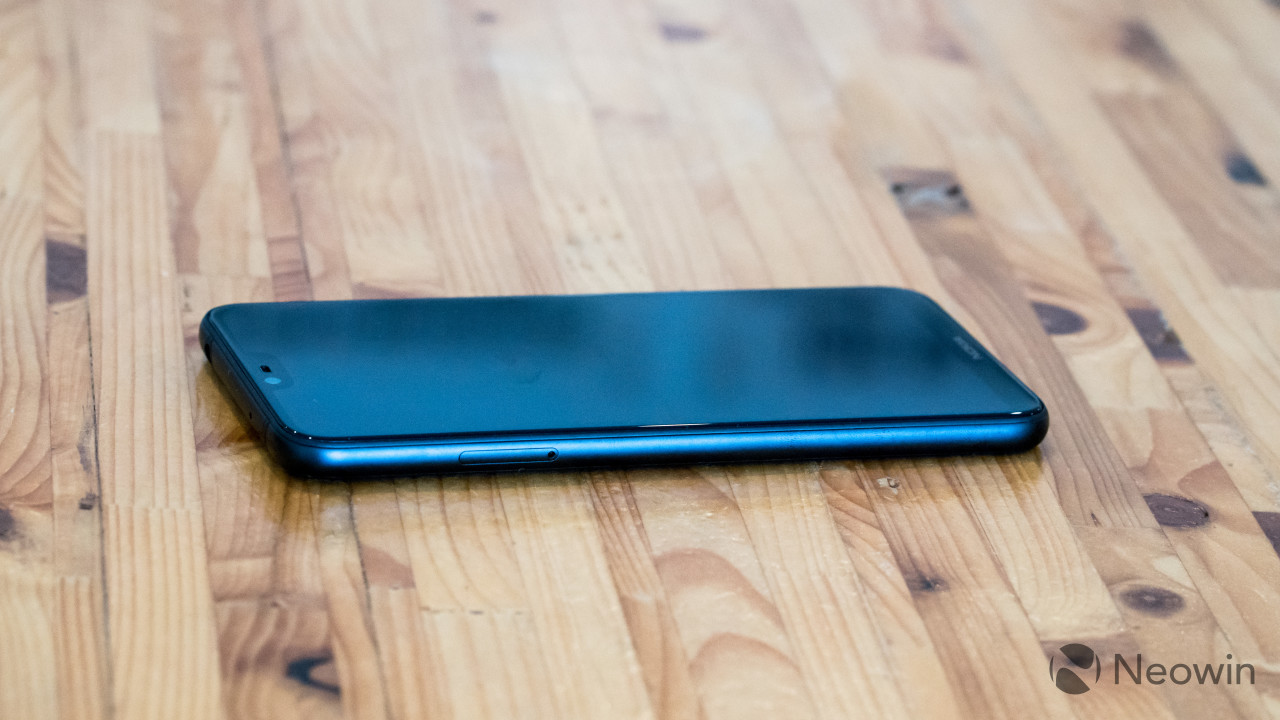 As far as real-world usage goes, the phone performs admirably, though you do have instances of occasional lag that will remind you it's not powered by the latest and greatest from Qualcomm. For example, when setting up the phone and importing all the apps on my daily driver, the phone was visibly strained as I tried to scroll through the list of apps and quickly deleted the ones I didn't want to download on the 6.1 Plus. Admittedly, that list was 200+ apps long, but it does go to show that it's not always the smoothest experience around. It is, however, good enough that you won't necessarily miss a flagship phone, either. I was even able to play Asphalt 9 on high settings at decent frame rates so you should be able to play most mobile games on the phone with little issue.
You will encounter some hiccups here and there, but unless you're willing to shell out for a much more expensive flagship phone, I don't think you'll ever experience that irresistible urge to throw the phone against the wall that some midrange Android phones in the past used to elicit. The phone is also running stock Android, which should give you a generally smooth and solid experience in average day-to-day usage.
As far as benchmarks go, it performed as well as you'd expect from its Snapdragon 636. It's a middling SoC, and its scores in GFXBench, Antutu and Geek Bench show that. It can't compete with even two-year-old flagships when it comes to raw power, especially in terms of GPU performance, but that doesn't mean it can't get the job done. First up is the CPU performance, via Geekbench:
GFXBench sheds some light on the phone's graphical chops:
Finally, the AnTuTu score weighs up the device in general:
The phone comes with 4GB of RAM and a standard 64GB of storage, and I was quite pleased with this, having just finished a review of the Nokia 2.1 and it's meagre 8GB of internal storage. There's also an option to expand storage by up to 400GB via a microSD card, which is all very standard and all very good.
Software
This is, of course, one area where HMD's phones are among the best you can find. The company's motto is 'pure, secure and up-to-date', and they've mostly stuck by it so far. Nokia's phones really are quite the showcase for the promise of the Android One program, and how it may be the cure to the bane that is Android fragmentation.
The Nokia 6.1 Plus is already slated to receive the Android 9.0 Pie upgrade sometime this month, and I was able to try out the upgrade in its beta form during my use. I also received the September security patch earlier this month, and the overall software support is simply excellent.
Of course, that HMD is going all in with stock Android is, overall, a good thing, but you may sometimes miss the added functionality of your Xiaomi or Samsung-made skin. Though, I really am nit-picking at this point.
In my review of the Nokia 2.1, I questioned HMD's judgement in striving for better software support if it came at the cost of having sub-par hardware and a higher price than the competition. The midrange segment in which the 6.1 Plus is positioned finally feels like a place where performance is good enough for HMD's excellent software support to actually becomes a meaningful differentiator, and even worthy of a few compromises. Though, HMD has thankfully not made many of those this time around. Kudos.
Pricing and Conclusion
A premium design, excellent one-handed fit and awesome software support make the Nokia 6.1 Plus really stand out in what it can offer. The only factor remaining is HMD's asking price for the phone. Ultimately, that's always what makes or breaks a midranger and, here, HMD has finally wisened up after a few misses earlier on.
In Malaysia, the Nokia 6.1 Plus can be had for a comfortable MYR 1,149, though discounts will regularly feature it for MYR999, or about $240. In India, it's even cheaper, starting off at ₹15,999 (approximately $220). Given all that it brings to the table, that is a very competitive price, and was a large part of why so many Nokia fans clamoured for the phone's release outside of China.
Brands like Xiaomi or Realme will still be just a little bit cheaper or better specced, but you also have to contend with radically different OS experiences on those devices. The Nokia 6.1 Plus, on the other hand, offers one of the best-feeling phones in the price range and arguably the best Android experience after Google's own phones. If you're looking for a midranger that you can comfortably hold in one hand, especially, the Nokia 6.1 Plus should definitely at the top of your list of considerations.